CIO / Executive Track Presentation at TI2011 (Miguel Wood, Mark Thomas and Kathrine Lord)
Home
>
Blogs
>
ITIL / COBIT
> CIO / Executive Track Presentation at TI2011 (Miguel Wood, Mark Thomas and Kathrine Lord)
CIO / Executive Track Presentation at TI2011 (Miguel Wood, Mark Thomas and Kathrine Lord)
Like This Blog
1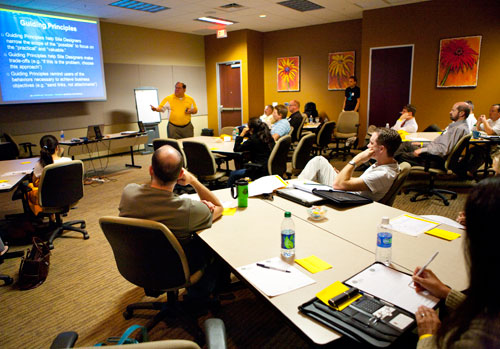 Below are the links to download the CIO / Executive sessions presented by Miguel Wood, Mark Thomas and Kathrine Lord at the Interface Tech Immersion 2011.
Miguel Wood is the National Practice Lead, SharePoint Solutions, Microsoft Certified Master (MCM) SharePoint 2010 with Statera. Mark Thomas is an ITIL Master & Director of Business Services at Interface Technical Training. Kathrine Lord is the Application Platform Strategist at Microsoft
Session 1: Governance
Presenter: Miguel Wood
Those managers experienced with prior deployments of SharePoint know that one of the most important planning components is governance. It does not make it any easier that the term, governance, is one of the most misused and misunderstood aspects of a planning for SharePoint. We will define and outline a proper governance plan and its requirements to simplify management of a successful SharePoint implementation.
Session 2: ITIL and ISO20000 — Pick One or Use Both?
Presenter: Mark Thomas
With the explosive growth of ITIL as the de facto framework for IT Service Management, there is still little known about the ISO20000 standard. Whether you have begun the path down ITIL or not, you may also want to consider looking into ISO.  Based on ITIL fundamentals, this powerful standard, when coupled with ITIL, can be a powerful solution for Service Management success.
Session 3: IT Governance — Frameworks and Techniques to Get You Started or Over the Hump
Presenter: Mark Thomas
Too many frameworks, too little time. The IT governance space is full of frameworks, standards and bodies of knowledge. What are these frameworks and what do they mean to IT? This discussion explores some of the most common IT Frameworks,  Bodies of Knowledge, and standards and explains how and when they are applicable in an IT organization and pros and cons of each.
Session 4: Performance Point Services 2010
Presenter: Kathrine Lord
PerformancePoint Services, a component of SharePoint, allow organizations to create scorecards, analytic reports, and dashboards in a familiar and easy to use interface that builds on the Microsoft Office technologies. Join us as Microsoft Business Intelligence subject matter expert, Kathrine Lord explores PerformancePoint and dives into and the Dashboard Designer demonstrating how to create reports, analytic charts, grids, scorecards and dashboards.

0
270
2
In this video, Security Instructor Mike Danseglio demonstrates how to use BitLocker in Window 10 to secure files on a USB Flash drive that adhere to stricter data protection requirements as found inside Government entities. BitLocker 2-day instructor-led training is now available at Interface: BITLOCK: Planning and Deploying BitLocker Drive Encryption Training Video Transcription: Hi. … Continue reading Government Edition – Encrypting a USB Flash Drive in Windows 10


0
249
1
In this video, Cisco CCNA & CCNP instructor Mark Jacob shows how to troubleshoot OSPF Adjacency issues by showing the distance between routers with the show ip ospf neighbor command.