Cisco Live 2014 covered (the Internet of) everything!
Cisco Live 2014 covered (the Internet of) everything!
Like This Blog
0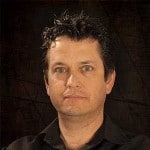 I just got back from Cisco Live 2014 in San Francisco. What a blast! If you are a networking professional or even a networking professional wannabe, find a way to get to Cisco Live! This is my third time attending this awesome event and it did not disappoint. I participated, I enjoyed, I learned, I discovered, and generally had a fantastic time.
There were numerous sessions presented at the event, and I attended a session discussing the architecture of the ASIC chip in the new 3850. I even won an autographed chip during a session. It looks like this: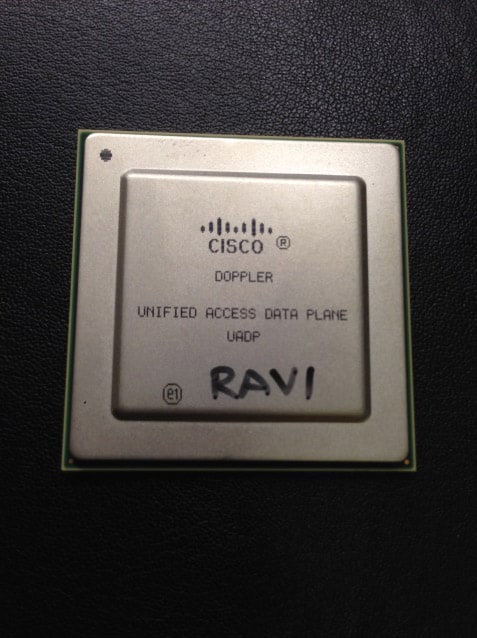 I won by knowing how many transistors are on this chip. Care to take a guess? The answer is 1.4 billion. How far off were you? (FYI: People were throwing out all kinds of numbers; I just used the Internet to find the answer. J )This chip is actually programmable – you can read Cisco's info on this chip: Cisco Catalyst 3850 Series Switches.
I also learned from sessions on OSPF, EIGRP, IPv6, OnePK, and many more. At the World of Solutions there was a warehouse-sized room with vendors from all over the world displaying cutting-edge network monitoring tools. I spoke with the vendors, did some wheeling and dealing, and partook of the wine and food fare that was abundant (beer too).
The keynote by John Chambers was eye-opening! You can view it in its entirety online if you have a Cisco.com login. He spoke about how the pace of innovation is steadily increasing. How companies who want to be players in the IT industry in even five years have to go from product inception to market in as little as 12 to 14 months – or get left behind and forgotten. He spoke of the overriding theme of the event – The Internet of Everything. He reiterated the prediction that by the year 2018 there will be 21 billion devices connected to the Internet and 4 billion people who will be regular Internet users. My favorite part was when he looked back on the 25 years of Cisco by putting on his 25-year-old sunglasses.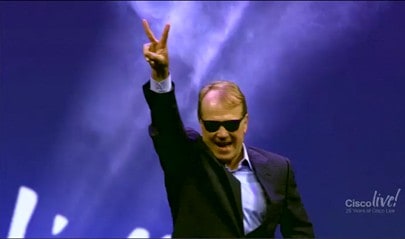 I met top-level engineers and exchanged contact information with them. I had email conversations with presenters which enlightened both me and them. In short, the experience was education, insightful, and just plain old fun!
The Customer Appreciation Event, which is always a highlight, was held at AT&T Park, which is where the San Francisco Giants play their home games. While the infield was off-limits (unlike two years ago at Petco Park in San Diego where we could walk anywhere on the field we wanted), the thrill of wandering the field in a Major League ballpark was breathtaking. Lenny Kravitz and the Imagine Dragons were the artists this year, and both put on great shows.
There was swag everywhere, such as more T-Shirts than I could stuff in my bag to bring home. I have flashlights, wind-up toys, blue tooth speakers, pens, and memories to last a lifetime.
There was much more to this event than can be put into words yet here are a few more words. The guest speaker this year was Salman "Sal" Khan, the founder of Khan Academy. If you haven't checked out their online non-profit educational experience, take some time to investigate. Khan Academy remains non-profit thanks to the support of people and organizations such as Bill & Melinda Gates, Google, Bank of America, Oracle, and many others.
In 2015 the event will be held in San Diego in June, so start making plans now. If you are a Cisco aficionado, you will truly enjoy this amazing week in your life.
Mark Jacob
Cisco Instructor – Interface Technical Training
Phoenix, AZ

0
3859
0
Mark Jacob, Cisco Instructor, presents an introduction to Cisco Modeling Labs 2.0 or CML2.0, an upgrade to Cisco's VIRL Personal Edition. Mark demonstrates Terminal Emulator access to console, as well as console access from within the CML2.0 product. Hello, I'm Mark Jacob, a Cisco Instructor and Network Instructor at Interface Technical Training. I've been using … Continue reading A Simple Introduction to Cisco CML2

0
713
1
This content is from our CompTIA Network + Video Certification Training Course. Start training today! In this video, CompTIA Network + instructor Rick Trader demonstrates how to use cable testers in network environments. Let's look at some tools that we can use to test our different cables in our environment. Cable Testers Properly Wired Connectivity … Continue reading Cable Testers and How to Use them in Network Environments

1
451
3
Hi, my name is Mike Danseglio. I'm an instructor here at Interface Technical Training. I want to talk a little bit about encrypting USB flash drives with Windows 10. The concept of protecting data when it's on a USB flash drive is not a new concept. BitLocker 2-day instructor-led training is now available at Interface: … Continue reading Encrypting a USB Flash Drive in Windows 10