CompTIA Security+ What Motivates People to Take Your Intellectual Property?
CompTIA Security+ What Motivates People to Take Your Intellectual Property?
Like This Blog
0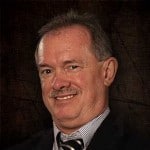 ---
CompTIA Instructor Steve Fullmer describes the importance of getting Security+ Certified.
Security is no longer about the "haves" and the "have nots" a small group of people who are trying to take advantage of your possessions and intellectual property (IP).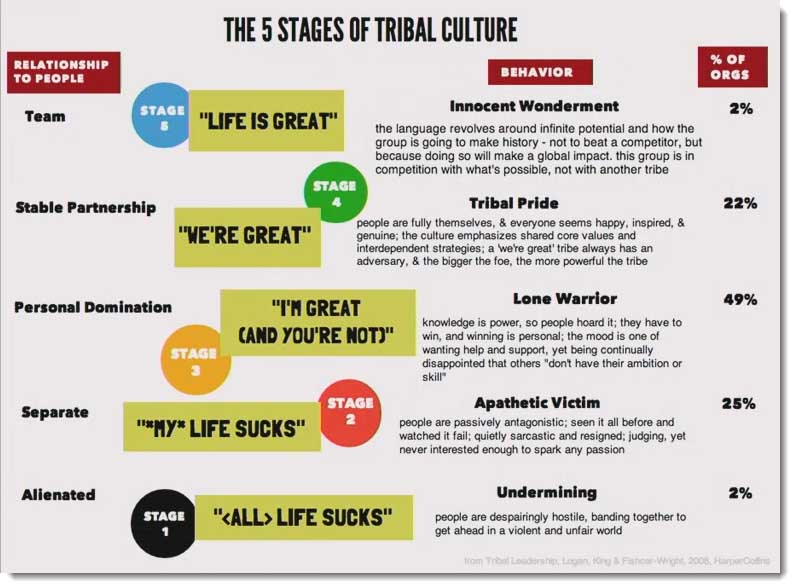 In the book 'Tribal Leadership' by Dave Logan, John King, Halee Fischer-Wright, they discuss the stages of a tribal culture and the global concept behind this is that 2% of the population the population of the tribe or the planet by extension of all tribes in aggregate live in this undermining mindset of "All Life Sucks" they are disbanding people banding together to go towards a violent end. These are the people who vandalize your content – intellectual property.
We have 25% of the tribe who operate in a mindset of being apathetic victims. They're looking for more. When you think about the technology that you utilize every day such as your telephone and texts, a large percentage of the world doesn't have this technology and want it. The way they can acquire this technology is to take it away from you.
What does this represent in terms of numbers?

We have a global population of over 7 billion people. 2% represents a 148 million people who want to vandalize content to make their lives to what they perceive as "better" or "best as they can get it".
We have almost 2 billion people that are the "apathetic victim".
You need to have not only the knowledge of what they're approach is to try to take you intellectual property or assets away, what you need to do is have a layered approach. You need to have determents in place that hold these people away and you need to prevent them from getting into the inter layers and you need to be able to detect, prevent and lock down your important assets.
It's not just good enough to understand these possible threats. In our CompTIA Security + Certification class you need to learn more than just the vocabulary to pass the certification, you need to learn more.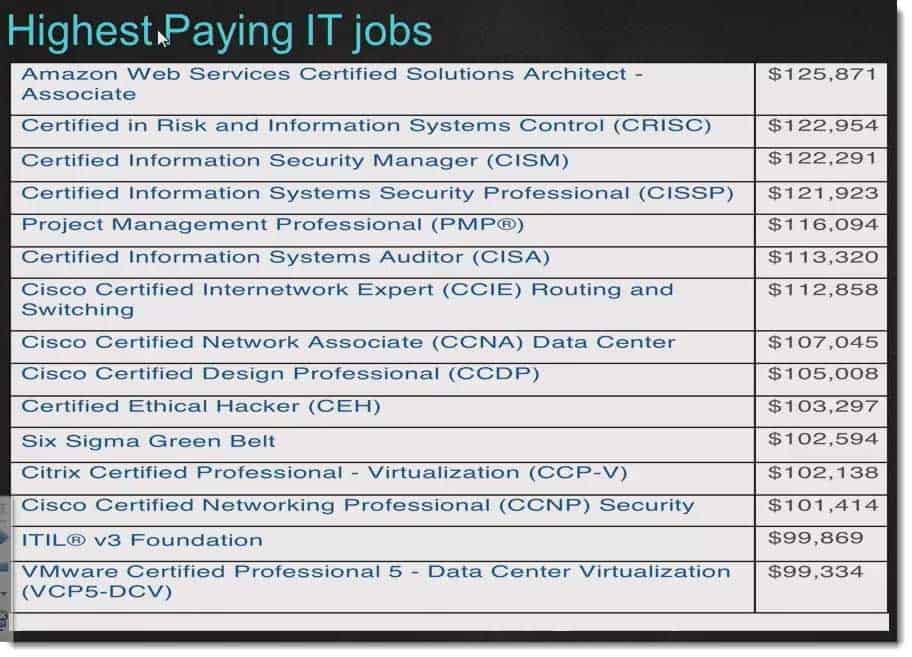 Security amongst the fifteen top paying IT jobs ranks six of them. From Certified Information Security Manager (CISM), Certified Information Systems Professional (CISSP), Certified Information Systems Auditor (CISA), Certified Ethical Hacker (CEH) etc. CompTIA Security + Certification is just below these fifteen professional certifications as the entry level certification you need to get started in the IT Security Industry.
In CompTIA Security + you understand the basic tools set and vocabulary you need to be able to prepare yourself to defend your intellectual property, employees and systems.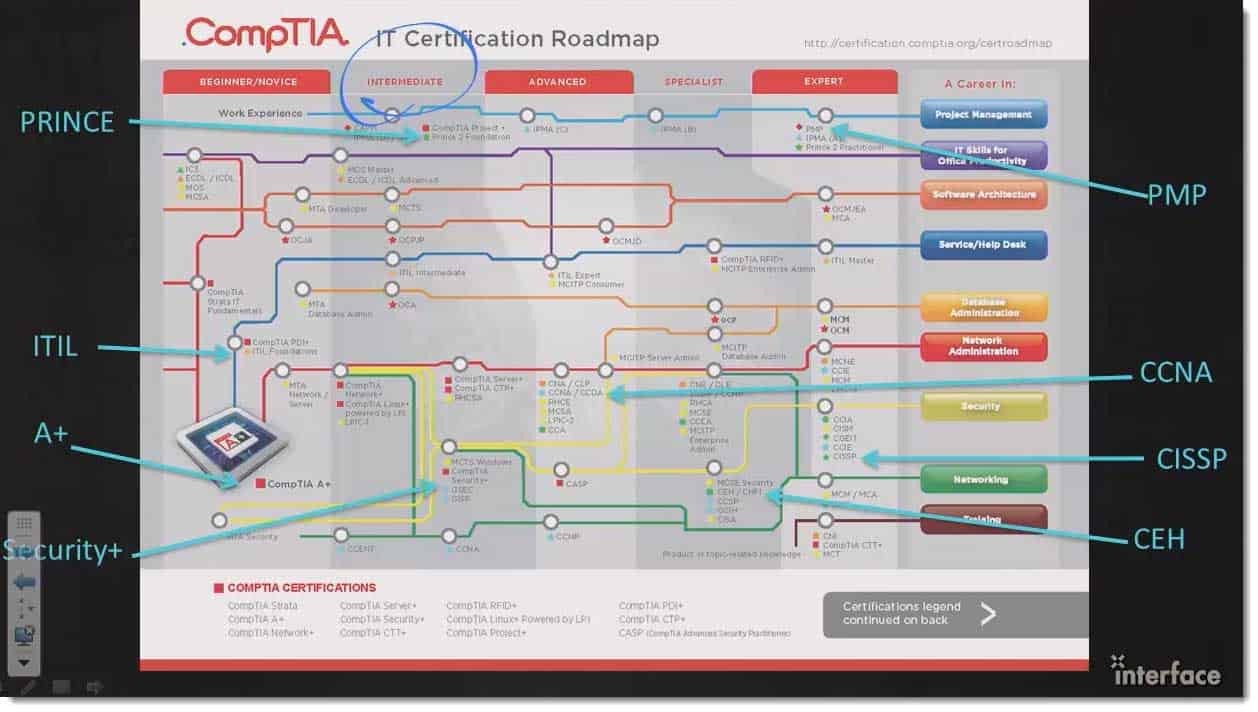 Security + is considered an Intermediate CompTIA certification. You will need basic CompTIA A+ skills as it's the prerequisite to take the Security+ class.
Here it is determined to be an intermediate skill-set.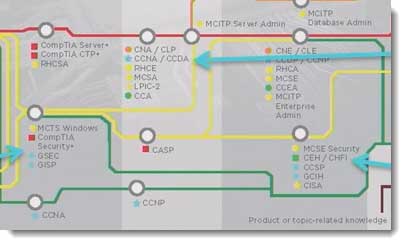 There are additional more advanced Certification such as CISSP, CEH etc. that are on the track as you move forward but you will need to obtain the certificate of Security+'s basic skills before you can move on.
It's not good enough for example if you're protecting you house to just put a sign up that says "Beware of Dog" as a security monitoring system that will stop an intruder. There are too large a number of people who are just casually trying to make their lives better by taking advantage of what you have or what you know. This is what CompTIA Security+ is about.
I look forward to seeing you in the classroom, or online!
Steven Fullmer
Interface Technical Training Staff Instructor
Steve teaches PMP: Project Management Fundamentals and Professional Certification, Windows 10, and CompTIA classes in Phoenix, Arizona.

0
694
1
This content is from our CompTIA Network + Video Certification Training Course. Start training today! In this video, CompTIA Network + instructor Rick Trader demonstrates how to use cable testers in network environments. Let's look at some tools that we can use to test our different cables in our environment. Cable Testers Properly Wired Connectivity … Continue reading Cable Testers and How to Use them in Network Environments