SharePoint Presentation at TI2011 (Miguel Wood, Spike Xavier and Simon Allardice)
Home
>
Blogs
>
SharePoint
> SharePoint Presentation at TI2011 (Miguel Wood, Spike Xavier and Simon Allardice)
SharePoint Presentation at TI2011 (Miguel Wood, Spike Xavier and Simon Allardice)
Like This Blog
1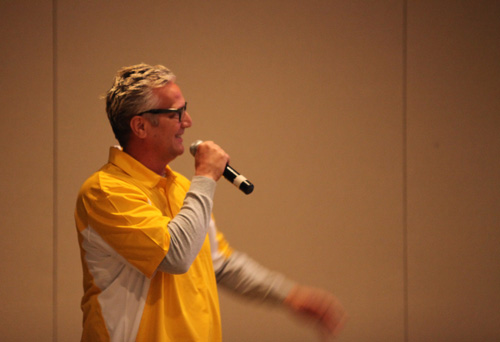 Below are links to download the SharePoint sessions presented by Miguel Wood, Spike Xavier and Simon Allardice at the Interface Tech Immersion 2011.
Miguel Wood is the National Practice Lead, SharePoint Solutions, Microsoft Certified Master (MCM) SharePoint 2010 at Statera.
Spike Xavier is the SharePoint & Web Development Instructor at Interface Technical Training.
Simon Allardice is the Senior Staff Trainer at Lynda.com
Session 1: Governance
Presenter: Miguel Wood
Those managers experienced with prior deployments of SharePoint know that one of the most important planning components is governance. It does not make it any easier that the term, governance, is one of the most misused and misunderstood aspects of a planning for SharePoint. We will define and outline a proper governance plan and its requirements to simplify management of a successful SharePoint implementation.
Session 2: PowerShell in SharePoint
Presenter: Spike Xavier
The bad thing about using PowerShell with SharePoint is that once you get used it, the browser interface seems slow and old fashioned. This will be a straight run through of some commonly used commandlets and tasks using Windows PowerShell with SharePoint 2010. Creating Site Collections on the fly or from a file is just one of the many tasks administrators / developers do on a daily basis in a test or production farm environment. Knowledge of PowerShell is helpful but not required, while this is not a 'PowerShell syntax' presentation there will be an explanation provided of all of the samples.
Session 3: Managing Metadata
Presenter: Miguel Wood
The purpose of a successful SharePoint implementation is to ultimately provide simplified access to the information and data your users need to accomplish business goals. With SharePoint 2010, there are significant enhancements to managing and classifying the information to make it more useful and discoverable. We will examine these new functions within SharePoint 2010 via and overview and demonstrations.
Session 4: Connecting to External Data: Intro to Business Connectivity Services (BCS)
Presenter: Simon Allardice
Your data doesn't just live in SharePoint. And that's okay. Much more powerful than SharePoint 2007's read-only Business Data Catalog (BDC), the new Business Connectivity Services (BCS) in SharePoint 2010 provides fully searchable, read-write integration of external data – from other databases, Line-of-Business systems and your own applications and web services into SharePoint and Office. However, like BDC, BCS brings its own set of jargon: terms like External Lists, External Content Types, and .NET Connectivity Assemblies. In this session, you'll quickly explore the core terms and concepts, then we'll jump into building applications with BCS. You'll see why BCS-based apps are often a much better choice than writing custom .ASPX pages or Web Parts, and how Visual Studio 2010 and the surprisingly powerful SharePoint Designer 2010 are used to quickly and easily connect SharePoint to external data.

0
270
2
In this video, Security Instructor Mike Danseglio demonstrates how to use BitLocker in Window 10 to secure files on a USB Flash drive that adhere to stricter data protection requirements as found inside Government entities. BitLocker 2-day instructor-led training is now available at Interface: BITLOCK: Planning and Deploying BitLocker Drive Encryption Training Video Transcription: Hi. … Continue reading Government Edition – Encrypting a USB Flash Drive in Windows 10


0
249
1
In this video, Cisco CCNA & CCNP instructor Mark Jacob shows how to troubleshoot OSPF Adjacency issues by showing the distance between routers with the show ip ospf neighbor command.