Get Windows 10 – The Journey Continues
Get Windows 10 – The Journey Continues
Like This Blog
1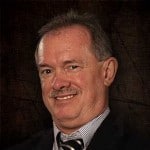 I am starting to feel like Indiana Jones, on a quest for a grail or something. Windows 10 is a viable and valuable operating system. The preview has worked flawlessly for three plus months. I truly want to reserve a copy for my other systems.
Microsoft is NOT making it as easy as they promote. Fact. Sorry, but true. (To all our enterprise/domain attached readers, stop trying but read onward.)
Across several dozen systems and environments, no sign of the Get Windows 10 icon, despite repeated efforts.
Major Kudo's to Venkat Eswarlu of Techdows who continues to update his blog "How to Enable 'Get Windows 10' App icon in the Windows 7/8.1 taskbar?". He remains on the same quest, and continues to add more breadcrumbs to follow.
Clarified requirements for icon placement.
Note: Managed devices as part of a school or business environment – apparently including domain attached systems – won't get the icon unless you remove and rejoin them to the domain. This is NOT a very enterprise friendly solution. One alternative TEST might be to make your system part of a work group, acquire the icon, and then rejoin the domain.
A script that may be saved as a CMD file to check for pre-requisites and enable the icon.
Additional KB requirements for Windows 7.1 with SP1 and Windows 8.1
DISM commands to confirm the presence of required elements.
Checking the Task Scheduler for Microsoft > Windows > Setup > GWXTriggers that launches the tool.
Removing and reinstalling KB3035583.
I have tried each of the above alternatives, and more, on the several systems lacking the icon. This includes my Windows 7 Ultimate with SP1 system. To limited success.
For people who want Windows 10, the effort truly continues to remain a quest.
I did have one success manually running Windows Update three times in a row on my iMaac27 running Parallels Desktop 10 for Mac ((10.2.1 – 29006) with a licensed and activated copy of Windows 7 Professional SP1 (6.1.7601 Build 7601).
Success and the screenshots that follow:

The Get Windows 10 icon appeared! I clicked the icon and the following panel launched.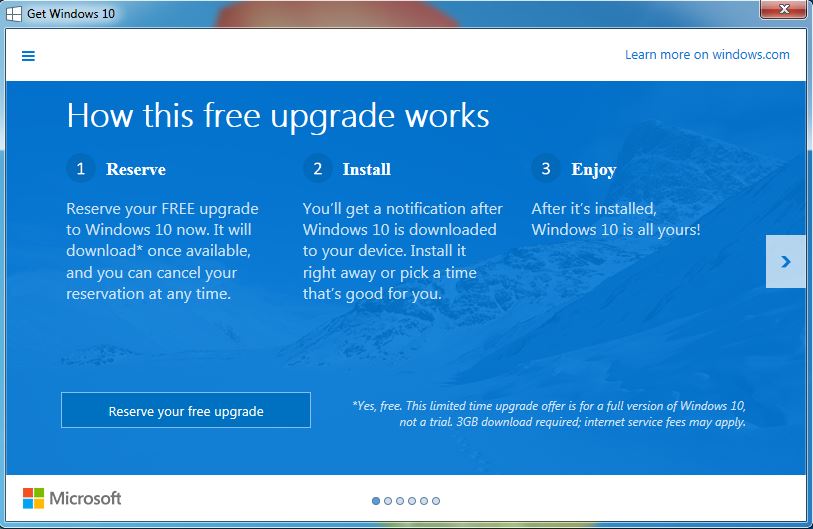 Following my own advice, I selected the menu/hamburger icon in the top left corner, receiving the following screen. Then I selected the Check your PC option.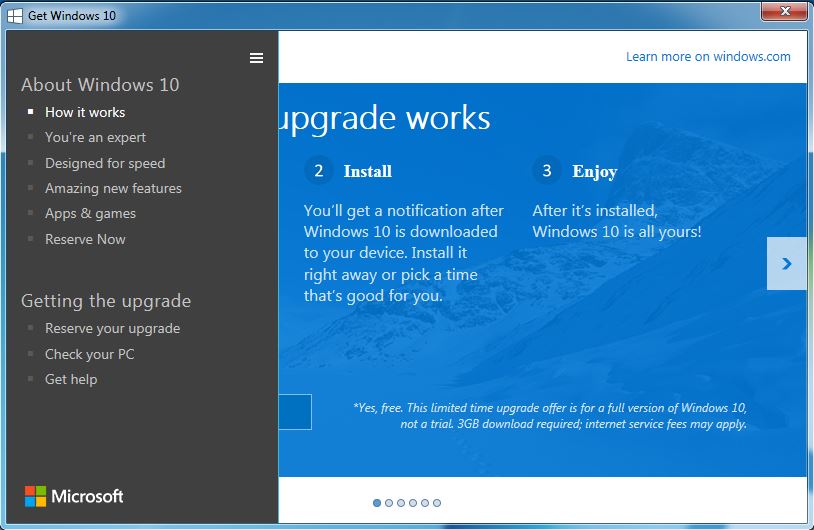 Hurray, Windows 10 will work! Although it did point out a Parallels Display adapter issue. I suspect other issues will follow this one observation. Parallels Desktop 10 currently supports DirectX10. Without support for DirectX11 or DirectX12, I suspect that several of the tools, games and other features offered with Windows 10 will be unavailable or simply not launch.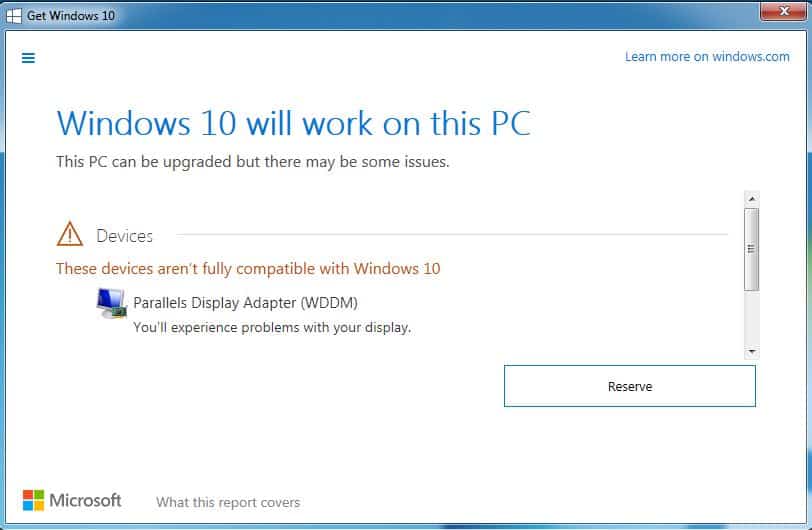 I tried the Get Help link to see if additional compatibility information might be available. At this point, you merely see a panel that points you to the Windows 10 FAQ.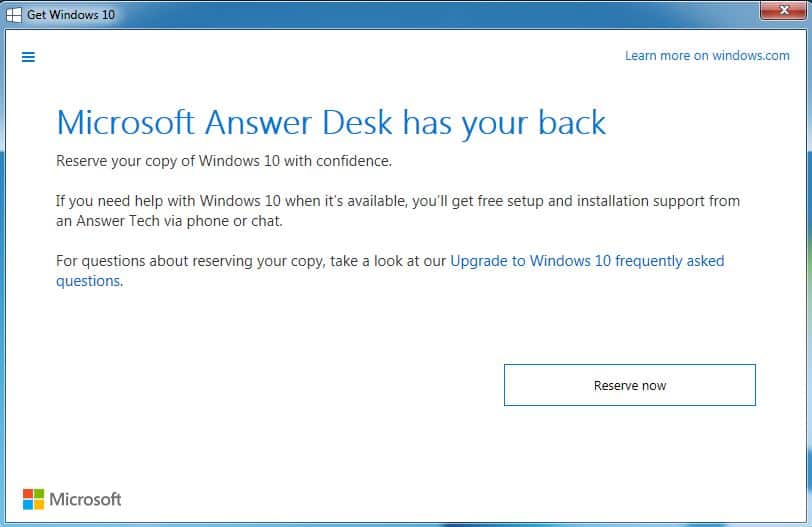 Selecting the Upgrade to Windows 19 frequently asked questions launches your default browser and takes you to the FAQ. (If you haven't read it, go through the entire document, reading between the lines. What Microsoft isn't saying might be as valuable as what they are sharing at this point in the quest.)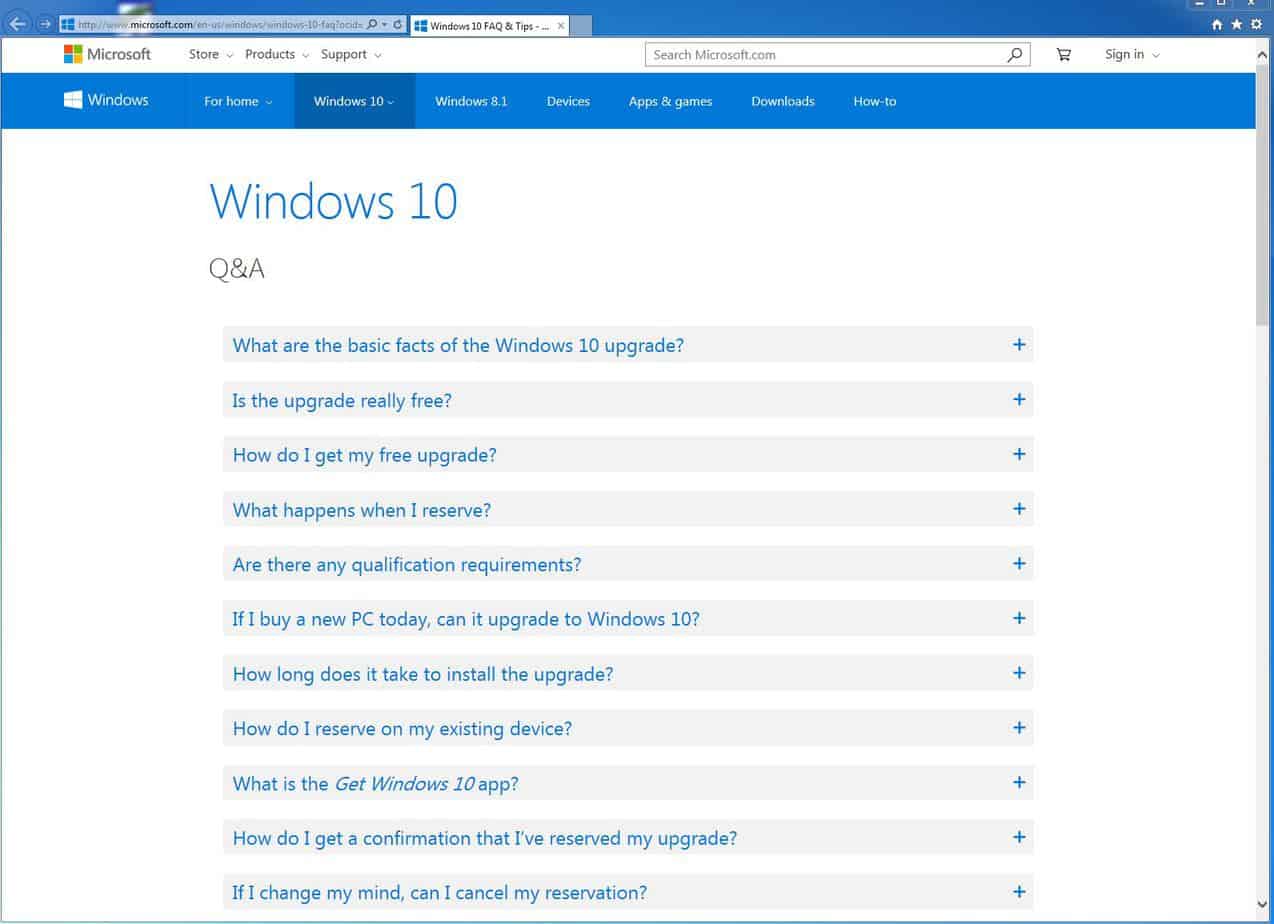 Once I obtained the Get Windows 10 icon, I decided to manually run Windows Update one more time.
The result – a reminder within Windows Update that I have not reserved my copy of Windows 10 yet.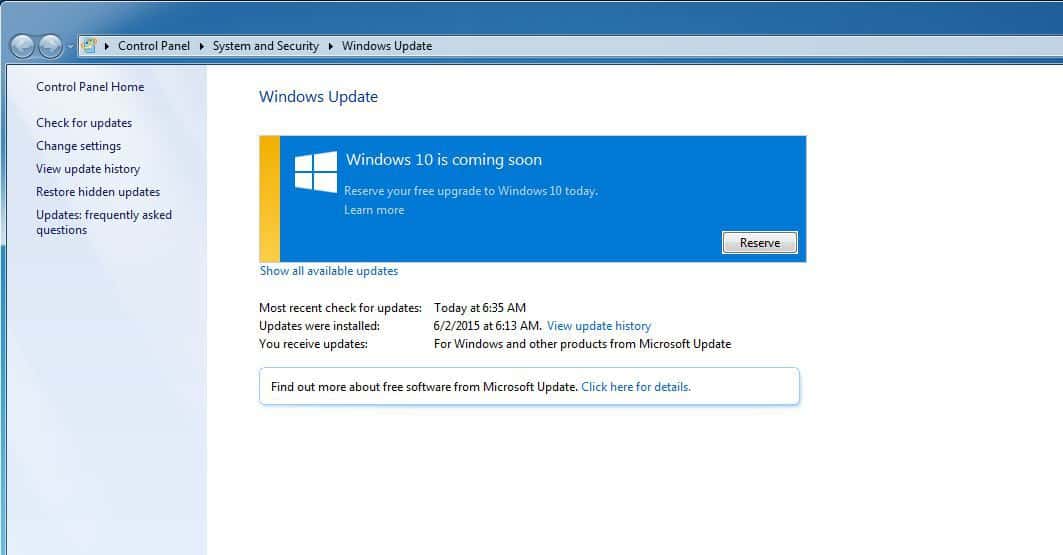 Okay, the various solutions worked on one system.  Let's try a few more systems? Have we found the grail yet?
Let's try my MacBook Pro with Parallels Desktop 9. Same version of Windows 7 Professional SP1 (6.1.7601 Build 7601) with a different activated license.  No success so I upgraded to Parallels Desktop 10, which results in several more sets of Windows Update and reboot cycles. Still no luck. Checked the script, the scheduler, and removed and reinstalled KB3035583 without success.  Might be a hardware issue, though all the settings match those of my iMac27.
On to my Windows 7 Ultimate with SP1 – my primary desktop at the office. Step one, leave the domain and join WORKGROUP. Done.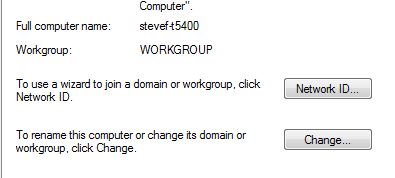 Reboot and voila… Get Windows 10.

Return to the domain (with a shout out to Matthew Pinnick who assisted with an unplanned rejoin). No more Get Windows 10 icon.

Now I know…
Still waiting for the Windows 10 Enterprise deployment tools.
We will keep you appraised.
I hope to see you in the classroom, or online!
Steven Fullmer
Interface Technical Training Staff Instructor
For more Windows 10 articles, see the following posts from Interface Technical Training:

0
3774
0
Mark Jacob, Cisco Instructor, presents an introduction to Cisco Modeling Labs 2.0 or CML2.0, an upgrade to Cisco's VIRL Personal Edition. Mark demonstrates Terminal Emulator access to console, as well as console access from within the CML2.0 product. Hello, I'm Mark Jacob, a Cisco Instructor and Network Instructor at Interface Technical Training. I've been using … Continue reading A Simple Introduction to Cisco CML2


0
249
1
In this video, Cisco CCNA & CCNP instructor Mark Jacob shows how to troubleshoot OSPF Adjacency issues by showing the distance between routers with the show ip ospf neighbor command.