How to hide the Add Document Button in SharePoint 2010
How to hide the Add Document Button in SharePoint 2010
Like This Blog
5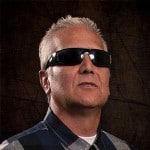 In one of my previous blog posts: Create a Custom Content Type In SharePoint 2010, I've received a number of similar questions, "Problem is that you STILL have an "Add Document" button! Furthermore, when you save the completed form, SharePoint is going to ask you where to save it. That is not good if you have a bunch of not-too-savvy users."
Since this is a very common question that comes up, I decided to create a blog to fix the issue. As it turns out, it's very easy to do.
Configure Content Type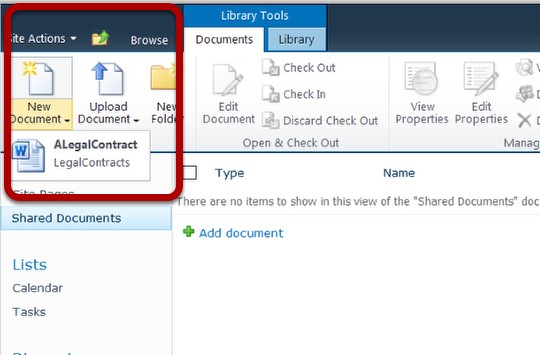 I've configured the Shared Documents Library on an out-of-the-box Team Site to use the custom Content Type Legal Contract as the default Content Type of the Library. If not sure how to do this there is a blog post that steps you through the process: Create a Custom Content Type In SharePoint 2010

Create a Contract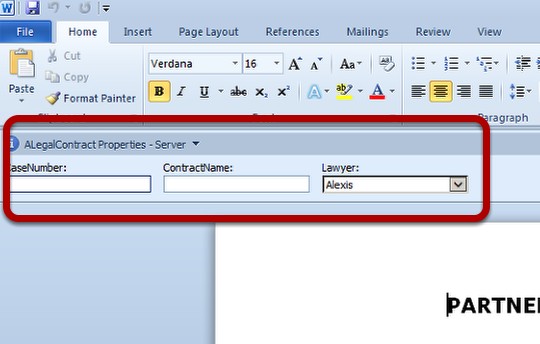 I start by adding a Contract using the New Icon button in the ribbon and selecting the Legal Contract Content Type (the only choice because of how I set up the library)
Fill out the DIP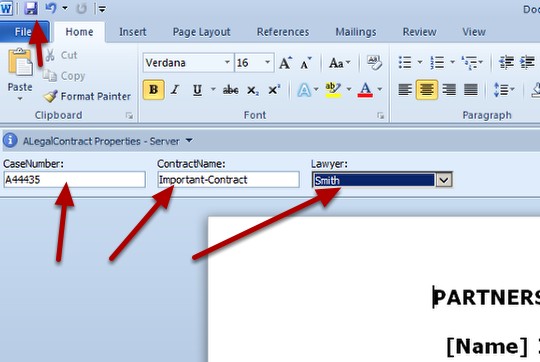 I fill out the contents of the Document Information Panel (DIP) and hit save.
Save the contract to the Document Library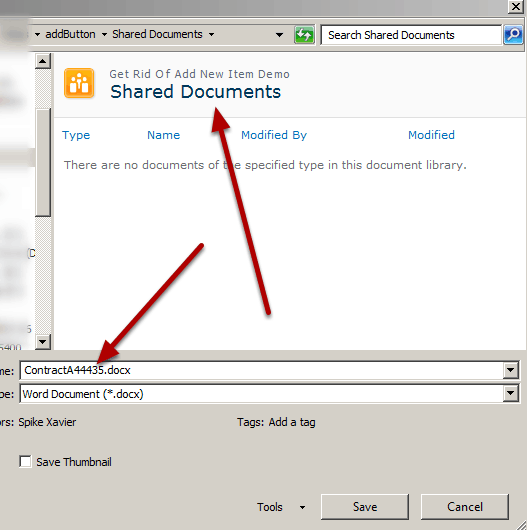 I name the contract with the contract number and save it back to the Document Library.
Notice the Add Document button?

I adjusted the default view to show the Site Columns and Content Type. Notice the Add Document Button? I want to get rid of this so users will only have the choice of using the New Button in the ribbon.
Edit the Page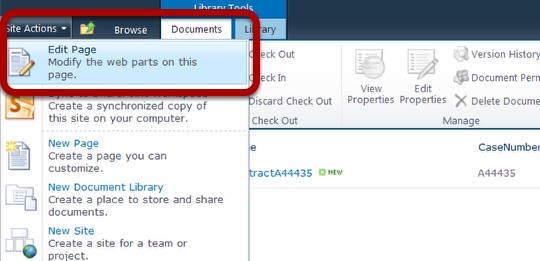 I go to Site Actions> Edit Page. Since this is a web part page, I will edit the properties of the Web Part to hide the Add Document button.
Edit Web Part
I use the drop down arrow of the Shared Documents Web part and choose Edit Web Part.
Edit tool by Properties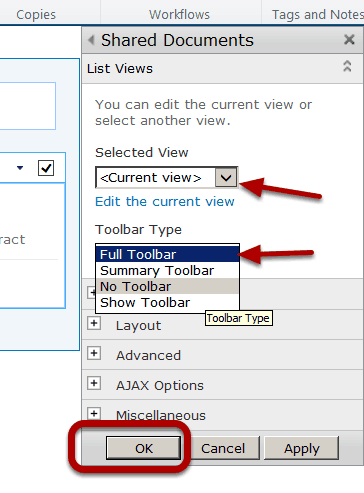 Using the drop down list of the Toolbar Type, I change the selection from Full Toolbar to No Toolbar and click OK
Notice Change in Web Part?

I notice that the Add Document Button is now gone. I navigate away from the page and back to refresh the page to make sure the change took effect.
Browse Page to Verify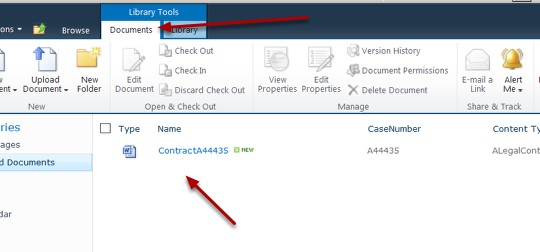 Now I can clearly see the Add Document is missing, success! Now I'm going to update the Home Page.
Go to Home Page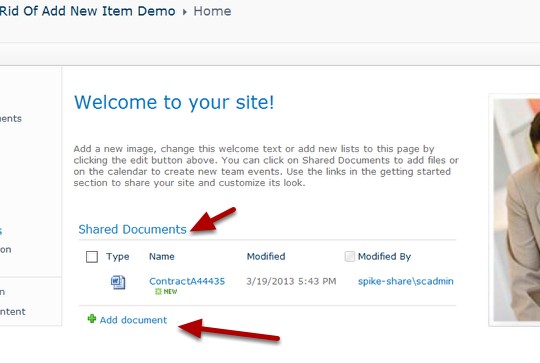 I navigate to the Home Page of the site, which also features a Web Part to interact with the Shared Documents Document Library and there's that old pesky Add Document button.
Edit Web Part

I click on the black ufo triangle to get to the Edit Web Part choice and click it (I just call it the black ufo triangle…don't ask why)
Edit Web Part Properties again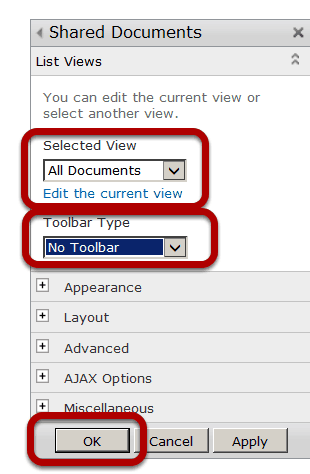 I make sure the Selected View says "All Documents" and then change the drop down menu for Toolbar type to say No Toolbar, as pictured above, then click OK.
Verify the results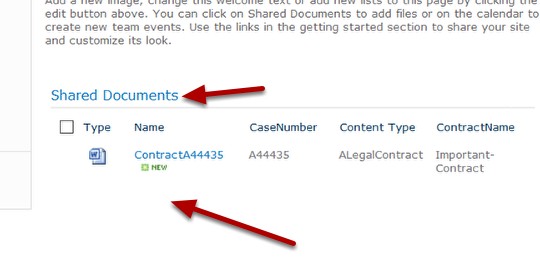 Voilà, the Add Document button is gone! That's how easy it is.
Spike Xavier
SharePoint Instructor – Interface Technical Training
Phoenix, AZ

0
3852
0
Mark Jacob, Cisco Instructor, presents an introduction to Cisco Modeling Labs 2.0 or CML2.0, an upgrade to Cisco's VIRL Personal Edition. Mark demonstrates Terminal Emulator access to console, as well as console access from within the CML2.0 product. Hello, I'm Mark Jacob, a Cisco Instructor and Network Instructor at Interface Technical Training. I've been using … Continue reading A Simple Introduction to Cisco CML2

0
713
1
This content is from our CompTIA Network + Video Certification Training Course. Start training today! In this video, CompTIA Network + instructor Rick Trader demonstrates how to use cable testers in network environments. Let's look at some tools that we can use to test our different cables in our environment. Cable Testers Properly Wired Connectivity … Continue reading Cable Testers and How to Use them in Network Environments

0
272
2
In this video, Security Instructor Mike Danseglio demonstrates how to use BitLocker in Window 10 to secure files on a USB Flash drive that adhere to stricter data protection requirements as found inside Government entities. BitLocker 2-day instructor-led training is now available at Interface: BITLOCK: Planning and Deploying BitLocker Drive Encryption Training Video Transcription: Hi. … Continue reading Government Edition – Encrypting a USB Flash Drive in Windows 10