How to enable Ratings for SharePoint 2010 Lists and Libraries
How to enable Ratings for SharePoint 2010 Lists and Libraries
Like This Blog
1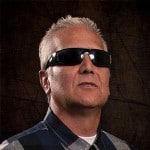 Ratings are new in SharePoint 2010 and can be very useful. SharePoint Search takes ratings into account and it is part of embracing the use of the product in what is termed as 'Folksonomy' as opposed to" Taxonomy".
Taxonomy is a way of organizing information. This is normally done by a professional Taxonomist (yes there is such a profession) but more often by some group within an organization who are intimately familiar with the terms and information and how they are used.
This is how the decision on Site Columns, Managed Metadata Term Sets, and content types should be made.
Once this is pushed out to the users, some surprising things might happen. With SharePoint 2010 Tags and Notes it might become obvious that the 'boots on the ground' in the warehouses describe dangerous truck loads as 'gnarly' to load.
In paying attention to what actual terms are being used, an organization might promote the term "gnarly" into their actual taxonomy since everyone is using it and they all know what it means. This is an example of 'Folksonomy' which is driven by actual use in the field.
Ratings play into this as well. An organization might find that certain corporate information which might fall under 'required reading' is so boring that people give it a poor rating. While the same information presented as a comic strip might get really high ratings.
In this blog we will activate the ratings for a list or library on a Team Site.
(SharePoint Standard or Enterprise is required for this to work; it does not come with Foundation)
Ratings Comes With SharePoint 2010 Standard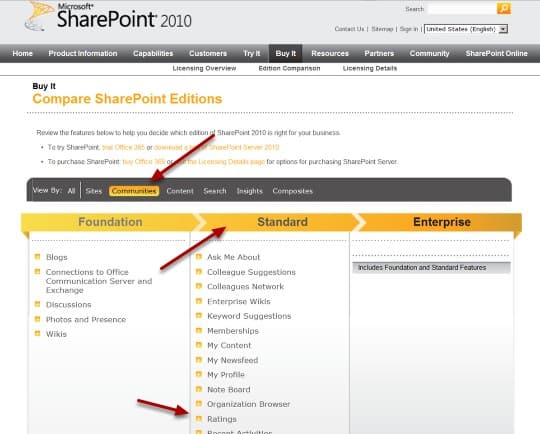 If you look at SharePoint 2010 Compare SharePoint Editions Page this is a great resource for analyzing which features come with which versions of SharePoint 2010. As you can see by this screenshot, Ratings comes with SharePoint Standard and is organized under the Communities section of the product.
Configuring the Shared Documents Library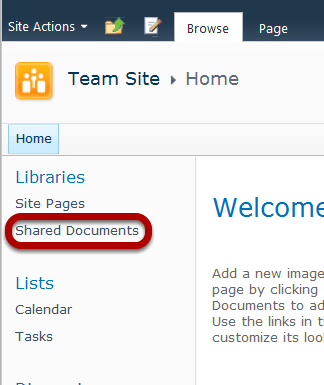 I have created a Site Collection using the Team Site as the template for the Top Level Site. I click on the Shared Documents Link in the Quick Launch Bar. On this site I am logged in as the Site Collection Administrator.
Library – Library Settings

I click the Library tab to change the ribbon to be contextual to interacting with the Library object and then click the Library Settings Icon.
Click the Rating settings Link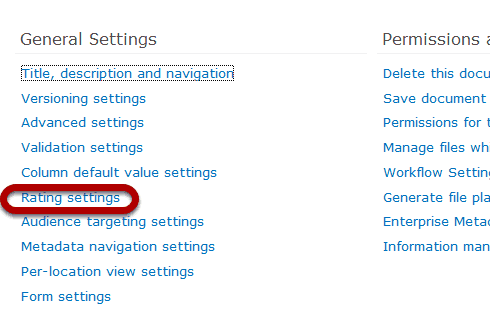 Click on the Rating Settings link in the General Settings section of the Library Settings Page.
Select Allow items in this list to be rated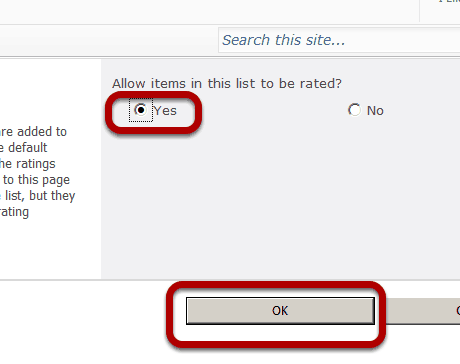 I set the field to yes and click OK, but just before I click OK, read what the information says about ratings.
Review Rating Settings Information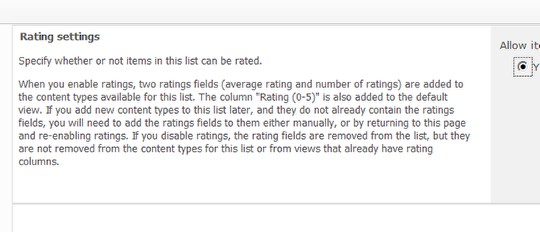 There are some places in SharePoint 2010 where you might not read the information text, this is not one of them. Read it, learn it, live it.
Notice the new Columns?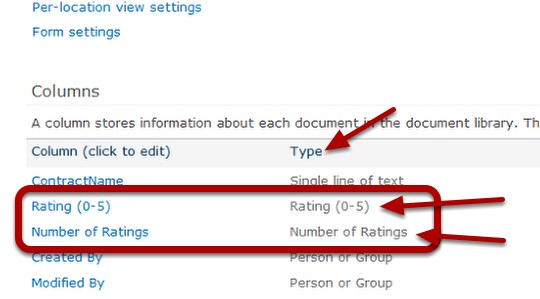 As noted in the text above, two columns are added to the content types deployed to this library. Notice the Type? Interesting.
Go back to Shared Documents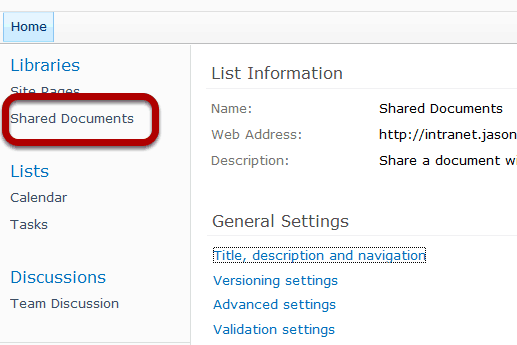 I click the Shared Documents link in the Quick Launch bar and return to the Shared Documents Library.
Add Number of Ratings to the default view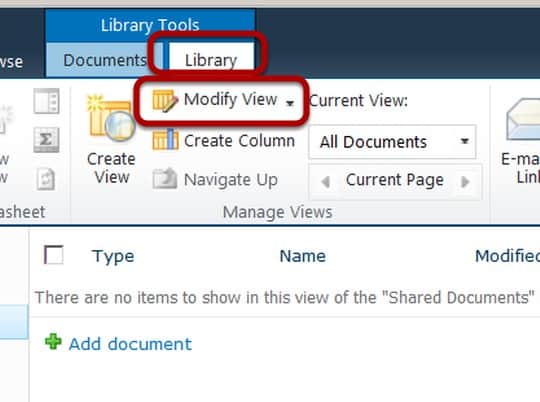 I want to adjust the All Items View to show the number of ratings as well as get some of the columns I don't need to see for this example so Ii click Library > Modify View.
Adjust the default view column settings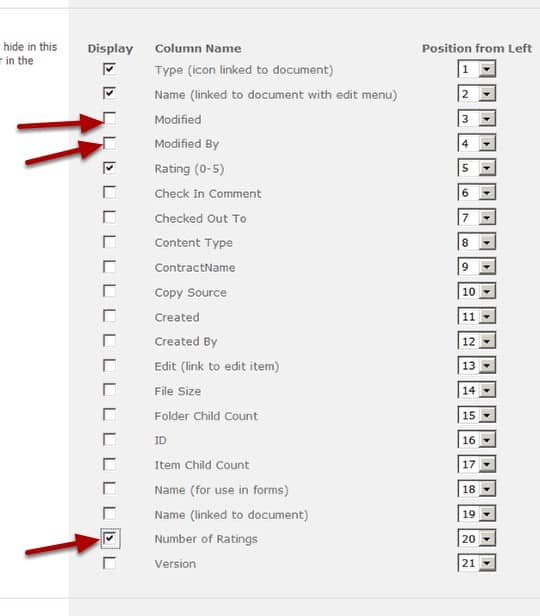 Uncheck Modified and Modified by and check the Number of Ratings column and click OK (not shown)
Add some documents

I have uploaded some documents into the library, (not shown).
Rate the documents

To rate the documents, I simply mouse over the stars in the Rating(0-5) column and set the ratings as needed. In this case they are all 5 stars!
Observe the graphics reflecting my ratings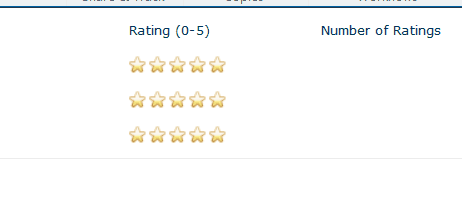 When done, I notice that my ratings have been set? This may cause some confusion for users. At first it looks like it's reflecting my ratings, which in this case it is, however when the ratings are all gathered together it will show the average ratings, not just my ratings. In addition to this, when the page is refreshed, if the data hasn't been analyzed yet by SharePoint via some timer jobs, the graphics will be blank again. However, users can always mouse-over each document where an information box will indicate their rating.
Notice the blank graphics on a page refresh?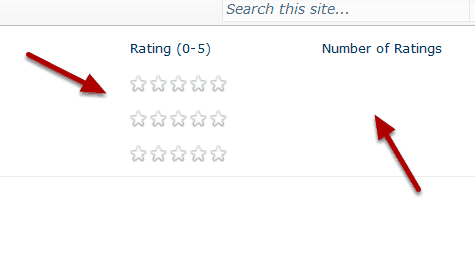 I logged in as a different user and added a lower rating. When I logged back in, the ratings are blank. If I mouse-over the column (next step) I will see my rating and after the timer jobs have worked their magic, the ratings graphic will show the average rating for the item by everyone who has rated the item.
Mouse over the graphic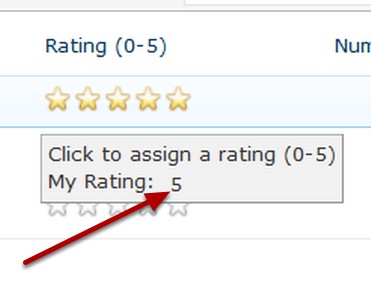 When you mouse-over the graphic, you can see that the rating set earlier is there.
Check back later to see the true ratings

After a couple of timer jobs have run, I can see the true ratings for these documents. I like to put the number of ratings so that users can get the idea that the average rating is showing. If users mouse-over the ratings, they will see their current rating and can even change their rating (shown earlier).

Ratings can be very useful.
Enjoy,
Spike Xavier
SharePoint Instructor – Interface Technical Training
Phoenix, AZ

0
114
0
In this video, you will gain an understanding of Agile and Scrum Master Certification terminologies and concepts to help you make better decisions in your Project Management capabilities. Whether you're a developer looking to obtain an Agile or Scrum Master Certification, or you're a Project Manager/Product Owner who is attempting to get your product or … Continue reading Agile Methodology in Project Management

0
495
3
In this Office 365 training video, instructor Spike Xavier demonstrates how to create users and manage passwords in Office 365.

4
478
3
In this IT Security training video, Security expert Mike Danseglio (CISSP / CEH) will perform several malware investigations including rootkits, botnets, viruses, and browser toolbars.