How to extract your outside IP address-without a chicken or a monkey
How to extract your outside IP address-without a chicken or a monkey
Like This Blog
2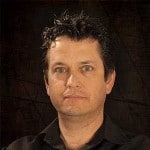 Frequently I find myself asking students in my Network+ or Cisco CCNA classes to divulge their favorite resource to use when they want to determine their external (publicly accessible) IP address.
Here are some of the more popular answers: whatismyip.com

Or ipchicken.com.

Or perhaps even better, the ipmonkey.com: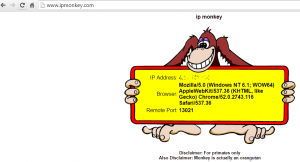 I did not include the actual IP address that I obtained when I was writing this blog, not because it is some big secret, but because I suggest to readers to run the same tests themselves and compare output.  "Compare to what?" you ask.  Well what if I want to know my external IP address, but I want the results from a command prompt?  There is a way, so let's see it in action.
This method uses the command prompt, but there is a way to do this in PowerShell as well.  I am not the originator of these methods, but I find them useful enough that I want to throw my voice into the mix and announce them to others who may find them useful also.
The command uses nslookup in non-interactive mode and looks like this:
nslookup myip.opendns.com resolver1.opendns.com
 See figure 4 to see the results:

 Hey!  That is the same address I found using the aforementioned web resources, but I did not have to launch a browser to get it!  Now you  can use that information as input in other scripted activities!
I did mention that it can also be done in PowerShell, so I will include that here, although I am not a guru on that topic (always willing to learn more…).
The command and output is
(Invoke-WebRequest -URI ("ifconfig.me/ip")).Content
and is shown in figure 5:

Be aware that it could take up to a minute before the above command generates output, but it does work.  Hope you find this to be a useful tidbit!
Until next time….
Mark Jacob
Cisco and CompTIA Network + Instructor – Interface Technical Training
Phoenix, AZ

0
114
0
In this video, you will gain an understanding of Agile and Scrum Master Certification terminologies and concepts to help you make better decisions in your Project Management capabilities. Whether you're a developer looking to obtain an Agile or Scrum Master Certification, or you're a Project Manager/Product Owner who is attempting to get your product or … Continue reading Agile Methodology in Project Management

0
1220
4
In this session, we are going to look at how to subnet a Class B address into multiple network segments using what's called The Magic Box. Let's run through this real quick.

4
478
3
In this IT Security training video, Security expert Mike Danseglio (CISSP / CEH) will perform several malware investigations including rootkits, botnets, viruses, and browser toolbars.