Introducing Windows 10 for IT Professionals – Free eBook from Microsoft
Home
>
Blogs
>
Windows 10
> Introducing Windows 10 for IT Professionals – Free eBook from Microsoft
Introducing Windows 10 for IT Professionals – Free eBook from Microsoft
Like This Blog
5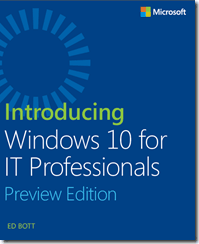 Microsoft has announced the release of their newest free ebook, Introducing Windows 10 for IT Professionals, Preview Edition (ISBN 9780735696969), by Ed Bott.
Download all formats (PDF, Mobi and ePub) at the Microsoft Virtual Academy.
---
From the author Ed Bolt
I've written about Microsoft Windows for nearly a quarter-century, and in all that time I have never worked on a project like this one. Then again, I've never seen anything quite like Windows 10 from Microsoft, either.
Windows 10 represents a major transformation of the PC landscape. For IT pros who've grown comfortable managing Microsoft Windows using a familiar set of tools and best practices, this version contains a startling amount of new. A new user experience. A new app platform. New security features and new management tools.
My goal in this book is to help you sort out what's new in the Windows 10 Technical Preview, with advance notice of features that will be available in the finished product but aren't yet implemented. I've tried to lay out those facts in as neutral a fashion as possible, starting with an overview of the operating system, laying out the many changes to the user experience, and diving deep into deployment and management tools where it's necessary. Continue reading…
---
For more information on Windows 10, see following blogs:
Windows 10 Introduction
Just finished watching a Microsoft Webcast, "What's Next with Windows 10" with Stephen Rose and Jeremy Korst. I became a member of the 'Windows Insider Program' last week and downloaded a copy of the Windows 10 Technical Preview ISO file. I am also in the process of upgrading my Lenovo ThinkPad from Windows 8.1 (with all of the latest updates and patches) to Windows 10 using the Window Technical Preview Update process that Microsoft offers…
Windows 10 – First Look
First, there is no more Start Screen. We are back to the Start Menu, although it is clearly enhanced. The Store/Metro apps that were once on the Start Screen are now located on the right panel of the Start Menu. You boot directly to the desktop, and the Start Menu enables access to both desktop and Store apps…
Windows 10 – Exploring Security
I continue my exploration of Windows 10. Ran an update first thing this morning, and received updates requiring a reboot. Identity protection includes migration toward multi-factor authentication (and away from simple account/password access); while access control expands the separation privilege levels and rights begun by the introduction of User Account Control…
---
For all the technologies we teach, please see our complete course schedule.
For more Windows 10 articles, see the following posts from Interface Technical Training:

0
3698
0
Mark Jacob, Cisco Instructor, presents an introduction to Cisco Modeling Labs 2.0 or CML2.0, an upgrade to Cisco's VIRL Personal Edition. Mark demonstrates Terminal Emulator access to console, as well as console access from within the CML2.0 product. Hello, I'm Mark Jacob, a Cisco Instructor and Network Instructor at Interface Technical Training. I've been using … Continue reading A Simple Introduction to Cisco CML2


0
247
1
In this video, Cisco CCNA & CCNP instructor Mark Jacob shows how to troubleshoot OSPF Adjacency issues by showing the distance between routers with the show ip ospf neighbor command.