ISACA's Newest COBIT 5 Release – A Big Deal for a Good Reason
ISACA's Newest COBIT 5 Release – A Big Deal for a Good Reason
Like This Blog
0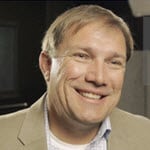 Why is COBIT 5 such a big deal?
There has been a lot of talk about ISACA's newest COBIT release, and for good reason.
COBIT 5 is the latest edition of ISACA's globally accepted framework that includes input from experts around the world. To date, it is the only business framework for the governance and management of enterprise IT that provides an end-to-end business view of the governance of enterprise IT. Building and expanding on its well-known predecessor (COBIT 4.1), it does a great job of integrating other major industry frameworks such as Val IT, Risk IT, ITIL, and related ISO standards. By using stakeholder needs as the start point for governance and management activities, COBIT 5 offers a more holistic and integrated view of enterprise governance and management of IT that uses consistent and common language.
This latest framework has many rich capabilities, notably the introduction of new GEIT (Governance of Enterprise IT) principles, increased focus on enablers, new and modified processes, the separation of governance/management, revised and expanded goals and metrics, and a new process capability model to just name a few. In general, COBIT 5 assists enterprises in many areas, to include (from ISACA Official Website):
Maintain high-quality information to support business decisions
Achieve strategic goals and realize business benefits through the effective and innovative use of IT
Achieve operational excellence through reliable, efficient application of technology
Maintain IT-related risk at an acceptable level
Optimize the cost of IT services and technology
Support compliance with relevant laws, regulations, contractual agreements and policies
The Product Family.
COBIT 5 is very well organized, with a comprehensive set of products that include the following table. ISACA continually updates their website with the most recent information, but here's a quick view of some of the key resources available: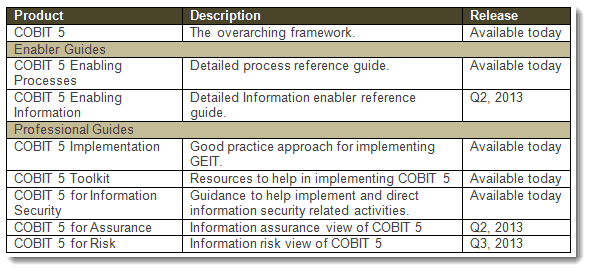 Training and Certification.
With the rollout of the new version, you can certainly expect a phased approach to the types and levels of training offered. Today, there is only one course available, with many to follow.
Introduction to COBIT 5 Workshop (available now). This is a one-day intro course that simply provides an overview of COBIT 5. It provides insight into the framework, explains the differences between 4.1 and 5, and introduces the new COBIT Assessment Program. It's a good course for existing and new practitioners preparing for upcoming COBIT 5 training. It is not a certificate type of course that requires an exam.
COBIT 5 Foundation certificate course (Expected November, 2012).  I'm assuming the layout of the course will be similar to the COBIT 4.1 Foundation course.  This will include an exam that is required before a certificate is issued to the student, and also a pre-requisite to take the Process Level Course.
IT Process Level certificate course (Expected December, 2012).  Like the Foundation Course, it will also include an exam that is required before a certificate is issued, as well as a pre-requisite to the Implementation Course.
Implementation Level Training (Expected January, 2013).  This is designed to help individuals and organizations understand key tasks in implementing a framework of GEIT (Governance of Enterprise IT) – specifically COBIT 5. Once the course has been taken, the exam passed, and other specific requirements are met, students are recognized as COBIT Implementers.
Assessment Level Training (Expected January, 2013):  Based on the ISO 15504 standard, this course assists in performing COBIT based assessments. Like the previous courses, this will also capstone with an exam in addition to candidates meeting other specific requirements.
In My Humble Opinion…
Make no mistake, COBIT 5 is not just for the big companies. With a primary focus of governing and managing information, it is equally important to many types and sizes of organizations including government, not-for-profits, SMBs, and associations. I am very excited about getting this updated framework into many of my clients as well as teaching it in the classroom. I think you will agree after you spend some time digging into this, there is no other framework in the market today that has the GEIT capabilities that COBIT 5 does.
As always, your feedback is welcome!
Mark Thomas – Director of Business Services
Interface Technical Training

0
3774
0
Mark Jacob, Cisco Instructor, presents an introduction to Cisco Modeling Labs 2.0 or CML2.0, an upgrade to Cisco's VIRL Personal Edition. Mark demonstrates Terminal Emulator access to console, as well as console access from within the CML2.0 product. Hello, I'm Mark Jacob, a Cisco Instructor and Network Instructor at Interface Technical Training. I've been using … Continue reading A Simple Introduction to Cisco CML2

0
692
1
This content is from our CompTIA Network + Video Certification Training Course. Start training today! In this video, CompTIA Network + instructor Rick Trader demonstrates how to use cable testers in network environments. Let's look at some tools that we can use to test our different cables in our environment. Cable Testers Properly Wired Connectivity … Continue reading Cable Testers and How to Use them in Network Environments