ITIL and COBIT Presentation at TI2011 by Mark Thomas
ITIL and COBIT Presentation at TI2011 by Mark Thomas
Like This Blog
0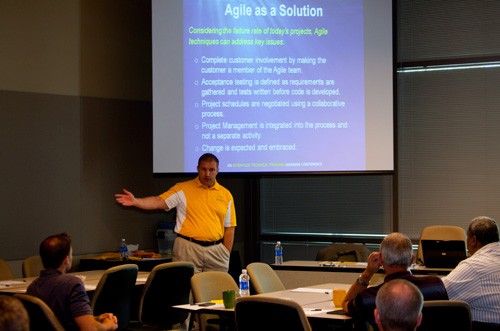 Below are links to download the ITIL / COBIT sessions presented by Mark Thomas at Interface Tech Immersion 2011.
Mark Thomas is the Director of Business Services at Interface Technical training.

Session 1: Agile
Presenter: Mark Thomas
Are you a victim of building the wrong solutions slowly? If so, you're not alone, and considering an Agile approach may be the right fit for your organization. The term Agile is used a lot today, and this is an opportunity to hear about what it is, as well as understand its applicability, success factors, and potential pitfalls. This presentation will also do an overview of the different 'flavors' of Agile and their characteristics.

Session 2: ITIL and ISO20000 — Pick One or Use Both?
Presenter: Mark Thomas
With the explosive growth of ITIL as the de facto framework for IT Service Management, there is still little known about the ISO20000 standard. Whether you have begun the path down ITIL or not, you may also want to consider looking into ISO. Based on ITIL fundamentals, this powerful standard, when coupled with ITIL, can be a powerful solution for Service Management success.

Session 3: IT Governance – Frameworks and Techniques to Get You Started or Over the Hump
Presenter: Mark Thomas
Too many frameworks, too little time. The IT governance space is full of frameworks, standards and bodies of knowledge. What are these frameworks and what do they mean to IT? This discussion explores some of the most common IT Frameworks, Bodies of Knowledge, and standards and explains how and when they are applicable in an IT organization and pros and cons of each.

Session 4: The Intersection of Project Management and Business Analysis
Presenter: Mark Thomas
The role of the Business Analyst has experienced significant growth in the IT industry. Couple this role with Project Management and what do you get? A powerful combination of roles and responsibilities that can drastically improve delivery performance. The challenge that exists between these roles continues to surround how these roles work together. In this discussion, you will learn the intersections between the BA and PM roles, and a new outlook on quality solution delivery.

0
694
1
This content is from our CompTIA Network + Video Certification Training Course. Start training today! In this video, CompTIA Network + instructor Rick Trader demonstrates how to use cable testers in network environments. Let's look at some tools that we can use to test our different cables in our environment. Cable Testers Properly Wired Connectivity … Continue reading Cable Testers and How to Use them in Network Environments


0
249
1
In this video, Cisco CCNA & CCNP instructor Mark Jacob shows how to troubleshoot OSPF Adjacency issues by showing the distance between routers with the show ip ospf neighbor command.