ITIL vs COBIT – Which is best for you?
ITIL vs COBIT – Which is best for you?
Like This Blog
1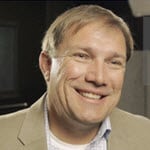 In this video, Mark Thomas, Director of Business Services and ITIL & COBIT instructor at Interface Technical Training breaks down the difference between ITIL & COBIT.
I wanted to share something with you that I experienced not too long ago. I visited an organization that asked me to help them make a decision. They wanted to make the decision on whether they went down the ITIL path or the COBIT path.
ITIL is the IT Infrastructure Library based on IT service management. COBIT is the Control Objectives for Information related Technologies, which a lot of folks think of that as the audit model.
So when I walked into this meeting, I had two groups of people. On my left, were the IT service providers, all using ITIL. On my right, internal audit, all using COBIT.
They wanted me to help them decide which one they would go with. The answer was both, and here's why.
Think about what each of these models was designed to do.
ITIL was designed as a service management framework to help you understand how you support processes, how you deliver services.
COBIT was designed as an IT governance model, particularly and initially with audit in mind to give you control objectives and control practices on how that process should behave.
The difference between the two is, COBIT tells you what you should be doing, while ITIL tells you how you should be doing it.
Put them together, and you have a very powerful model of what you need to be doing and how you need to be doing it, when it comes to your process management.
This is my recommendation. Next time you have a question on whether we should go ITIL or COBIT, the answer is both.
Upcoming live Business Services classes at Interface Technical Training:
ITIL
COBIT
Project Management PMP
Business Analysis
AGILE
SCRUM
Is there a DrillBit™ Video you would like to see?
Let us know in the comments section below. If it's a popular technical problem, we'll make a DrillBit™ video with the solution.

0
3774
0
Mark Jacob, Cisco Instructor, presents an introduction to Cisco Modeling Labs 2.0 or CML2.0, an upgrade to Cisco's VIRL Personal Edition. Mark demonstrates Terminal Emulator access to console, as well as console access from within the CML2.0 product. Hello, I'm Mark Jacob, a Cisco Instructor and Network Instructor at Interface Technical Training. I've been using … Continue reading A Simple Introduction to Cisco CML2


0
249
1
In this video, Cisco CCNA & CCNP instructor Mark Jacob shows how to troubleshoot OSPF Adjacency issues by showing the distance between routers with the show ip ospf neighbor command.