Microsoft Development Track Presentation at TI2011 (Scott Cate & J. Michael Palermo IV)
Microsoft Development Track Presentation at TI2011 (Scott Cate & J. Michael Palermo IV)
Like This Blog
1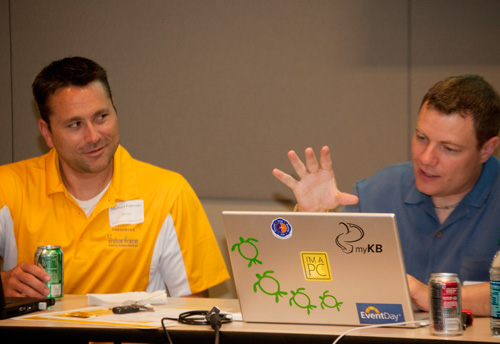 Below are the links to download the Microsoft Development sessions presented by Scott Cate and Michael Palermo at the Interface Tech Immersion 2011.
Scott Cate is the Chief Technology Officer and MVP at eventday.com & Regional Director at Microsoft. J. Michael Palermo IV is a Development Evangelist & MVP with Microsoft.
Download the Presentation Code
Session 1: Abusing Visual Studio: Visual Studio 2010 Tips & Tricks
Presenter: Scott Cate
As a developer using Microsoft Tools, you probably live inside of Visual Studio day-in and day-out. This session will talk about tips and tricks to help you better understand keyboard shortcuts, and capabilities of Visual Studio to increase your productivity.
Session 2: Right Here, Right Now. HTML5
Presenter: J. Michael Palermo
If you are a serious web developer, you can't afford to fall behind the HTML5 wave of technologies. Learn how to start using new features of HTML5 such as new semantic tags, audio, video, web storage, and canvas graphics. See how to write for the future, while maintaining compatibility with browsers that do not recognize features in HTML5.
Session 3: Azure Made Simple. Really.
Presenter: Scott Cate
What is Azure? Platform as a service? Let's not just talk about it, let's do it. On stage we'll build a service that uses Azure, and deploy the service live on stage. This hour will not only introduce you to the capabilities of Azure, but let you see it in action first hand.
Session 4: Write a Simple Task-List in Windows Phone 7
Presenter: J. Michael Palermo
Rags to Riches. This session will take the data from the previous Azure session and make a Windows Phone 7 client from it. We'll create a simple Task List application live on stage, from scratch. The reason for this is to let you see the inner workings of a Windows Phone 7 application, and how easy it is to get started building and making money from applications.

0
121
0
In this video, you will gain an understanding of Agile and Scrum Master Certification terminologies and concepts to help you make better decisions in your Project Management capabilities. Whether you're a developer looking to obtain an Agile or Scrum Master Certification, or you're a Project Manager/Product Owner who is attempting to get your product or … Continue reading Agile Methodology in Project Management

0
441
3
In this video Dan Wahlin demonstrate the similarities and differences between C# and JavaScript and the future of JavaScript (ES6).

4
508
3
In this IT Security training video, Security expert Mike Danseglio (CISSP / CEH) will perform several malware investigations including rootkits, botnets, viruses, and browser toolbars.