PMP – Beyond Self Actualization: Leading Change – Part 3
PMP – Beyond Self Actualization: Leading Change – Part 3
Like This Blog
0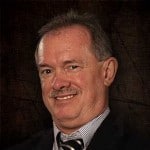 As leadership theory moves into the 21st Century, a new, integrated outlook evolves. New approaches meld perception (a typically qualitative characteristic) with statistical analysis (a quantitative approach) toward the selection of appropriate management and leadership methodology. Decades of independent research topics are now tumbling together revealing Eureka effects in rapid succession. Unlike the failed understanding of a D'oh!, these are the 'Aha!s' of enlightenment. The results are surprising in their simplicity. The dedicated project manager must stay abreast of the alternatives.
Culture focused efforts in the 1980's failed because they emphasized the environment and attempted to standardize the playing field or the process. Influence must consider both the environment and the person. Since people are complex, cultural or environmental centered methods are easier to implement. We tried to mimic often-successful methods without consideration of either context or the participants.
In hindsight, successful leaders were developing their own approaches from the lessons they were learning, creating their own cultures. Leadership coaches like Napoleon Hill, Zig Ziglar, Jim Rohn, Stephen Covey, Tony Robbins, John Maxwell and a host of others have been authoring works based upon leadership experience and success for three quarters of a century. Sharing exceptional methods from which many Project Management tools arise. But these great works encourage managers and leaders to pursue individual development effort, rather than affording guides for reproducible cultural or team development. Self-development is a lifelong process. Yet project objectives are constrained to the near term.
Common leadership themes become apparent. To lead others, we must constantly work ON ourselves and FOR others. Even great wisdom needs a filter, however. While learning to lead, we need guidelines that help us generate short term success. Project managers need leadership approaches that fit the unique, temporary nature of projects and business cycles as we identify, practice and improve individual leadership personas.
One such model is proposed by authors Dave Logan, John King, and Halee Fischer-Wright in Tribal Leadership. The book evolved from their ten year study of cultural linguistics – an attempt to identify team or cultural patterns. As an adept of project management theory, one cannot help but pair the results to those of Maslow, even though there was no design or effort in Tribal Leadership research to achieve such a comparison. The results suggest that tribes evolve around common personal themes or focus.
Logan, King and Fischer-Wright identified a continuum composed of five tribal stages. A continuum that mimics the normalized, six-sigma distribution so familiar to project management statistics. People of like mind (or perspective) tend to gather together in small groups or tribes. Their language is similar. Their focus is similar. And they create reinforcing cultures. Cultures that range from the dis-enfranchised to the enlightened philanthropist. The vast majority surrounding the mean seek for themselves, not a very productive or team oriented perspective.
Stage one, represented by despairing hostility, comprises 2-3% of a population. Representative members have no hope, and may express extreme negative emotion. Stage two makes up about 23% of the population. While recognizing that others might have hope or options, they don't believe that they do. Stage three, a full 50% of a population, are competitive and perceive that the world is a win-lose scenario. In the working or project world, stage three is typified by the world of Dilbert as portrayed by Scott Adams. With 75% of the population representing stages one through three, it should come as little surprise that project management is a challenge or that projects regularly fail.
Stage four membership creates team players, who form from what the authors refer to as triads. Leaders facilitate the creation of triads, the foundation of a cooperative culture. As triads overlap, a team is created. The 22%-23% in stage four hold an us-versus-them rather than a me-versus-you perception. Productive output can be achieved by stage 4 players. Only the top 2-3% of a population operates from a truly visionary, altruistic or outwardly focused perception – and can be labeled as stage 5 participants.
The five stages parallel the evolution proposed by Maslow, such that the fifth and final stage achieves a form of personal and team actualization. Stage five can only be maintained for short periods of time as a team focuses on the achievement of a common goal. Influence from 75% of the population, perceiving only self-focused, win-lose or lose-lose scenarios, must impact the productive 25% some of the time.
The following table lays out the five Tribal Leadership stages.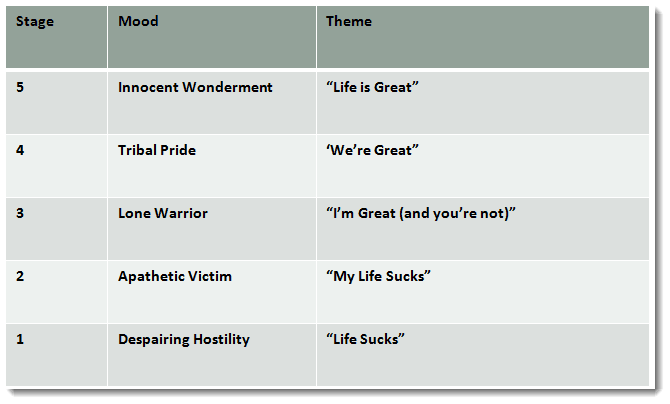 Project management focuses on guiding a group toward a common goal. Recognizing the starting stages for the contributors, as well as the language and path toward stages four or five, provides a project manager with a method for improving project success. Interestingly, most people will state that they are one or two levels above their actual stage. Beyond stage one, everyone wants to be better off than they are. When presenting this material within project management courses, participants always volunteer a status well above the demonstrated statistical distribution. Studying the model can afford a project manager the opportunity to identify a stakeholder's true stage, the language most effective in communicating with them, and a model to motivate project contributors carefully up through the stages in terms of perception, support, and participation.
The model identifies that collaboration occurs not only at the pinnacle, but also within tribal groups at all stages or levels. The collaborative goals, reinforced by language (spoken and non-verbal), are different amongst the five stages. Some will support project goals, others will work for personal gain, while still others will detract from any effort. People create their own environments. And it should now be obvious that creating a culture is about people rather than environment or general process.
Ultimately, as project managers we must lead by relationships. This is the key concept offered by most leadership success authors.
Within Stephen R. Covey's Seven Habits of Highly Effective People  seeking to understand before being understood is a foundational principal. Merged with concepts like those espoused in Tribal Leadership, we learn that leaders need to understand far more than being understood. A leader's goal must be altruistic, since a successful product is based on the needs of another. We must also realize that very few potential stakeholders either are or perceive themselves to be in a position to contribute.
In his recently published book The Five Levels of Leadership  John Maxwell addresses the essential nature of developing relationships to affect successful leadership.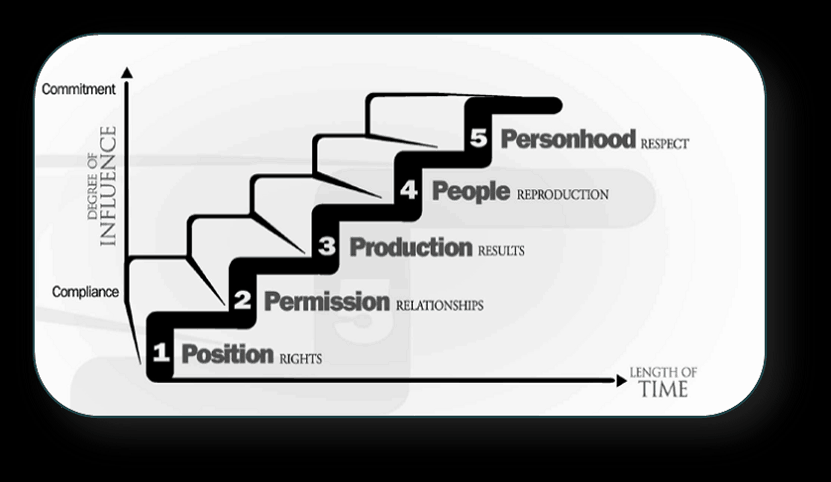 According to Maxwell, only level 3, 4, or 5 leaders are in a sufficiently influential position to affect change. And change is the very core of a Project Manager's function. Very, very few leaders possess the skills and have sufficiently refined their experience and relationships to provide consistent results. Based on his studies, Maxwell identifies that only 10% of leaders reach level 4, and only 1% reach level 5. Level 5 is effectively a lifetime achievement.
Leadership growth all starts with relationship, which requires massive personal development – from an individual that cannot forget to maintain relationships unless they want to risk sliding all the way back to level one. For Maxwell, level one is influence based solely on position. Although group characteristics can be classified along a continuum, leadership itself is not a continuum. It is a lifelong practice and effort.
As a project manager, you need to continue personal development, and learn to develop lasting relationships with the right tribes and mentors to make a difference. Fortunately, the new models offer perspective and process that is individually based and environmentally grounded. They aid evolutionary leadership while offering successful short term outcomes. Transitioning from triad to triad, or tribe to tribe can be a difficult process. But it is what good leaders do.
You have elected to lead change. Whose Needs should you be addressing next? The answer is not in a single name …
For more in this series visit:
PMP – Beyond Self Actualization: Leading Change – Part 1
PMP – Beyond Self Actualization: Leading Change – Part 2
Enjoy!
Steven Fullmer
Interface Technical Training Staff Instructor

0
183
0
This video is from our PMI-PBA Business Analysis for IT Analysts and Project Managers (PMI-PBA)® Certification now available at Interface Technical Training. Also see Steve's PMP Project Management Certification Course: Project Management Professional (PMP®) Certification Video Training PMBOK® 6th Edition  Video Transcription: Data Models are part of the elicitation analysis in PMI-PBA. This is the way … Continue reading Data Models in Business Analysis