PowerShell Guru Don Jones is coming to Interface Technical Training
Home
>
Blogs
>
PowerShell
> PowerShell Guru Don Jones is coming to Interface Technical Training
PowerShell Guru Don Jones is coming to Interface Technical Training
Like This Blog
0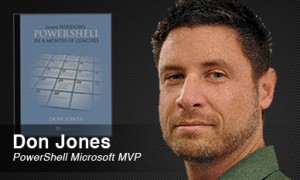 Windows PowerShell training by Don Jones at Interface Technical Training – PHX, AZ. October 24, 2011.
For the first time, Interface will host Don Jones' Exclusive PowerShell Masterclass for Administrators. This 5-day course, combines Don's PowerShell training experience with his latest examples and samples.
Don Jones, a Microsoft MVP (Most Valuable Professional) and PowerShell Guru, teaches IT professionals to be immediately effective with Windows PowerShell.
Topics include running commands, using the help system, formatting command output, Windows Management Instrumentation, multitasking with background jobs and adding logic and loops.All of Jones' sample scripts and shell transcripts are included with completion of the course. Jones' most recent book is Learn Windows PowerShell in a Month of Lunches. Jones co-authored PowerShell v1 and PowerShell v2 and developed the official Microsoft PowerShell curriculum. He writes a monthly PowerShell column for Microsoft's TechNet Magazine.
Interface Technical Training has a proven reputation for more than 10 years of excellence in technical training, helping employers increase their Information Technology efficiency and capabilities. IT professionals learn from instructors who are consistently at the top in their specializations.
The only Microsoft Managed Certified Gold Partner for Learning Solutions in the state, Interface also specializes in training for CISCO certification. Quality technical training with guaranteed skills enhancement has set Interface apart from the field.
Don Jones' Exclusive PowerShell Masterclass for Administrators
October 24, 2011
Interface Technical Training, 3110 N Central Ave, Ste 160, Phoenix, AZ 85012
Contact: 602.266.8500, info@interfaceTT.com, www.interfaceTT.com

2
1883
4
In this video, I'm going to answer a very common question that I get when I'm teaching Windows PowerShell, and that's, "What's the difference between what's called $_ and $PSItem?" Let me explain to you a little bit about what these two variables do. When we're working with the PowerShell pipeline, and we want to … Continue reading Difference Between $_ and $PSItem in Windows PowerShell

0
1229
2
In this video, PowerShell instructor Jason Yoder demonstrates how you can use the PowerShell Script Analyzer to help you format your code to best-practices. For instructor-led PowerShell training classes, see our course schedule: Microsoft Windows PowerShell Training Download the PowerShell Analyzer scripts used in this video. <# ╔══════════════════════════════════════════════════════════════════════════════╗ ║ ║ ║ PowerShell Script Analyzer ║ … Continue reading How to use the PowerShell Script Analyzer to Clean Up Your Code