Some Awesome SharePoint 2010 Books
Some Awesome SharePoint 2010 Books
Like This Blog
0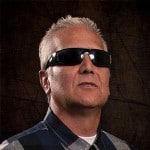 I love computer books. I've always thought it amazing that I can sit down with a great computer book and a machine and learn.There are so many options for learning about technology today. Most universities offer at least a portion of their curriculum for free online and of course there are several video training options out there.
Since I am a Microsoft Certified Trainer at Interface Technical Training in Phoenix Arizona, I cannot claim neutrality when it comes to recommending the classroom as the highest bandwidth for transferring technical knowledge, but having said that, when it comes to I.T. and keeping your skillset up I believe in all of the above when it comes choosing between books, videos, and the classroom.
This blog post is about my favorite SharePoint 2010 books in each of the following categories:
End Users
Site Collection Administrator / Site Owner
SharePoint Designer
Info Path
Farm Administrator
PowerShell

I have gone through several books in most of the categories and chosen my favorite one. This is not to slight any other titles, but students often ask which is my favorite so I decided to create this blog post. All of this is of course my OPINION and while some may disagree with my choices, I doubt anyone would not agree that all of these titles are awesome. I don't have a choice yet for developers because I'm not done with a couple that I really like and don't yet have the 'one' favorite.

End Users – Microsoft® SharePoint® 2010 Plain & Simple
By: Johnathan Lightfoot; Chris Beckett
Publisher: Microsoft Press
Pub. Date: November 1, 2010
Print ISBN-13: 978-0-7356-4228-7
Pages in Print Edition: 256

An End User would be someone who has embraced SharePoint 2010 and finds that the product helps them in their day to day business lives. This is normally a person with little or no I.T. technical background per say but is the working horse of industry. This person is typically in the members group of their SharePoint 2010 sites and is checking in and checking out documents, approving, participating in workflow and generally knocking out pallet loads of work and finds SharePoint 2010 to be an ally. This book is tremendous. It goes by so fast and is beautifully laid out. Every single page is chock full of very specific information and skills. Although I can also recommend this book to site collection administrators or site owners it is a must have for end users.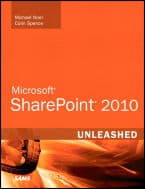 Site Collection Administrator / Site Owner – Microsoft® SharePoint 2010 Unleashed
By: Michael Noel; Colin Spence
Publisher: Sams
Pub. Date: October 08, 2010
Print ISBN-10: 0-672-33325-2
Pages in Print Edition: 1008

Site Collection Administrators / Site Owners are the ones who are responsible for setting up and maintaining the working environment in SharePoint after it has been installed. They create sites, understand templates, site columns, content types, lists, libraries and security. They create, manage and understand workflows, web parts, search and the role of SharePoint Designer. This book delivers all of those skills in addition to some really good farm level stuff which is never bad to know.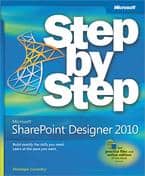 SharePoint Designer – Microsoft® SharePoint® Designer 2010: Step by Step
By: Penelope Coventry
Publisher: Microsoft Press
Pub. Date: December 30, 2010
Print ISBN-13: 978-0-7356-2733-8
Pages in Print Edition: 592

SharePoint Designer is the tool used for creating declarative workflows, connecting to external data sources, branding, and just about anything you can do with SharePoint 2010 in the browser. It is a very powerful tool. It was completely revamped for SharePoint 2010. I had the 2007 version of this book and I wore it out it was so good. I was actually a little nervous about going through this one because I loved the 2007 book so much. I was absolutely blown away by this version. There are several books in this space I can recommend but this one is my favorite.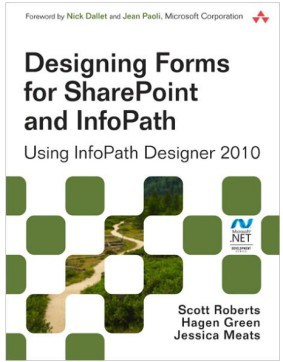 InfoPath – Designing Forms for SharePoint and InfoPath: Using InfoPath Designer 2010
By Scott Roberts, Hagen Green, Jessica Meats
ISBN-13: 9780321743602
Publisher: Addison-Wesley
Publication date: 5/20/2011
Edition number: 2
Pages: 1128

Info Path is one of the greatest programs ever written once you get to know it. Simply put it makes forms, fast, and effective. It works seamlessly with SharePoint 2010 and can be used to create custom workflow forms, list forms, Document Information Panel forms and just about any other form you can think of. This was a tough choice because there are not too many books on this topic out there that I can find and the ones I found I love, but if I could only have one it would be this one.

Farm Administrator – Professional SharePoint 2010 Administration
By Todd Klindt, Shane Young & Steve Caravajal
ISBN: 978-0-470-53333-8
Paperback
840 pages
June 2010

Farm Administrator – This is the person or group responsible for installing, maintaining, and configuring the farm. Now you would think that a book on that side of things would be boring, but not this book. It's like you sitting down with an expert and they are explaining everything to you in a simple, informative, and pretty funny manner. People occasionally look at me with a puzzled expression when I am reading this book and I start laughing but the way it reads it doesn't feel like the deep technical manual that it is. I love this book.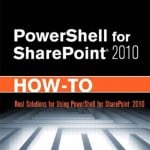 PowerShell – PowerShell for SharePoint 2010
By: Steve Mann
ISBN-13: 9780672335594
Publisher: Sams
Publication date: 7/6/2011
Edition number: 1
Pages: 272

PowerShell is to Farm Administrators what HTML is to web developers. If you are working with any of the current products in an administrative role you will want to know PowerShell. If you are administering a farm for SharePoint 2010 you will need to know the commandlets associated with the product and although there are several books out there this one is the one I would have if I could only have one.
Luckily there are still many, many choices and I have many, many books that aren't in this blog, and it takes so much effort to write a book, much less a book on SharePoint that I hate to not include all of them but most people don't have the time to commit to going through more than one or two per category and since students often ask me for my opinion in this area, I thought it would just be easiest to make it a blog post that I could point them to.
Enjoy,
Spike Xavier
SharePoint Instructor – Interface Technical Training
Phoenix, AZ

0
3794
0
Mark Jacob, Cisco Instructor, presents an introduction to Cisco Modeling Labs 2.0 or CML2.0, an upgrade to Cisco's VIRL Personal Edition. Mark demonstrates Terminal Emulator access to console, as well as console access from within the CML2.0 product. Hello, I'm Mark Jacob, a Cisco Instructor and Network Instructor at Interface Technical Training. I've been using … Continue reading A Simple Introduction to Cisco CML2


0
4289
4
In this video, Cisco CCNA instructor Mark Jacob shows how to create a Login and Message of the Day (MOTD) banners in Cisco IOS. The Banner is an interesting feature of the Cisco IOS. You could probably get by without it, but in a commercial environment you want to have it.