Stakeholder Relationships and Stakeholder Engagement in Project Management
Stakeholder Relationships and Stakeholder Engagement in Project Management
Like This Blog
0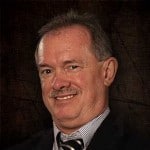 ---
This post if from our Project Management Professional (PMP®) Certification Video Training PMBOK® 6th Edition certification course, start training today!
---
As we look into stakeholder relationship and stakeholder engagement, here's some shifts in mindset. A Project Manager is more of a leader than just a manager of tasks.
The goal of stakeholder relationship and the management of those relationship is to try to get individuals who are committed to the outcome, rather than people who are merely compliant with your goals.
In other words, we don't want people who will just be there to be there. We want people who will help champion the effort. We really want to focus on the outcome. What's the value of the deliverable that will be provided?
Value:
The value of any deliverable is you, rather than just being able to measure specific tangible deliverables, or services that can be measured.
We tend to start normative. What we mean by that is, a standard. Standards are mediocre. Our goal in a project remember, is a J‑curve that's not about mediocrity, it's about excelling. That greater only happens through collaboration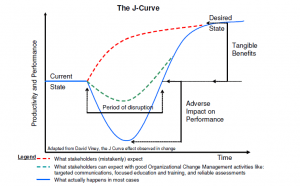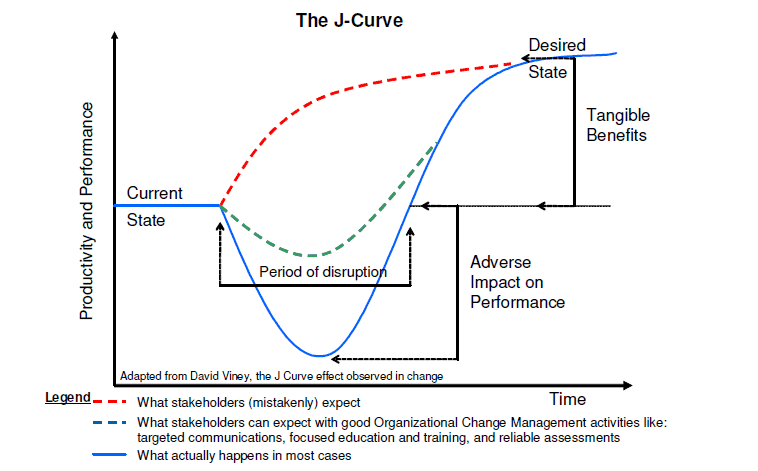 It's a collaborative mindset as well as a collaborative destination by the sponsor, the customer, the team and the stakeholders.
What you are as a Project Manager is a leader. Again, we're saying you're a leader rather than a manager. Your job is to try to buy commitment from people by the relationship that you create.
You're also a leader of your team. Try to help your team members understand that it's not just getting worked done it's also about your core team and contributors. Even the people in the trenches with shovels doing the hard back‑breaking work, they're the ones who are out there by their behavior selling the commitment providing the service.
In today's service-centered oriented operational environment, every single team member is critical to the service delivery that is exceptional. Everybody has to be out there to help sell. The effort that you're doing as a project. It is really about motivation.
We start by understanding who all of our stakeholders are at all levels and what motivates them so that we can properly collaborate. We're not trying to manipulate, we're trying to understand and exchange needs to enhance all of our contributions and therefore, benefit all of us. We understand shifting to refocus on this. It's a learning is a process, not a specific event.
That means, all of our stakeholder relationship in building this collaboration, is going to be this slowly growing spiral, whether it's growing to a bigger picture in terms of our mindset, or it's a spiral that's going towards the middle to get closer and closer to the people.
It's an evolutionary process rather than a single event. First we're going to gain the attention of our potential stakeholders, so they know who we are and what the project is. Then we're going to start generating interest, knowledge, and understanding.
From knowledge and understanding, we can start to use positive emotions. Then keep revisiting it as a cycle until we get stronger commitment and collaboration from all the team members. That's seldom happens in one visit.
I get it. Love at first sight might happen, but the stronger relationships don't just look at physical interaction. They also look at friendship, they look at logic and the reality of how to make it work together in today's challenging world. That's true of projects as well.
It's about a long‑term relationship that's like a wedding, the challenges (because projects are temporary and unique) you can't just develop these relationships within a short timeline. You need to be constantly developing relationships outside of the project framework. This concept is new to the Project Management Body of Knowledge (PMBOK) 6th edition, and it's a worthy one.
We as Project Managers are trying to change not just the development of a single project or product, but we're trying to demonstrate that this approach can be used to better the world, whether it's one project, one program, or an entire organization at a time.
Now one of the new acronyms that you might find on the PMP exam is the SCARF Model.
What we're talking about is human nature. Can you influence other people?
People will look for status when it comes to change. Remember the J‑curve here that people are doing. People want for some sense of certainty that if they're going to take the risk to work through this curve, they know that the outcome is more certain, are certain as we can make it.
Some people seek authority, some control over their lives or others in order to achieve their agendas. Some people want you to relate to them. We don't all have to be the same, but we have to have a common ground to be able to make that work.
Finally, people look for fairness. We all know life's not fair but we want to do is make it as fair as we can. It's not even equal, but we want to make it as opportunistic as we can, so that everybody who chooses can participate and gain.
It's not the story "The Little Red Hen" where one person does all the work. It sounds right, but we look at that and say, "Wow, I don't want to be the little red hen. I want to be the person eating the bread at the end." That doesn't work either. Everybody ultimately has to contribute, or we don't have full success.
Particularly when we talk about the J‑curve, we need to get commitment and collaboration from people to be successful. Our goal is about relationship, not just a product or a process.
I look forward to seeing you in the classroom or online!
Steven Fullmer
Interface Technical Training Staff Instructor
Steve teaches PMI-PBA: Business Analysis Certification,  PMP: Project Management Fundamentals and Professional Certification, Windows 10, and CompTIA classes in Phoenix, Arizona.
Steve's Video Certification Training Classes at Interface Technical Training:
Project Management Professional (PMP®) Certification Video Training PMBOK® 6th Edition
PMI-PBA Business Analysis for IT Analysts and Project Managers (PMI-PBA)® Certification

0
3794
0
Mark Jacob, Cisco Instructor, presents an introduction to Cisco Modeling Labs 2.0 or CML2.0, an upgrade to Cisco's VIRL Personal Edition. Mark demonstrates Terminal Emulator access to console, as well as console access from within the CML2.0 product. Hello, I'm Mark Jacob, a Cisco Instructor and Network Instructor at Interface Technical Training. I've been using … Continue reading A Simple Introduction to Cisco CML2

0
183
0
This video is from our PMI-PBA Business Analysis for IT Analysts and Project Managers (PMI-PBA)® Certification now available at Interface Technical Training. Also see Steve's PMP Project Management Certification Course: Project Management Professional (PMP®) Certification Video Training PMBOK® 6th Edition  Video Transcription: Data Models are part of the elicitation analysis in PMI-PBA. This is the way … Continue reading Data Models in Business Analysis