Upgrading Kali Linux to Rolling Distribution
Upgrading Kali Linux to Rolling Distribution
Like This Blog
0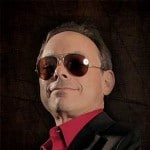 Kali Linux is a fantastic operating system for penetration testing and security evaluation. It comes with virtually all security tools built in, it's lightweight by default, and it has a huge ecosystem that is constantly helping with the project.
Kali recently began moving towards a rolling distribution. This allows both the core Debian operating system components and the applications to update much more frequently with fewer dependency breaks. This is big deal, both because all future development will be on the rolling distribution and because the current distribution will not be supported after April 15th 2016.
For instructor-led Security training see our course schedule. 
Because this is a major change, it requires a few steps to upgrade an existing Kali Linux installation to a rolling distribution. Here's the easy version of those steps.
First logon to Kali and open a Terminal window. If you're not logged in as root (and I hope you're not!) run su to invoke a root prompt.
We need to change the list of Kali repositories. To do that, type:
cd /etc/apt
Next I usually make a backup of the file I'm going to change. In this case the file is sources.list so the command I use is:
cp sources.list backup-sources.list
Here's what that looks like with a ls to show the results: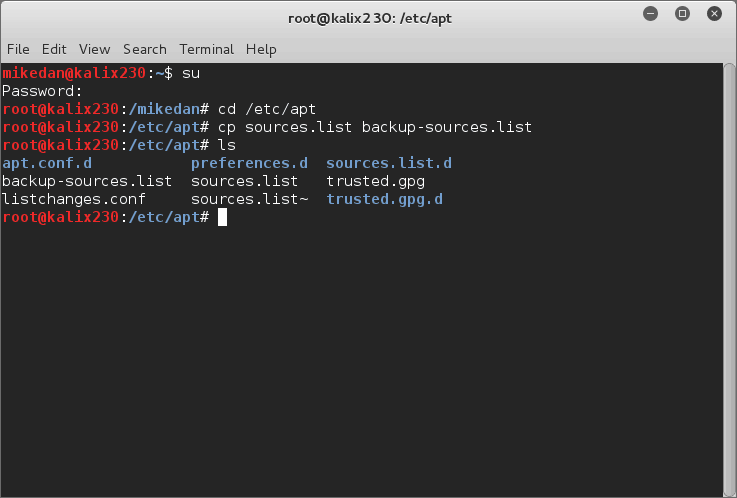 The next step is the hardest. I'm going to type out a file that replaces the existing sources.list. This must be typed exactly correct or it will not work. The three commands are:
cat << EOF > /etc/apt/sources.list
deb http://http.kali.org/kali kali-rolling main non-free contrib
EOF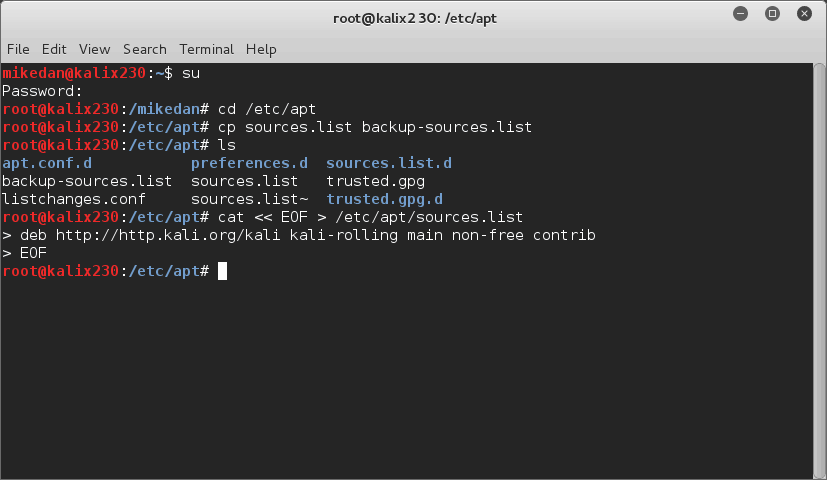 This set of instructions creates a new sources.list with only one entry that points to the kali-rolling distribution.
The configuration is complete, now it's time to update the OS. First I run apt-get update to update the list of available packages: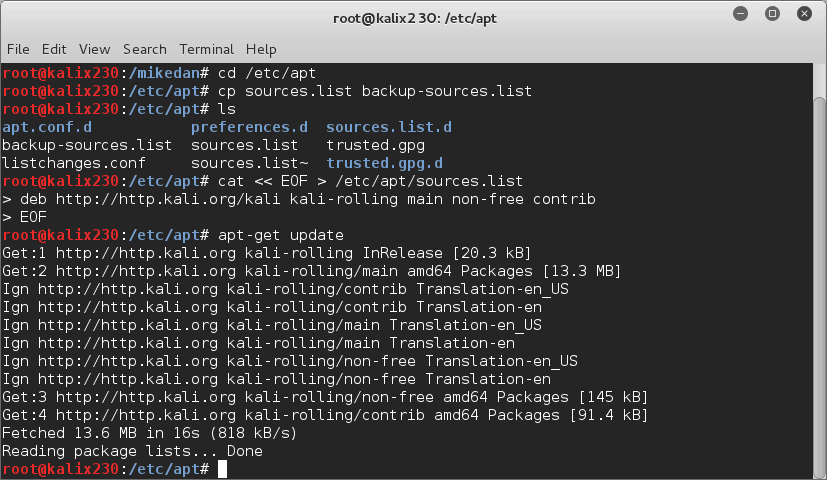 Then finally I run apt-get dist-upgrade to install new and updated packages.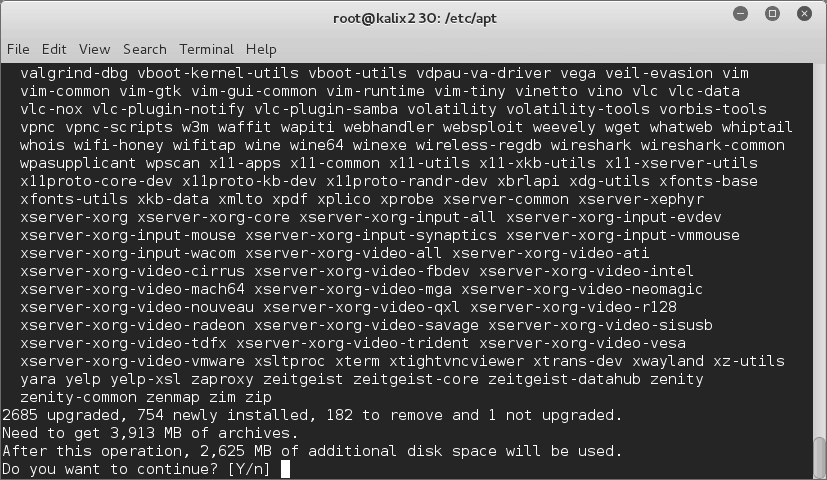 Notice that it's installing 2685 upgrades and 754 new packages. That's essentially replacing every app and every system component. Fair warning, this can take a long, long, long time to complete. For me, it took about six hours from start to finish including downloading over a 100Mbps Internet connection.
Finally, I reboot the computer to load the updated kernel and devices drivers. That's it! My Kali installation is now ready for the future.
Enjoy!
Mike Danseglio – CISSP, MCSE, and CEH
Mike Danseglio teaches IT Security Training, Windows, System Center and Windows Server 2012 classes at Interface Technical Training. His classes are available in Phoenix, AZ and online with RemoteLive™.

0
3852
0
Mark Jacob, Cisco Instructor, presents an introduction to Cisco Modeling Labs 2.0 or CML2.0, an upgrade to Cisco's VIRL Personal Edition. Mark demonstrates Terminal Emulator access to console, as well as console access from within the CML2.0 product. Hello, I'm Mark Jacob, a Cisco Instructor and Network Instructor at Interface Technical Training. I've been using … Continue reading A Simple Introduction to Cisco CML2

0
626
1
This content is from our CompTIA Network + Video Certification Training Course. Start training today! In this video, CompTIA Network + instructor Rick Trader teaches how to create Dynamic DNS zones in Network Environments. Video Transcription: Now that we've installed DNS, we've created our DNS zones, the next step is now, how do we produce those … Continue reading Creating Dynamic DNS in Network Environments

0
713
1
This content is from our CompTIA Network + Video Certification Training Course. Start training today! In this video, CompTIA Network + instructor Rick Trader demonstrates how to use cable testers in network environments. Let's look at some tools that we can use to test our different cables in our environment. Cable Testers Properly Wired Connectivity … Continue reading Cable Testers and How to Use them in Network Environments