Windows 10 – First Look
Like This Blog
6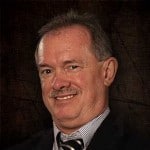 In my last Windows 10 blog I had just installed the operating system using an 'in place upgrade' from Windows 8.1. Several of the desktop features appear to be residue from Lenovo and my Windows 8.1 environment, although there is a clear difference.
First, there is no more Start Screen. We are back to the Start Menu, although it is clearly enhanced. The Store/Metro apps that were once on the Start Screen are now located on the right panel of the Start Menu. You boot directly to the desktop, and the Start Menu enables access to both desktop and Store apps. You may make the Start Menu full screen with the set of arrows in the top right corner of the Start Menu, somewhat emulating the Start Screen. And as I tried that feature, the power button was suddenly more obvious to the left of the Start Menu sizing button. I am beginning to like the new navigation elements of Windows 10 already.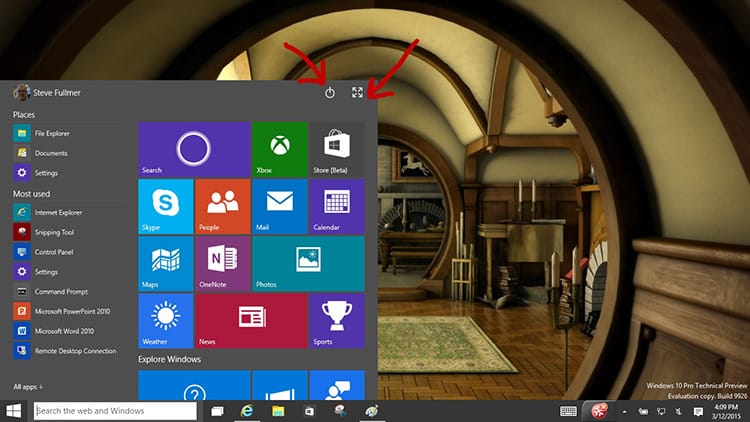 I then decided to find the equivalent for one of my favorite Windows 8.1 features. Would they take away one of the few powerful additions in Windows 8.1? Yep. You can no longer merely type commands while on the desktop or Start Menu. They did provide a near equivalent, however. The search feature is now permanently a component of the task bar. Windows 10 preview also installs with Task View, Internet Explorer, File Manager, and Store (Beta) pinned to the task bar.

During announcements in September and October, 2014, Microsoft shared that Windows 10 would support multiple virtual desktops.  My MacOS X system has a comparable feature, and I could find the feature on Windows 10 using the proposed Windows+Tab keys. I do not yet, however, have sufficient applications or Store Apps to test the feature, so I am tabling this for another day (and a later blog).
Windows+Tab once enabled the stacked, offset display of running applications in Windows 7. This functionality has been replaced with Task View. Task View may be launched from the task bar or by using the Alt-Tab hot key combination. Once I had launched the few applications on my system, Task View works nicely, albeit as a flat, side-by-side display of all running applications. I hope this changes to the more richly presented, three dimensional listing prior to final release of Windows 10. I do like that Microsoft is attempting to use common hotkey combinations for potentially popular navigation selections.
The new Start Menu, Virtual Desktops, and Task View are three of the features offered during the initial Windows 10 announcements. Present and nice, though insufficient to prompt be to migrate from Windows 7 or 8.1.
A fourth option. The integration of both Metro/Store and common desktop applications on a common desktop shows promise. The store/metro applications once required a full screen, though can now be resized like a desktop application. [I made a note to myself to test screen resolution requirements when we have a chance to visit the video studio. Fixed screen resolution parameters often caused store/metro applications not to launch and I want to check if the same constraints continue.]
In addition to consistent application windows, the enhanced Snap feature works nicely. I can snap up to four applications on my desktop, resizing each to fit. There may be limitations, although simple side-by-side and top-to-bottom layouts appear to work easily.
As I attempt to acquire a store app or two for testing, I am immediately prompted to accept an application update. Three tries later, and I have the new Store Application service updated. The system prompts me that it will reboot in 15 minutes, and presents a countdown timer. Interesting choice of delay. I continue to perform additional evaluations, and fifteen minutes later by system quickly restarts.
Once I restart, an action center message notifies me of the update, and I am able to acquire a simple Store Application for evaluation.
A few other differences that are immediately note worthy:
No more charms bar or hot corners on my touch screen. A swipe from any vertical position on the right margin reveals a Notifications The pane offers Tablet Mode, Display, Connect, and All Settings.
The Notifications > All Settings option allow me to configure the System, Devices, Network & Internet, Personalization, Accounts, Time and Language, Ease of Access, Privacy, or Update and Recover. These options remind me fully of the Charms bar – PC Settings options.
Several navigation or search terms result in help screens offering use of Cortana. I chose to save my Cortana research for another day – although thus far this seems to be the first truly new feature that I can identify.
I decided to explore – with my goal toward creating a recovery drive before I break my evaluation system with limited repair options yet established. Creation of the 3.6 GB iso to an USB drive as my initial evaluation was problematic. Last week's process insisted on a minimum 8 GB USB drive. A quest through the control panel, backup, and related options did not reveal the 'Create a System Image' or 'Create a system repair disk' options found in Windows 7. I ultimately typed Recover in the search bar and found the Windows 10 Recovery tool.  After two efforts I was able to create a small Recovery USB drive. At least for the Preview Release, you need 512 MB for a simple recovery USB drive and 8 GB for a full system recovery. I created the Recovery USB using a 4 GB stick, and then rebooted to confirm that a minimalist recovery drive is created. The recover drive is directly bootable and contains the same menu system as Windows 8.1 – supporting recovery from a restore point, boot repair, an attempted .wim repair, or full system replacement. Review of the USB contents do not reveal any .wim file, so full recovery will require a larger drive or separate .wim file and manual process.
All-in-all, no significant or major changes. The system looks like an evolutionary cross between Windows 7 and Windows 8.1
Let's check Control Panel for new or different tools?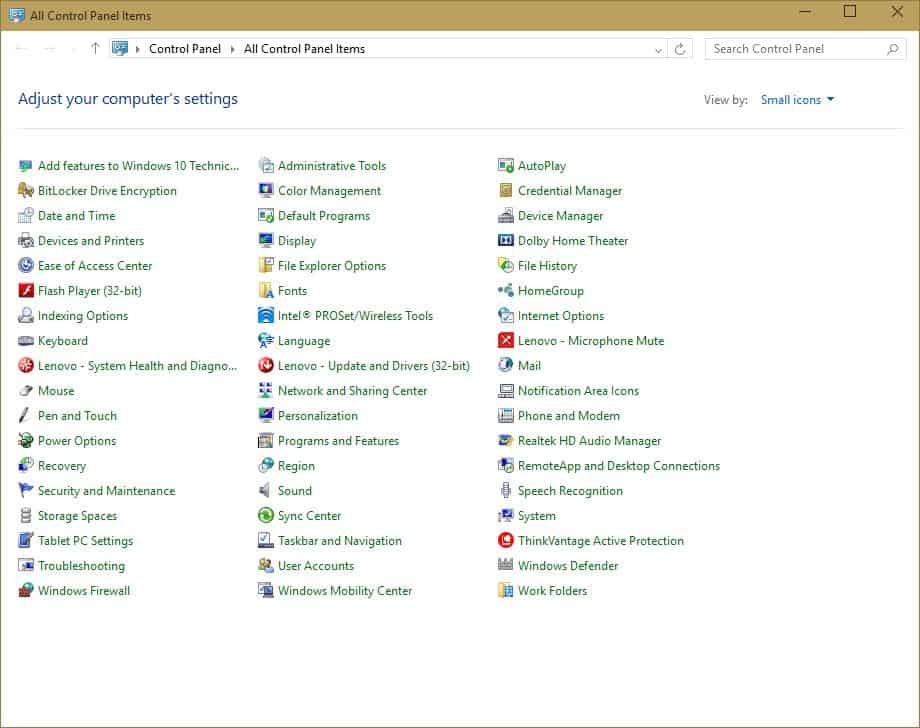 [Note: My upgrade evaluation of Windows 10 is being performed on a Lenovo Touchscreen system that shipped with Windows 8.0 and was upgraded to Windows 8.1. Several of the Control Panel items are carried over from the original Lenovo tools.]
Action Center – promoted as having vastly enhanced messaging is absent. I ultimately located the Action Center equivalent panel under Security and Maintenance, which then looks the same as Windows 7.
At a very high level, aside from a few tools unique to my touch screen system, the Control Panel is very much like Windows 7 or Windows 8 – at least in the preview release. I quickly launched several applications.  (Note: my test was neither comprehensive nor in depth, merely seeking possibly new offerings). The following list of features appears to directly mimic Windows 8.1 offerings. I launched most from the Control Panel, and a few directly from the Search bar.
Credential Manager
File History
Firewall
Home Group
RemoteApp and Desktop
Speech Recognition
Synch Center
Windows Defender
Work Folders
Troubleshooting
PowerShell 3.0
Task Manager decidedly contains all of the Windows 8.1 enhancements including the process, performance, app history, startup, users, details and services tabs. Processor affinity works identically, as do redirection to the Restore Monitor and Services.
The only significant visual different worth noting thus far is the new File Manager (Windows Explorer) interface.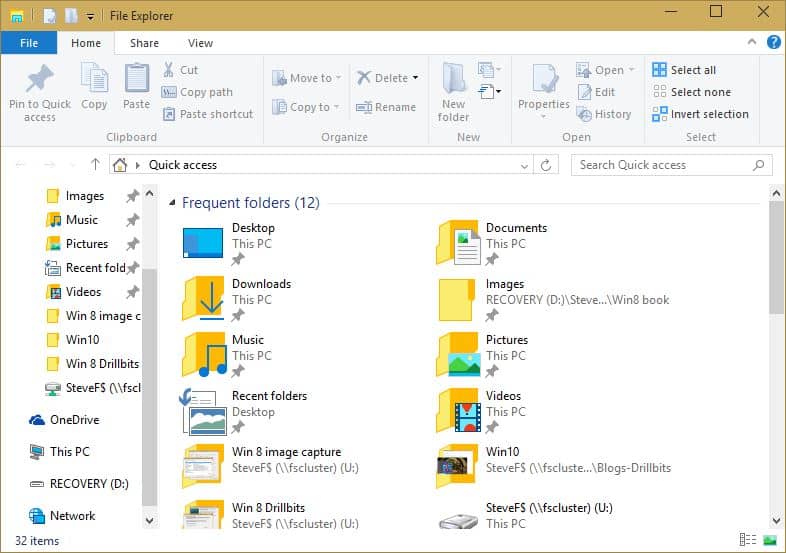 While maintaining the Ribbon bar introduced in Windows 8.1, the iconography has vastly expanded, or at least changed.
While I look forward to diving more deeply under the hood and into the mechanics, thus far the difference appears to be primarily cosmetic.
I would already select Windows 10 over Windows 8.1 for end-user support reasons. The upgrade process was fairly transparent, though I did migrate from Windows 8.1.
Microsoft promotes new and improved security and performance features. One or both might be my next adventure with the current preview version. And I still look forward to an expanded or enhanced migration and deployment toolset.
Hope to see you in the classroom or online!
Steven Fullmer
Interface Technical Training Staff Instructor
For more Windows 10 articles, see the following posts from Interface Technical Training:

0
3849
0
Mark Jacob, Cisco Instructor, presents an introduction to Cisco Modeling Labs 2.0 or CML2.0, an upgrade to Cisco's VIRL Personal Edition. Mark demonstrates Terminal Emulator access to console, as well as console access from within the CML2.0 product. Hello, I'm Mark Jacob, a Cisco Instructor and Network Instructor at Interface Technical Training. I've been using … Continue reading A Simple Introduction to Cisco CML2

0
712
1
This content is from our CompTIA Network + Video Certification Training Course. Start training today! In this video, CompTIA Network + instructor Rick Trader demonstrates how to use cable testers in network environments. Let's look at some tools that we can use to test our different cables in our environment. Cable Testers Properly Wired Connectivity … Continue reading Cable Testers and How to Use them in Network Environments

0
72
0
In this video, PowerShell instructor Jason Yoder shows how to add Methods (PSMethod) to your code using free software that's added into the PSObject. For instructor-led PowerShell courses, see our course schedule. Microsoft Windows PowerShell Training Download the Building Methods PowerShell script</a> used in this video. <# ╔══════════════════════════════════════════════════════════════════════════════╗ ║ ║ ║ Building Methods ║ ╟──────────────────────────────────────────────────────────────────────────────╢ … Continue reading How to Build in a PSMethod to your PowerShell Code