Windows 10 – Ready, Set …
Windows 10 – Ready, Set …
Like This Blog
0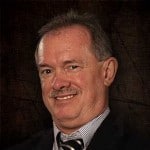 I continue to play with Windows 10. Play is the operative word. I haven't found sufficient power to cause me to use Windows 10 as my primary system. Not yet.
As my director suggested, "Pioneers catch the arrows". One shouldn't expect any less when reviewing a technical preview.
Microsoft still has considerable work to do before they are ready for prime time.
As Microsoft promotes, I found it easy to migrate a new machine from Windows 8.1 to Windows 10. I have also tried the in-place upgrade with a Windows 7 machine. Very straight forward, though a bit more than the 10 30 minutes suggested by Microsoft Marketing video. They reference 10 minutes in the title, though the elapsed time on the video is closer to 28 minutes.  One of our instructors downloaded the update to his laptop and caused a data transfer spike in our wireless network. The update is 3 to 4 GB depending on 32 vs. 64 bit image. Once an image is modified for Enterprise deployment it will likely be larger, and therefore require even more bandwidth. As with most updates, you need to progress from the download through the install, and then to one or more restarts as the update self-configures. You then have some additional preference settings work and customization before regular use. This is not really a 30 minute upgrade.
For instructor-led Windows 10 Training, see our complete course schedule.
As I was doing some additional research for this blog, Microsoft pushed an update to the technical preview. Windows update is enabled and mandatory on a preview system per the TechNet FAQ.  The download only required 10 minutes, but the update required more than 2 hours to complete. At first I thought I was re-installing the technical preview by accident, and then a large progress circle appeared on the screen to display the slow, steady progress.
You definitely want to perform your evaluation on a test system. The indeterminate frequency of updates would be counterproductive on a weekly basis.
Once the update completed, I noticed several immediate changes. The placement of the 'Power' icon moved from the top right of the Start Menu pop-up to within the applications list on the left.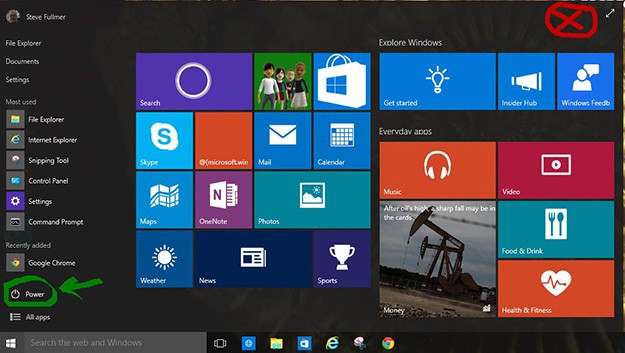 Then I noticed that the configuration options panel (acquired by swiping inward from the right margin) has substantially expanded.  Not going crazy. New content. (New arrows?) More to explore (and re-explore).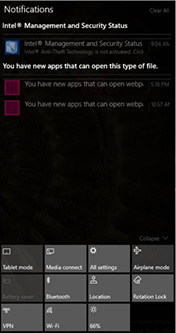 Don't get me wrong. I like what I am discovering.  I just would not encourage the wagon train to follow quite yet (extending the analogy). I will clearly have to retrace some of my steps as even the basic landscape has changed.
When I elect to accept an update on my Mac, I can continue working on other applications until restart. Microsoft will have to work out their update scheme or stabilize the OS before I accept a two hour update process on my production systems.
There continues to be a bit too much marketing hype for my preference. Microsoft Windows 10 (at least the technical preview) is treated as an operating system update rather than an OS install. The ten minute promotion is based on the time it might take for an enterprise customer (read that really large bandwidth to the Internet) to download the update.  Since this is an update rather than a download, don't plan to do much else with your system while it is running. And by all means create a full system image AND a restore point before you begin. I probably should have placed that sentence at the beginning of the paragraph. Hopefully you aren't attempting the update while reading this blog. After you acquire the 'update' you need to add the time for the update to install, the system to restart, and all of the configuration changes to be applied. Don't plan other activities on the system during the upgrade process. System speed also has an impact. And so does the integration of any applications or personalization that you might have performed on Windows 7 or Windows 8/8.1. The aforementioned video completes the process on a newer, 'vanilla' Windows 7 system. Migrating an active enterprise system, complete with applications, permissions, and personalization will be a more significant endeavor.
Still waiting for the migration tools or the equivalent of the Windows Automated Installation Kit (WAIK), Windows 8 Assessment and Deployment Kit (ADK), or Microsoft Deployment Toolkit (MDT) to determine how much additional preparation our enterprise customers will have prior to Windows 10 deployment.
Don't get me wrong. I truly love the Windows 10 interface and performance. Particularly compared to Windows 8.1. I just want to move forward smoothly. No blind leap. Microsoft appears to be promoting the blind leap of faith. The Promised Land is just over that mountain range?
Can't they tell that Windows Vista and Windows 8/8.1 didn't give us cause to leap? Forget the every-other-release meme carried by the Star Trek movies. Not biting. Not ready to boldly go where few have gone before (yet?).
I have a unique video driver array on my primary work station. Recall that on Windows 7 and Windows 8 driver signatures are strongly enforced? As Microsoft moved toward Windows 8, and I suspect onward to Windows 10, legacy driver support will remain a significant issue. Microsoft does not appear to be focusing on the issue of backward compatibility with Windows 10 in the admirable manner that they did with Windows 7.  The marketing attention is on a 'seamless' forward migration. Primarily from Windows 8.1, or new hardware with Windows 7.  A quick read of the Windows 10 Enterprise Insider Preview: FAQ for IT professionals might help set your expectations. Microsoft will depend extensively on third party developers, and the tools are just now becoming available, and changing right along with the OS updates.
The Compatibility Troubleshooter is present, and it recognizes Windows 8 as a compatibility mode.  I used it to set a couple of Lenovo applications that came with Windows 8, and they work as expected, though I didn't note any issues before I tried compatibility mode. Additional testing will clearly be needed for any true legacy applications.
In other words, you can perform a quick upgrade if you have a relatively new or recent system, delivered with Windows 7 or Windows 8.1, and therefore with the latest drivers (and signatures). If on the other hand, you recently migrated to Windows 7 from Windows XP, driver and application compatibility issues might prevent you from quite so smooth a migration to Windows 10.  You need to research or find a developer to evaluate and/or build drivers.
Microsoft recently announced that everyone (read that individuals and enterprises) will be able to migrate to Windows 10 for free during a one year period from RTM release date.  The most recent announcement suggested RTM in June 2015 . Free might induce people to explore the migration costs. Get ready to take advantage of that year. Don't necessarily jump until you have examined the full impact.
BTW, you only have a month to prepare.
The preview appears to be truly intended for developers (and pioneers) who are willing to prepare their drivers and applications for eventual Windows 10 deployment. And for enterprise deployment teams who want to begin an understanding of the effort that may be required to design and deliver a comprehensive deployment effort that completes within a 12 month period. Impact includes potentially a full hardware refresh and some careful network bandwidth planning to support deployment.
Windows IT Pro announced the Windows 10 ADK at the end of January. There appear to be some new and potentially interesting tool components.
Application Compatibility Toolkit (ACT)
Deployment Tools
Windows Imaging and Configuration Designer (Windows ICD)
User State Migration Tool (USMT)
Volume Activation Management Tool (VAMT)
Windows Performance Toolkit (WPT)
Windows Assessment Toolkit
Windows Assessment Services
Windows Preinstallation Environment (Windows PE)
Microsoft has the ADK supporting Windows 10 technical preview available for download according to the article, although following the link brings me to a Microsoft.com error page.  Attempts to search for the tools via Microsoft entry points bring me to the Windows 10 developer tools preview. Further searching through MSDN brings me to the Windows 10 Kits and Tools Overview.  Visual Studio and the SDK are mentioned, along with the Windows Driver Kit 10 and ADK amongst other potential elements. After several more forward links, I arrive at the What's new in Windows 10 Technical Preview page and acquire yet another overview. More focus on universal drivers and an 'OneCore' approach to standardization. Still no download link for the ADK, causing me to wonder where it went following the January 2015 announcement?
Gordon Kelly provided a concise and comprehensive overview of today's (April 29, 2015) Windows 10 Developer Build conference in Forbes' Magazine.  Microsoft will be providing updates SDK's to enable iOS and Android developers to port their applications and games to Windows 10. This certainly does fit the one common platform approach, though it will not be ready for prime time until developers climb aboard and port their apps. Will they be ready at RTM?
Finally found the tools.
Aaron Czechowski of Microsoft provides information about MDT compatibility and access to the Windows 10 ADK in the Microsoft Deployment Toolkit Team Blog. His article redirects us to the Download kits and Tools for Windows 10 site.
And now I have the Windows 10 ADK Download.
Time to sign off for now and start an evaluation of the tools while they match my OS (build 10074).
I look forward to seeing you in the classroom, or online!
Steven Fullmer
Interface Technical Training Staff Instructor
Steve teaches PMP: Project Management Fundamentals and Professional Certification, Windows 7, Windows 8.1 and CompTIA classes in Phoenix, Arizona.

0
269
2
In this video, Security Instructor Mike Danseglio demonstrates how to use BitLocker in Window 10 to secure files on a USB Flash drive that adhere to stricter data protection requirements as found inside Government entities. BitLocker 2-day instructor-led training is now available at Interface: BITLOCK: Planning and Deploying BitLocker Drive Encryption Training Video Transcription: Hi. … Continue reading Government Edition – Encrypting a USB Flash Drive in Windows 10


0
247
1
In this video, Cisco CCNA & CCNP instructor Mark Jacob shows how to troubleshoot OSPF Adjacency issues by showing the distance between routers with the show ip ospf neighbor command.