Windows 8 Consumer Preview
Windows 8 Consumer Preview
Like This Blog
1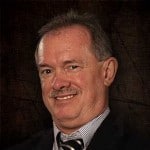 Different for the sake of different? Really. Okay, so you want to climb out of your rut and try something new, colorful, flashy. Let's hope that new tattoo isn't permanent? Please tell me that a friend did it with sharpies as a test. As art, I would classify it as whimsical, colorful, nouveau, and perhaps even provocative. Professionals, however, are unlikely to be impressed. They might even be repelled. They don't understand our geektitude.
Comfortable with Windows 7 Enterprise at my desk and as a Windows instructor, Mac OS X on an iMac 27, IOS 5 on my iPad 2, and Android on my phone. Windows 8 is different. But is it different just for the sake of being different? The developer version lacked many of the interfaces and tools that have me committed to Windows 7.
Ready to move forward with a more detailed evaluation, I loaded the Windows 8 Consumer Preview, replacing my developer evaluation. My test system is Windows 7 compatible, and already has the RE partition, though I opted for a complete replacement rather than an upgrade. You can acquire the 32 bit or 64 bit versions of Windows 8 Consumer Preview directly from Microsoft.
Don't forget to copy or write down the license keys – unlike production Windows 7 you cannot install the Windows 8 Consumer Preview for evaluation without the key.
The installation was straight forward and extremely fast – though it did ask a range of new and interesting questions. Clearly designed for a mobile generation, Windows 8 requested my email address as my account, and requested Internet settings early during the setup sequence. Uncertain about where the values were being stored or fed, I disconnected the Ethernet cable and continued the installation without connectivity, skipping any Internet related settings. Curiosity. Would an expectation of full internet connectivity slow or stop the installation? Barely skipped a beat. Well conceived setup. When I later inserted the Ethernet cable, Internet connectivity was automatic – dynamic in fact, and a number of Metro based icons immediately started displaying updated information. Clever. Hasn't asked for my email address yet, so my account is still boring, albeit functional.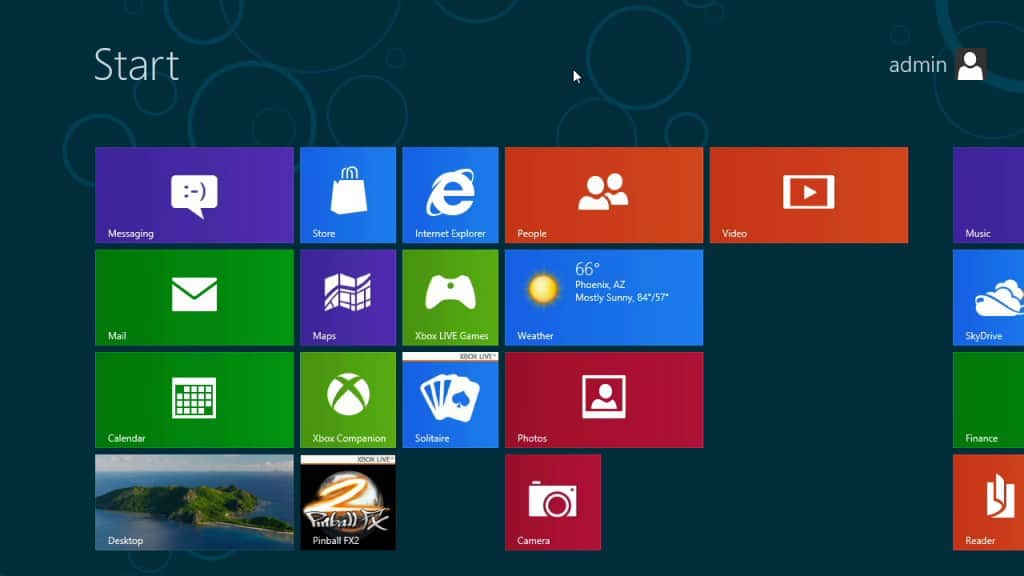 Metro Start menu
First stop, the Metro start menu. Attractive. I like the color differentiation. For a geek with trifocals, I can actually see to navigate easily. Dragged a few items around the start menu, and was allowed to easily reposition them. Unfortunately, moving any single item repositioned everything else. After several tries, I could recognize the displacement pattern. Not bad, but I couldn't find a way to lock items in place. The desktop becomes a picture puzzle. Visually stunning, albeit somewhat counterproductive. When a Metro icon disappeared, dragging my mouse to the right exposed another pane and more icons. Aaah, a finger swipe menu. Navigation became annoying with a mouse. I really need a touch screen or a trackball mouse. This could be problematic for enterprise implementations.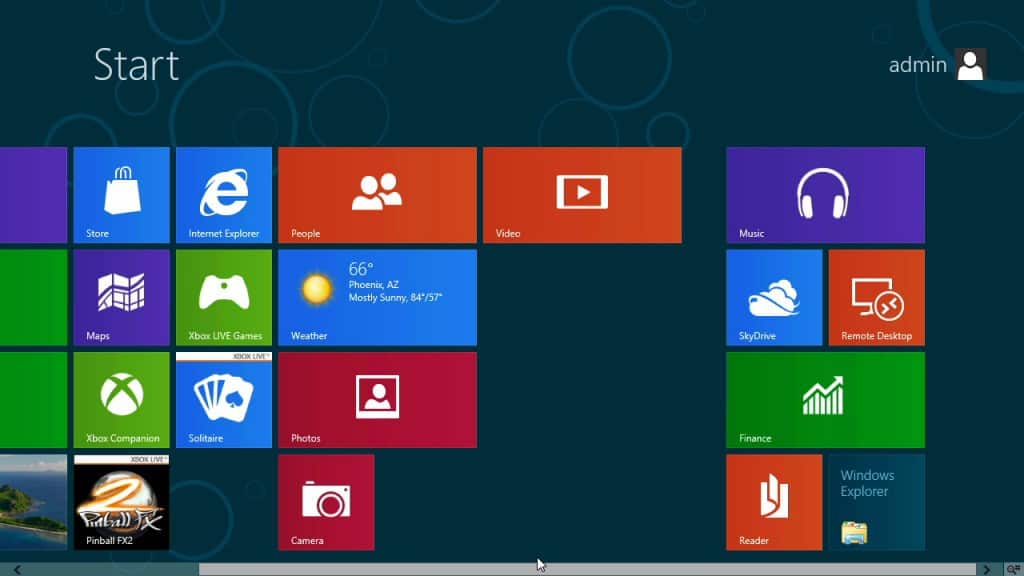 Metro Start menu, the slider bar appears when you drag to the right edge of the pane.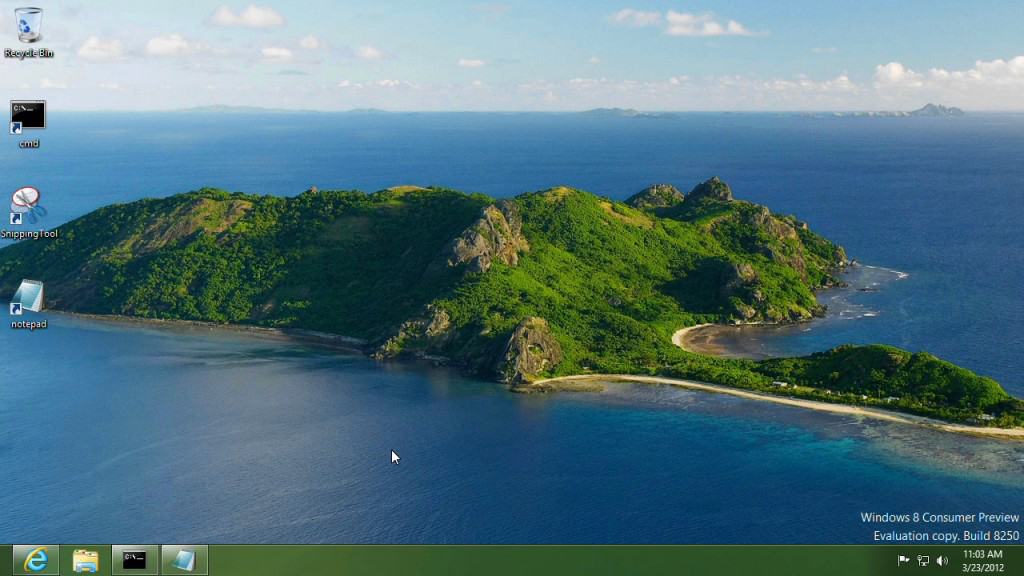 Desktop with a personalized (default) image. The taskbar color changes to match the image. No Start pearl.
Let's try the desktop. That looks familiar. Recycle bin icon, taskbar, clearly labeled as Windows 8 Consumer Preview Evaluation Copy. Build 8250. Alt-Click the desktop – the familiar panel appears and I can personalize the desktop. Graphic selection automatically shades the task bar to match. Slick. How do I add my favorite icons to the desktop, or launch a search. No Start Pearl. I can Alt-click and add a shortcut – if I know the path or application name. Hovering my mouse in the lower left corner, where the pearl once resided, reveals a Start menu popup.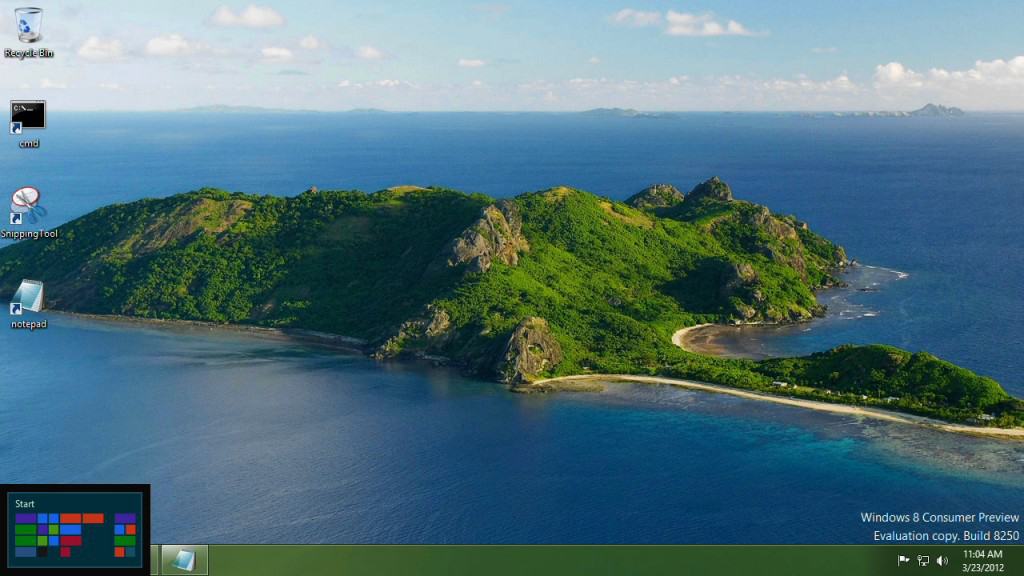 Customized Desktop with Start Menu popup.
It took three tries to return to the Start menu, including one launch of the resident Internet Explorer icon. Blasted mouse placement and sensitivity. Finally, back into the start panel. Back to the desktop, back to the start panel. This is frustrating, counter-intuitive and counter- productive. Launch an application from the start menu, go back to the desktop, and it is not pinned to the task bar. Try another Windows standard. The Windows key takes me back and forth. Better. Okay, forget the mouse. Alt-tab shows me a tab key selectable list of running applications. I don't recall starting two of them, though I suspect my experimentation with the start menu launched the apps. They aren't identified on the desktop taskbar, so I would not notice running applications – that might be a security issue. Alt-tab into an application to check its operation and settings. The Windows key now swaps me between the selected application and the Start menu. I have to return ( mouse click) to the desktop from the Start menu.
"You are standing in an open field west of a white house, with a boarded front door. There is a small mailbox here…"
I can beat this game…
Try a simple, Start menu application. Weather. I launched it while exploring. I think.
While I am in the weather application, let's change the location to Phoenix. Can't obviously change it, but there is a plus sign icon. Try the obvious hint. I can add Phoenix. Using the mouse again. Exploration causes me to discover three more panes of useful information about Seattle. Experimentation with the mouse reveals more hidden options. Clicking on filler 'space' does nothing. Clicking on existing data expands the data. Alt-clicking (right-clicking) brings up a menu at the top and bottom of the screen. Now I can change the default, or search other locations. Sweet. Dragging the mouse right doesn't get me to the other panels, I need to use the slider bar. Either method for Start menu works. I wonder if every application might be implemented with varied navigation alternatives?
"You are in a dark and damp cellar with a passageway leading north …"
More discoveries. From the Start menu, just start typing. Type anything. And reveal an Apps panel and a search pane.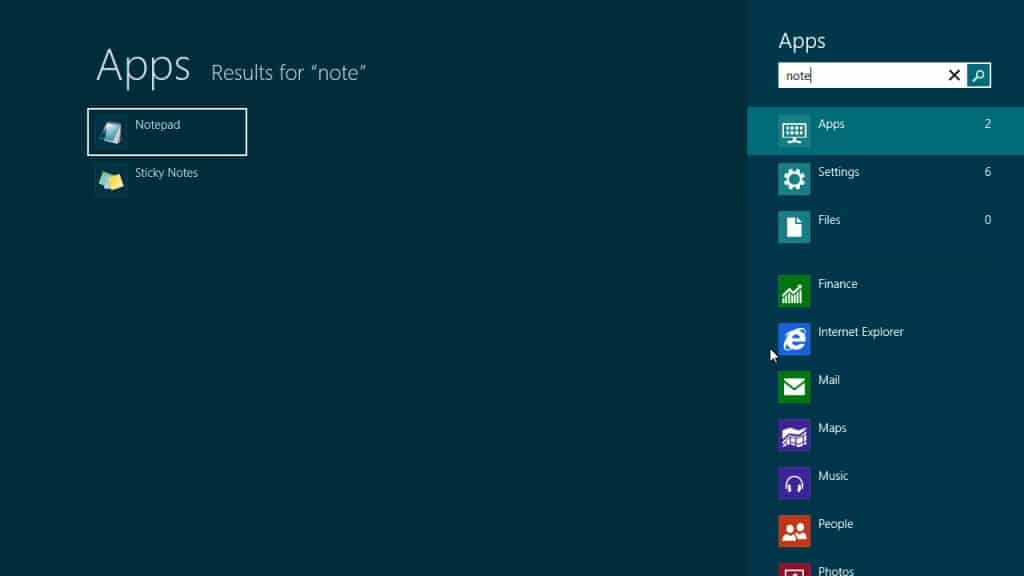 Started to type Notepad, and was given two options.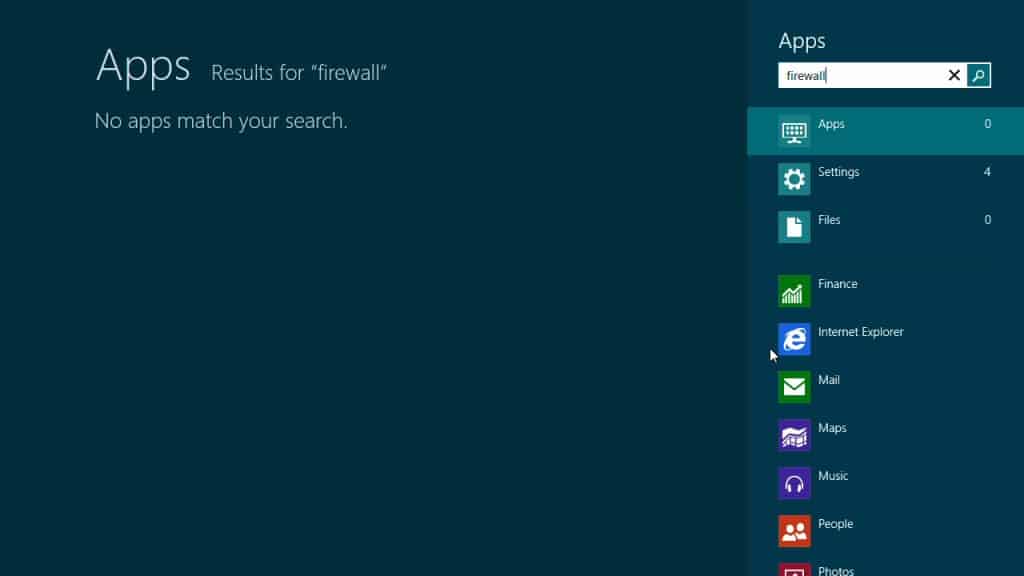 Typed "firewall" and found no matches. At least via this method.
There must be a difference between "slay troll" and "stab troll"…
Unfortunately, at least in the Preview version, you need to know exactly, precisely the file name you seek. The handy, heuristic default search from Windows 7 appears to be absent, or at least not enabled. Typing on the Desktop does not get you to the Apps panel.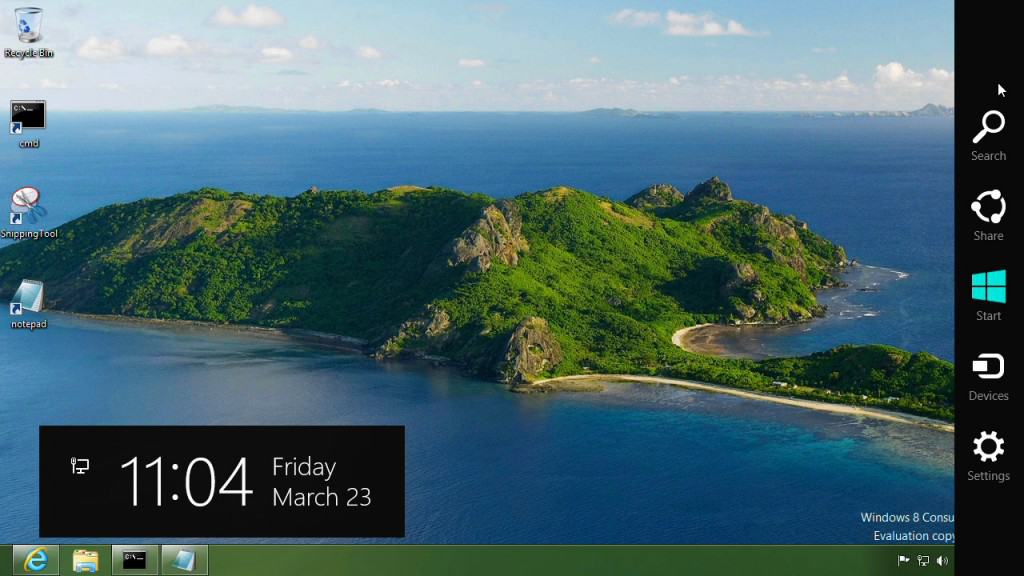 You can get to the Apps panels by hovering your mouse in the upper or lower right corner of the desktop, and some other applications. Click on the Magnifying glass/search icon to get to the Apps panel.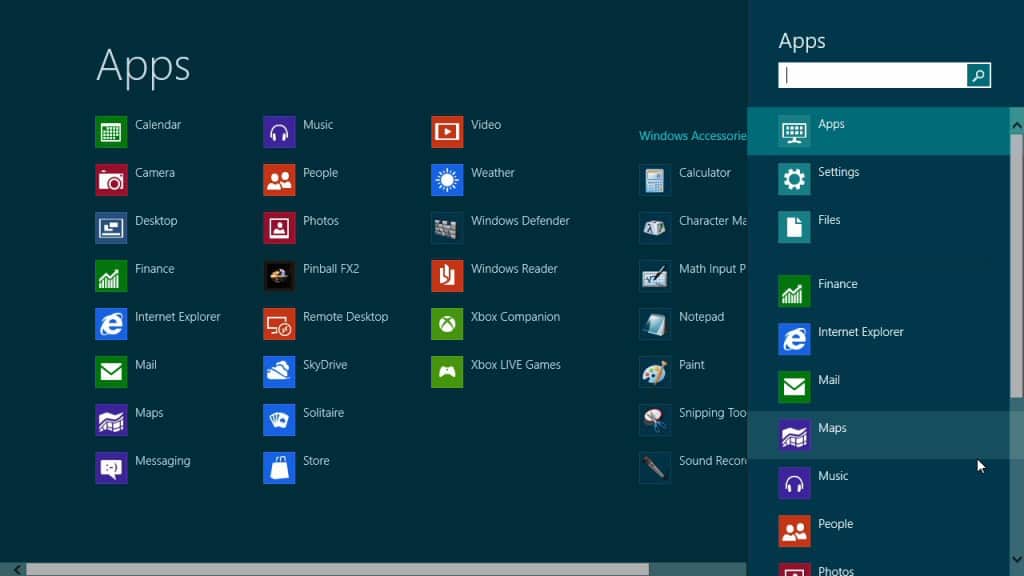 Then you have to click an area away from the Apps bar to scroll through the multiple Apps panels, discovering additional tools and applications. Keyboard, mouse, keyboard, mouse.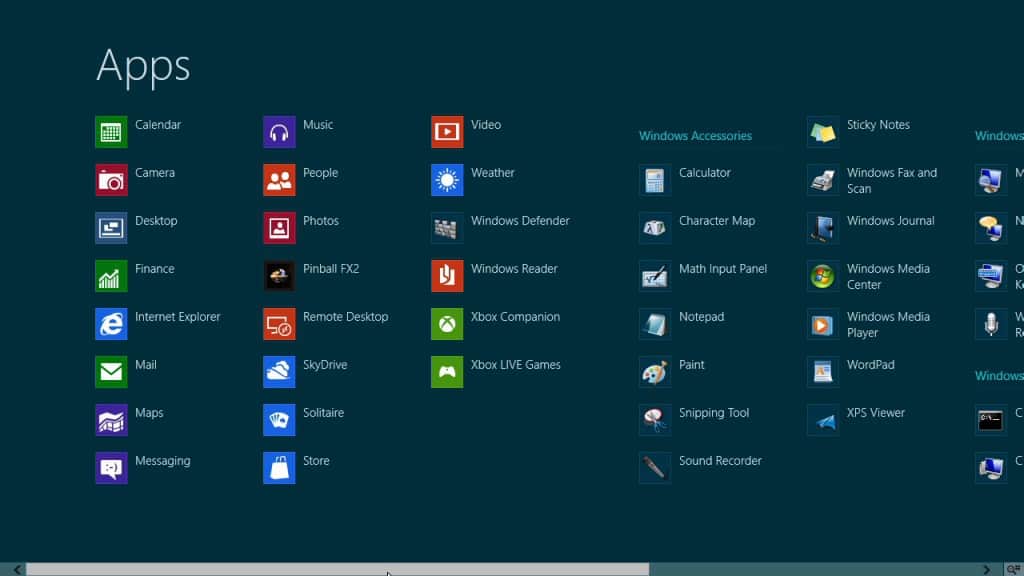 Click empty space to the left of the Apps panel to discover concealed apps.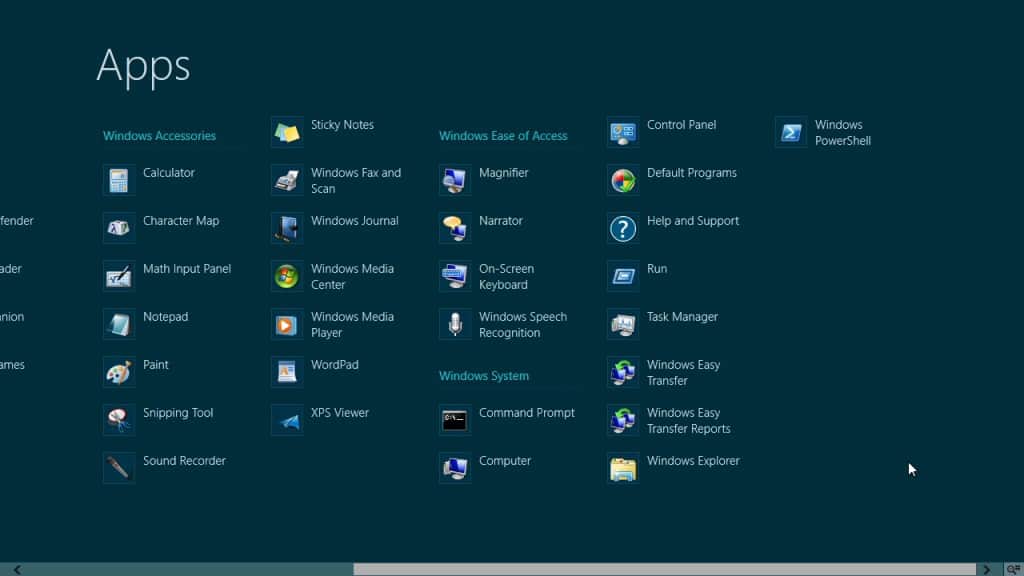 And scroll all the way to the right to discover common accessories and administrative tools.
You can right click on the icons for properties or to 'run as administrator', with options similar to Windows 7.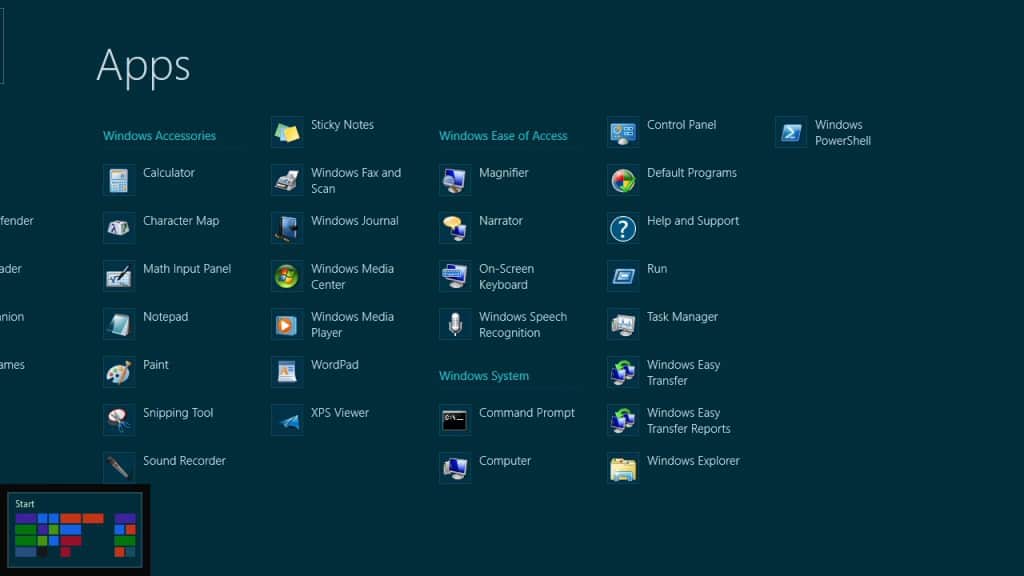 Navigate back through the Start menu to get to the desktop or other applications, settings, and support panels.
Certain applications work only from or on the desktop, while others work only from or on the Application panel. I suspect I will be adding far more shortcuts to my desktop until I manage to solve the navigation challenge. Features from Windows 7, like Snap and Shake work on the desktop with some subtle differences – like slightly different reactions to mouse movement.
There are, at least, a couple of exits from the "maze of twisty little passages, all alike". Go back to the Start menu.
I need to read the manual. Or find the cheat codes. This is not entirely intuitive. At least on a desktop.
Navigation is just the first layer…starting to look under the covers reveals many of the powerful features associated with Windows 7, and some new Windows 8 support interfaces that bear further investigation.
I truly like the potential of Windows 8. I will be playing this game, I mean studying Windows 8 further. And sharing my discoveries. As a corporate level trainer, however, I am concerned. This will be a challenge to demonstrate and teach. And a greater challenge for a help desk to support. The learning curve (and ramp and tunnels) may be steep. Custom configuration will become a pre-requisite. Customization documentation, tools, and settings are my next quest.
For keyboard shortcuts, see my post: Windows 7 versus Windows 8 Keyboard Shortcuts
Enjoy,
Steven Fullmer
Interface Technical Training Staff Instructor

0
3852
0
Mark Jacob, Cisco Instructor, presents an introduction to Cisco Modeling Labs 2.0 or CML2.0, an upgrade to Cisco's VIRL Personal Edition. Mark demonstrates Terminal Emulator access to console, as well as console access from within the CML2.0 product. Hello, I'm Mark Jacob, a Cisco Instructor and Network Instructor at Interface Technical Training. I've been using … Continue reading A Simple Introduction to Cisco CML2

0
713
1
This content is from our CompTIA Network + Video Certification Training Course. Start training today! In this video, CompTIA Network + instructor Rick Trader demonstrates how to use cable testers in network environments. Let's look at some tools that we can use to test our different cables in our environment. Cable Testers Properly Wired Connectivity … Continue reading Cable Testers and How to Use them in Network Environments

1
451
3
Hi, my name is Mike Danseglio. I'm an instructor here at Interface Technical Training. I want to talk a little bit about encrypting USB flash drives with Windows 10. The concept of protecting data when it's on a USB flash drive is not a new concept. BitLocker 2-day instructor-led training is now available at Interface: … Continue reading Encrypting a USB Flash Drive in Windows 10