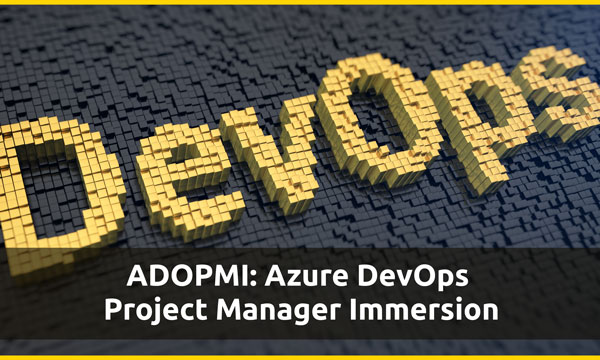 Course Description
Outline
Module 1: Introduction to the Microsoft ALM Ecosystem
What is ALM?
An Overview of the Microsoft ALM Ecosystem
Azure DevOps Tools
Module 2: Managing a Development Effort Using Azure DevOps
Characteristics of a Scrum Team
Creating a Product Backlog
Planning a Sprint
Using Azure DevOps During a Sprint
Conducting Sprint Reviews and Retrospectives
Module 3: Initiating Your Project
Creating a Project
Adding People to a Project
Module 4: Building Your Product Backlog
Creating Product Backlog Items
Linking Work Items
Organizing Work Using Features and Epics
Module 5: Planning a Sprint
Configuring Sprint Settings
Adding Work Items to a Sprint
Forecasting and Estimating Work
Decomposing Work into Tasks
Work Item Tagging and Searching
Module 6: Managing Efforts During the Sprint
The Daily Scrum Meeting
Tracking Your Team Using Kanban Boards
Customizing Your Taskboards
Module 7: Enhancing Project Visibility Using Queries, Charts, & Dashboards
The Built-In Charts of Azure DevOps
Finding Work Items Using Queries
Visualizing Query Results Using Charts
Module 8: A Day in the Life of a Developer
Connecting Visual Studio to Azure DevOps
Working with Work Items from Visual Studio
Source Code Management and Changeset Tracking
Module 9: Managing Software Testing Efforts using Azure DevOps
Planning Tests Using Azure DevOps
Creating Test Plans, Suites, and Cases
Executing Tests
Collecting Stakeholder Feedback
Module 10: Conducting Sprint Reviews
What is a Sprint Review?
Collecting Stakeholder Feedback
Automating Releases
Module 11: Conducting Sprint Retrospectives
What is a Sprint Retrospective?
Module 12: Improving Your Team's Productivity
Enriching Work Items
Creating Work Item Templates
Audience
People that need to learn how to better coordinate a team's efforts using Azure DevOps works for the entire team. Job roles include (but are not limited to):
Project Manager
Product Owner
Scrum Master
Development Team Lead
Prerequisites
There are no prerequisites coming into this course.
What You Will Learn
At the completion of this course, attendees will be able to:
Navigate the Azure DevOps portal
Organize work using Epics, Features, Product Backlog Items, and Tasks
Customize the Kanban board
Create and execute queries
Create and design dashboards
Coordinate development efforts in a multi-team environment
Connect Visual Studio to a Team Project
Check in code
Associate work items with code
Configure Team Project security