Windows Server – How to configure a Conditional Forwarder in DNS
Windows Server – How to configure a Conditional Forwarder in DNS
8
6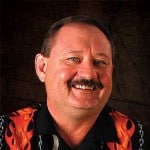 Conditional Forwarders are a DNS feature introduced in Windows Server 2003. A Conditional Forwarder allows an organization to resolve names to a private namespace or speed up name resolution to a public namespace.  When a DNS server receives a client query request for a host address that is not part of its authoritative namespace, it starts a resolution process beginning with a root name server and continues the process until the name is resolved. When a Conditional Forwarder is configured the local DNS server will forward the request to a DNS authoritative for the domain namespace of the query. In this blog we will look at how to configure a Conditional Forwarder in DNS.
Scenario.
Two organizations, USSHQ and Dulce Base need to be able to share resources. A trust relationship between the two organizations Active Directory Domain Services is desired, but neither organization name space can be resolved through public name resolution. In order to configure the trust relationship name resolution need to be configured. One option for name resolution is to use Conditional Forwarders. DNS in each domain will be configured to forward request for the other organization name space to a DNS server that is authoritative. All other names needing resolved will use the default name resolution method.
If a computer from Dulce Base attempts to contact a computer in USSHQ it is unable to resolve the name. See figure below, the same result would occur going the other direction.

Configuring a Conditional Forwarder (Same steps will be accomplished in both DNS servers)
Launch the DNS Console.

Secondary Click on Conditional Forwarders, click New Conditional Forwarder.

Enter the DNS Name of the desired domain to be resolved.

Click on Click here to add an IP Address or DNS Name, enter the IP Address of the remote DNS Server, press Enter. Click OK.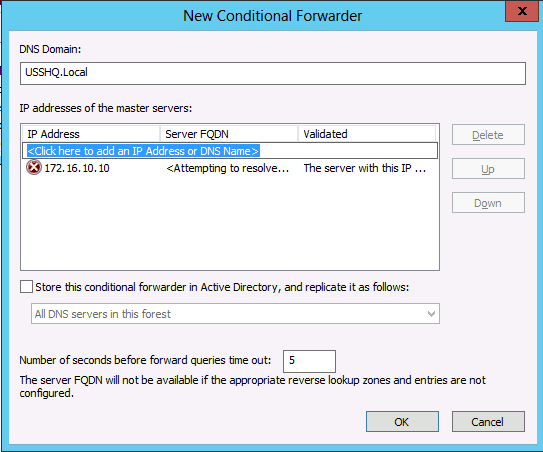 The DNS Forwarder has been created.

Name resolution will now succeed from DulceBase.Local to USSHQ.Local. Once the DNS administrator completes the configuration on the USSHQ.Local DNS server name resolution will succeed from USSHQ.Local to DulceBase.local.

As you can see configuring a Conditional Forwarder is a simple fix to resolving names in a private network when public name resolution fails.
Until next time, RIDE SAFE!
Rick Trader
Windows Server Instructor – Interface Technical Training
Phoenix, AZ

0
3850
0
Mark Jacob, Cisco Instructor, presents an introduction to Cisco Modeling Labs 2.0 or CML2.0, an upgrade to Cisco's VIRL Personal Edition. Mark demonstrates Terminal Emulator access to console, as well as console access from within the CML2.0 product. Hello, I'm Mark Jacob, a Cisco Instructor and Network Instructor at Interface Technical Training. I've been using … Continue reading A Simple Introduction to Cisco CML2

0
626
1
This content is from our CompTIA Network + Video Certification Training Course. Start training today! In this video, CompTIA Network + instructor Rick Trader teaches how to create Dynamic DNS zones in Network Environments. Video Transcription: Now that we've installed DNS, we've created our DNS zones, the next step is now, how do we produce those … Continue reading Creating Dynamic DNS in Network Environments

2
1905
4
In this video, I'm going to answer a very common question that I get when I'm teaching Windows PowerShell, and that's, "What's the difference between what's called $_ and $PSItem?" Let me explain to you a little bit about what these two variables do. When we're working with the PowerShell pipeline, and we want to … Continue reading Difference Between $_ and $PSItem in Windows PowerShell