Release Management in ITIL 4 – Waterfall and Agile DevOps Approaches
Release Management in ITIL 4 – Waterfall and Agile DevOps Approaches
Like This Blog
0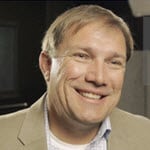 ---
This content is from our ITIL 4 Video Certification Training Course. Start training today!
---
The purpose of Release Management in ITIL 4 is to make new and changed services and features available for use.
This isn't just one change, a release is many changes that we package into a release. We've come a long way with how we're looking at optimizing how we deploy releases into production, how we package these.
There are two methods for working with Release Management in ITIL 4.
Traditional – Waterfall Approach
Agile – DevOps Approach
Waterfall Approach:
You may remember the way we used to do this thing in the old days, and some of us still do this. Some of us use a traditional Waterfall Approach where we are manufacturing releases, which fall into different steps to the process. Those different steps, by the time we get done, we deploy this complete solution. The release is how we do the build and the test and the packaging of these things.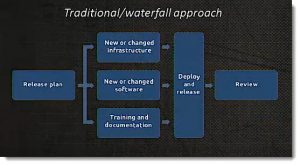 What happens when we have these long, drawn‑out approaches is by the time we go to deployment, (which is another practice all together), it may have been weeks or months from when we first started to look at this. We need to be able to respond to changing customer needs faster, and we need to be able to do more deployments more in an iterative fashion.
The traditional waterfall approach says we have a release plan. We do this huge, design, build, test, all this training and everything, and then we do a major deployment.
What happens is, more things can go wrong in a major deployment, and it takes a lot more moving parts to make this happen.
Agile – DevOps
Now, with the help of Agile and DevOps types of techniques we now can look at still having ourselves that release plan, but instead of doing a major deployment that has to integrate so many moving parts, we do more structured changes which lets us do small releases at a time.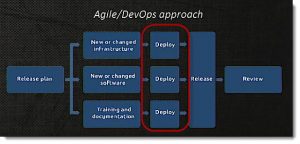 Now we do smaller deployments which can now end up being part of that release so that we can make course corrections and we can have quality control over smaller releases and then go through the review on the project. Release Management makes new and changed service features available for use.
Mark Thomas – ITIL and COBIT Instructor
ITIL 4 Certification Video Training Course
Interface Technical Training
ITIL® is a registered trademark of AXELOS Limited, used under permission of AXELOS Limited. All rights reserved. The Swirl logo™  is a trademark of AXELOS Limited, used under permission of AXELOS Limited. All rights reserved.

0
114
0
In this video, you will gain an understanding of Agile and Scrum Master Certification terminologies and concepts to help you make better decisions in your Project Management capabilities. Whether you're a developer looking to obtain an Agile or Scrum Master Certification, or you're a Project Manager/Product Owner who is attempting to get your product or … Continue reading Agile Methodology in Project Management

0
496
3
In this Office 365 training video, instructor Spike Xavier demonstrates how to create users and manage passwords in Office 365.

4
478
3
In this IT Security training video, Security expert Mike Danseglio (CISSP / CEH) will perform several malware investigations including rootkits, botnets, viruses, and browser toolbars.