Creating Hidden Columns in SharePoint 2010
Creating Hidden Columns in SharePoint 2010
Like This Blog
2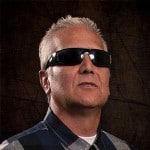 This blog will cover how to set up hidden columns in a SharePoint 2010 List or Library.

Setting up hidden columns is a core skill as one progresses to more advanced SharePoint Designer 2010 custom workflows. This skill is one of several necessary to successfully work through the a future blog entry "Automatically Populating the Title Column from The File Name with SharePoint 2010 Designer Custom Workflows" (coming soon).
In This blog we will do the following:
Create a Custom Content Type Using Document as the Parent It Will Be Called DocumentForWorkflow
Add a Site Column Called titleHolder
Set the column as Hidden
Create a Team Site (sub site)
Alter the default settings of the Shared Document Library to Manage Content Types.
Set The Default Content Type as DocumentForWorkFlow
Create-Document-Content-Type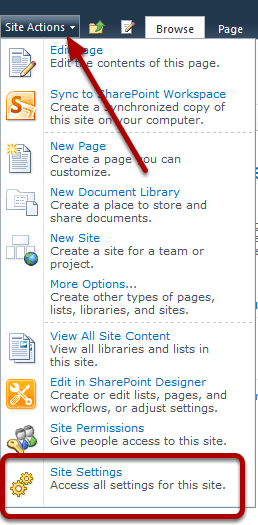 From the top level site in a site collection (I have created one using the team site template as the top level site template),
I CHOOSE SITE ACTIONS>SITE SETTINGS
Site-Content-Types-Gallery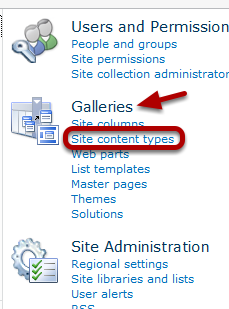 I CHOOSE SITE CONENT TYPES
In the gallery section of the Site Settings Page. This will take me to the Content Types Gallery which I always do from the Top Level Site of a Site Collection to insure that all of my Content Types are available throughout the Site Collection.
Create-New-Content-Type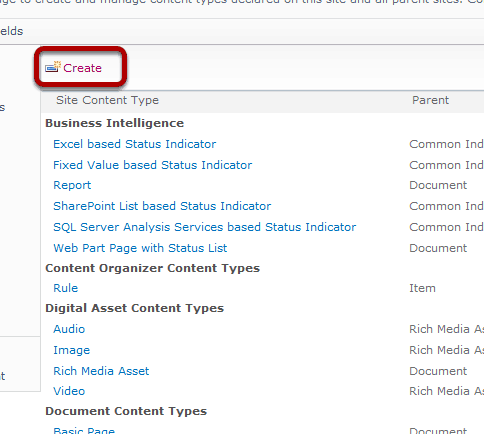 I CLICK CREATE
This will begin the process of creating a new content type.
Fill-Out-Form-To-Create-New-Content-Type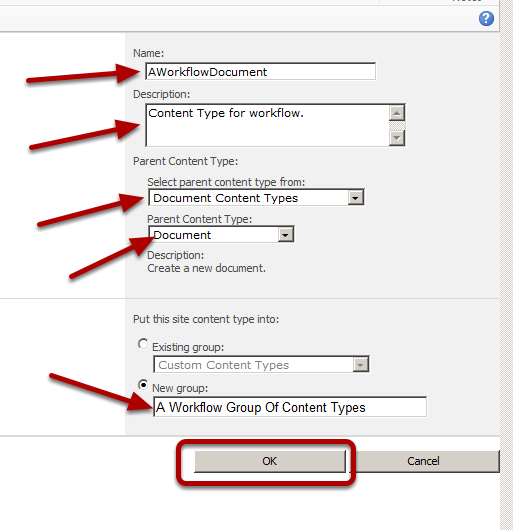 I FILL OUT THE FORM AS SHOWN
I am careful to select Document from the parent group and then Document from the Content Type Parent.
I decide to create a new group and begin the name of the group with an A so it' shows up at the top of my list 🙂
Add-From-New-Site-Column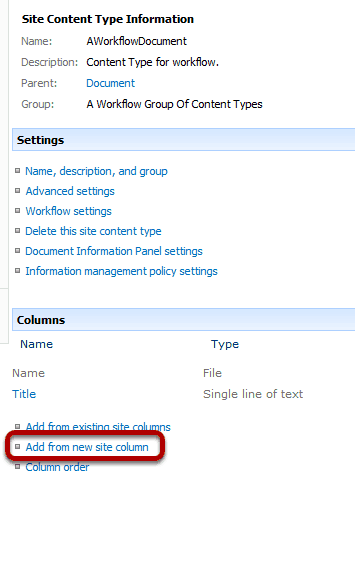 I CLICK ADD FROM NEW SITE COLUMN
I do this because I haven't yet created the site column. If I had already created the site column, I would have chosen to add from existing site column.
Create-New-Site-Column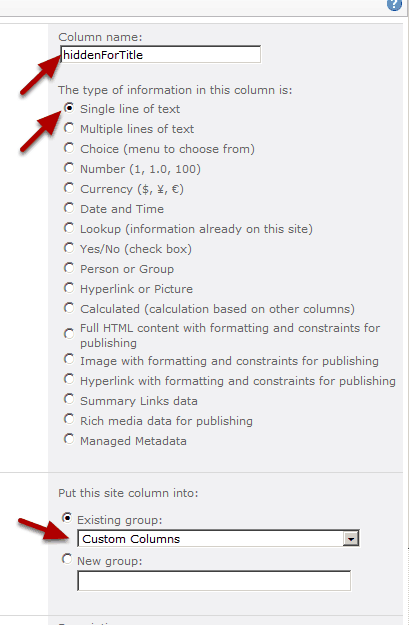 I FILL OUT THE FORM AS SHOWN
I choose Single Line of Text as the data type and leave the defaults, this will put my new site column in the Custom Columns group which is fine. (This just makes it easier to find in a moment.) When I'm done I click OK at the bottom of the form (NOT SHOWN).
Set-The-Column-To-Hidden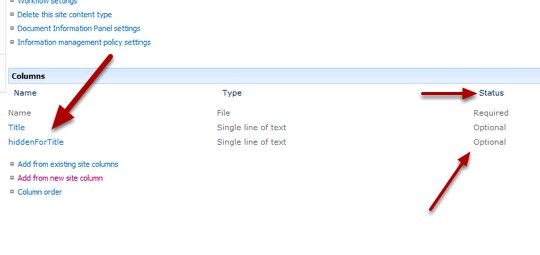 I CLICK THE hiddenForTitle LINK TO SET THE STATUS TO HIDDEN
This is how I get to the screen to set the property of the Status Column to Hidden.
Change-Status-Setting-To-Hidden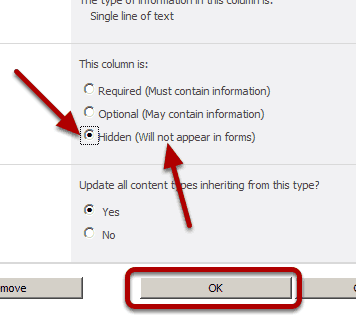 I SELECT THE RADIO BUTTON NEXT TO HIDDEN THEN CLICK OK
This changes the status of this column from Optional to Hidden. A site column that is hidden will not appear in forms and is a great way to store data for use in Advanced SharePoint Designer 2010 Workflows.
Set-Document-Information-Panel-Settings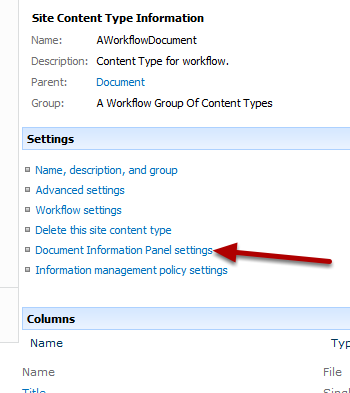 I CLICK THE DOCUMENT INFORMATION PANEL SETTINGS LINK
Select-The-Box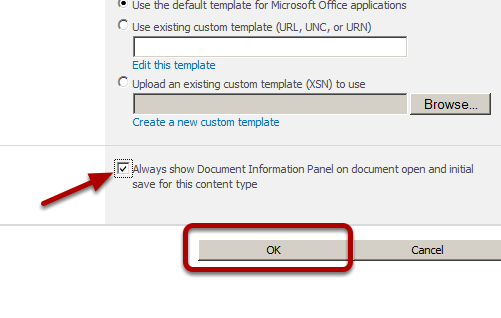 I CHECK THE BOX NEXT TO ALWAYS SHOW DOCUMENT INFORMATION PANEL ON DOCUMENT OPEN AND INITIAL SAVE FOR THIS CONTENT TYPE
This assures me that this MIGHT actually happen.
Create-New-Site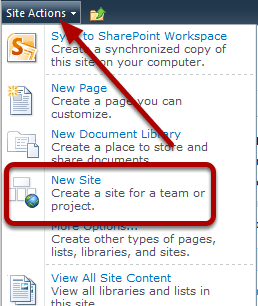 I CHOOSE SITE ACTIONS>SITE SETTINGS>NEW SITE
In order to create a sub site based on the team site template, I will be using this subsite as my development area to test everything.
Fill-Out-Form-For-New-Site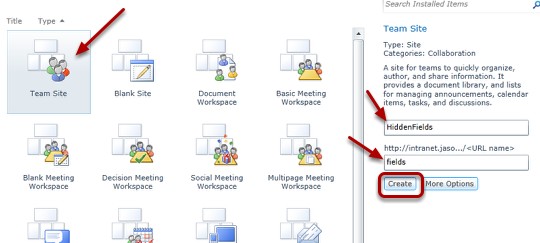 I FILL OUT THE FORM AS SHOWN AND CLICK CREATE
This creates a subsite just below the top level site. I do this to keep my sites dedicated to one purpose which works for this site collection.
Set-Up-Shared-Documents-Library-To-Manage-Content-Types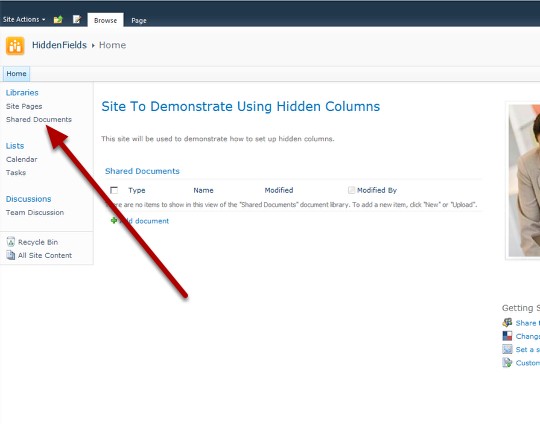 I CLICK THE SHARED DOCUMENTS LINK IN THE QUICK LAUNCH BAR
So that I can set up the Shared Documents Library to manage its own Content Types.
Library-Tab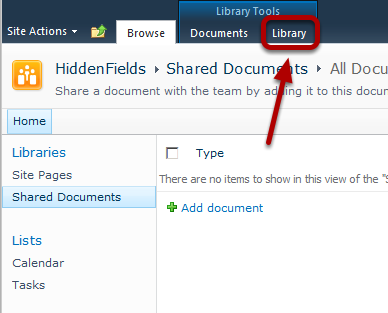 CLICK THE LIBRARY TAB
This will set the ribbon to be contextual to dealing with the container of the library. The Ribbon in SharePoint 2010 is consistent with the UI throughout all of the Office 2010 products, once you get used to the contextual nature of the icons, it's truly amazing.
Library-Settings


I CLICK THE LIBRARY SETTINGS ICON
If you are a Site Owner or Site Collection Administrator you will end up doing this quite a bit (Library > Library Settings).
Advanced-Settings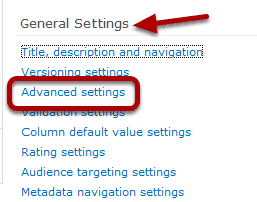 I CLICK THE ADVANCED SETTINGS LINK
In the General Settings section of the List Settings Page.
Allow-Management-Of-Content-Types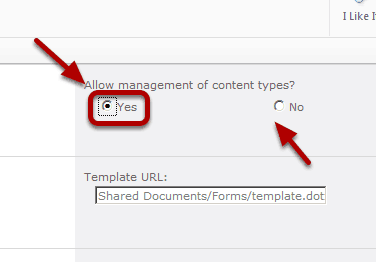 I SELECT THE RADIO BUTTON NEXT TO YES
The default is No. Then I scroll to the bottom and click OK (NOT SHOWN)
Add-From-Existing-Site-Content-Types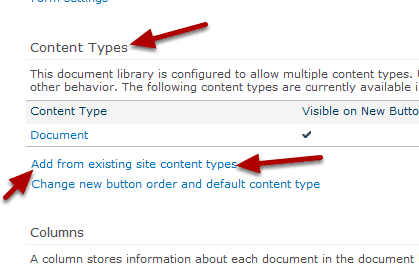 I CLICK THE ADD FROM EXISTING SITE CONTENT TYPES LINK
Select-Content-Type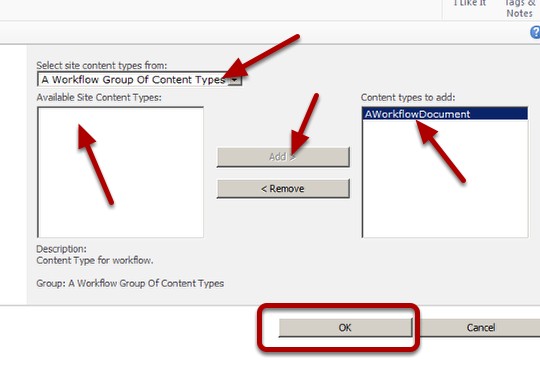 I CHOOSE A WORKFLOW GROUP OF CONTENT TYPES FROM THE DROP DOWN AND THEN SELECT AWORKFLOWDOCUMENT FROM TEH AVAILABLE SITE CONTENT TYPES AND CLICK ADD TO MOVE IT OVER TO THE CONTENT TYPES TO ADD SIDE AND THEN CLICK OK.
Delete-Document-Content-Type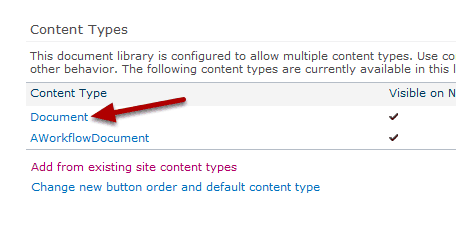 I CLICK ON THE DOCUMENT LINK
In the Content Types section, I could also click the Change new button order and default content type if I was expecting to add a generic Document to the library at some point but for now I'll just delete it from this Libraries available content types.
Delete-Document-Content-Type-From-Available-Content-Types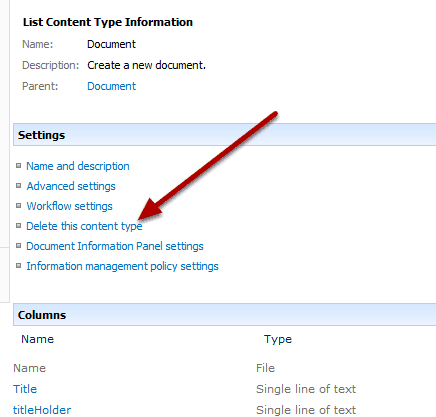 I CLICK THE DELETE THIS CONTENT TYPE LINK.
I click OK on the alert box which says are you sure you want to delete… (NOT SHOWN).
Go-To-Shared-Documents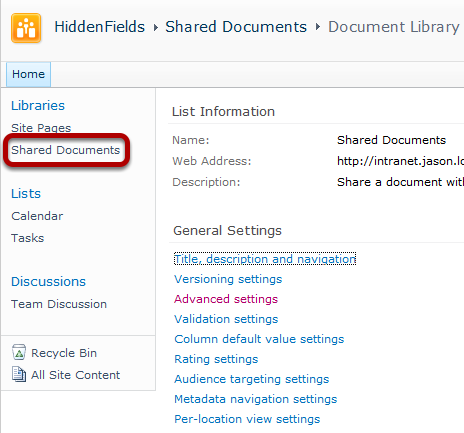 I CLICK THE SHARED DOCUMENTS LINK IN THE QUICK LAUNCH BAR
Add=A=New=WorkflowDocument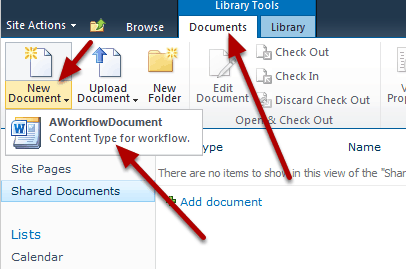 I CLICK THE DOCUMENTS TAB
This makes the ribbon contextual to interacting with list or library items.
I CLICK NEW DOCUMENT
I CHOOSE AWORKFLOWDOCUMENT
I click OK on the modal window that pops up and add my credentials if I'm asked to log in (NOT SHOWN)
Notice-No-Hidden-Column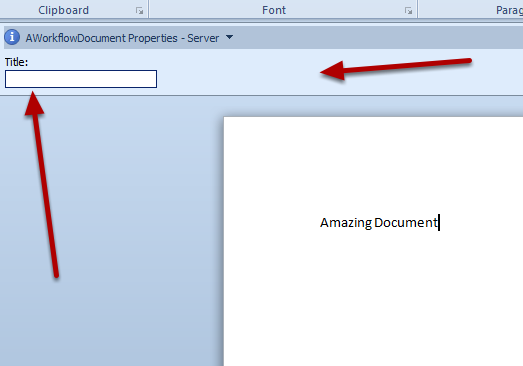 I FILL OUT THE TITLE AND ADD SOME CONTENT AND SAVE IT
Notice that there is no titleHolder text box as it is a hidden field. It will show in a view no problem but is not shown in the new item forms.
Hidden fields or columns are great for using as a storage mechanism in Advance SharePoint 2010 Designer Workflows.
Enjoy,
Spike Xavier
SharePoint Instructor – Interface Technical Training
Phoenix, AZ

0
114
0
In this video, you will gain an understanding of Agile and Scrum Master Certification terminologies and concepts to help you make better decisions in your Project Management capabilities. Whether you're a developer looking to obtain an Agile or Scrum Master Certification, or you're a Project Manager/Product Owner who is attempting to get your product or … Continue reading Agile Methodology in Project Management

0
499
3
In this Office 365 training video, instructor Spike Xavier demonstrates how to create users and manage passwords in Office 365.

4
478
3
In this IT Security training video, Security expert Mike Danseglio (CISSP / CEH) will perform several malware investigations including rootkits, botnets, viruses, and browser toolbars.