SQL Server Training
Interface is a Microsoft partner, and we've been providing quality SQL Server Training for 20 years. We've trained more than 4500 IT professionals and we have tuned our SQL courses and built our program based on what they require. We often use Microsoft Official courses. Sometimes we modify and improve these courses. Sometimes we build our own courses from the ground up. You can attend our classes in person, or online with RemoteLive™, and you can watch your live class again with Replay™! We also offer on-demand video courses, and free tech blogs and Classroom Drillbits™. Try our training – we guarantee your satisfaction.
NON-TECHNICAL SQL TRAINING
BUSINESS USERS AND NON-PROGRAMMERS
SQL101: Introduction to Transact SQL
This 4-day course is for students with no programming background! You'll learn how to access complex databases and master the SELECT statement in order to retrieve the data you need. If you are responsible for data reporting, and you need access a SQL Server database, this is the perfect course.
TECHNICAL SQL TRAINING
Database Administrators
Database Developers
Business Intelligence Developers
ADVANCED SQL TRAINING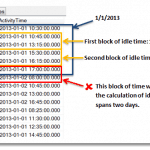 How to Use Values from Previous or Next Rows in a SQL Server Query
Posted on May 28, 2013 by Peter Avila
I recently came across a problem that required having to perform a calculation in a query that involved a value in the current row and a value in the previous row.  The problem is that SQL queries perform operations on a row-by-row basis; accessing data on different rows at the same time requires the query…