SharePoint 2010 – Saving a Custom List as a Template and creating new lists in Template Gallery
Home
>
Blogs
>
SharePoint
> SharePoint 2010 – Saving a Custom List as a Template and creating new lists in Template Gallery
SharePoint 2010 – Saving a Custom List as a Template and creating new lists in Template Gallery
Like This Blog
11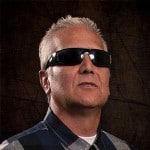 Recently a SharePoint 2010 student asked me to demonstrate saving a custom list as a template and then using this template to create a new list. This blog is to answer that request. As usual I will be doing this from the top level site in a site collection so that any list or library in any site within this site collection will have access to it.
I will create a simple custom list and then save it as a template. This will cause the list template to be saved in the List Templates Gallery which exists in the top level site of my site collection.
Let's begin to Create the Custom List in SharePoint 2010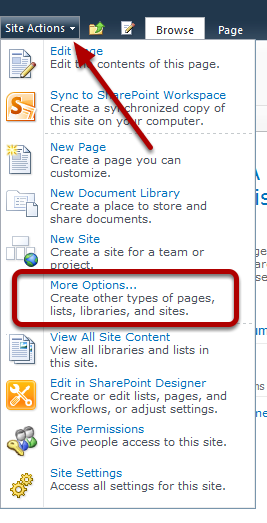 From the top level site of a site collection
I CLICK SITE ACTIONS > MORE OPTIONS
Choose Custom List and Create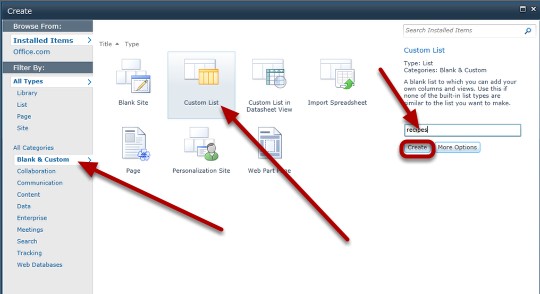 I FILTER BY BLANK & CUSTOM, CHOOSE CUSTOM LIST, ADD THE NAME OF THE LIST, AND CLICK CREATE
Create Columns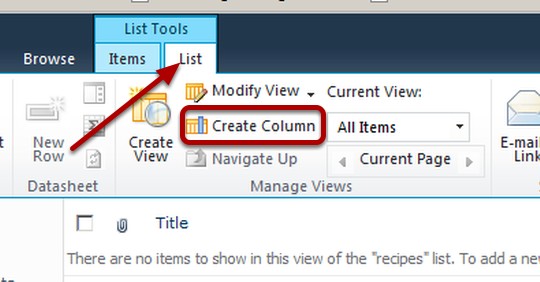 I CLICK CREATE COLUMN
In this example, I will be using a custom list column, however in many situations, I would choose list settings and then add from existing site column(s) in the event I wanted to use site columns.
Fill Out List Column Form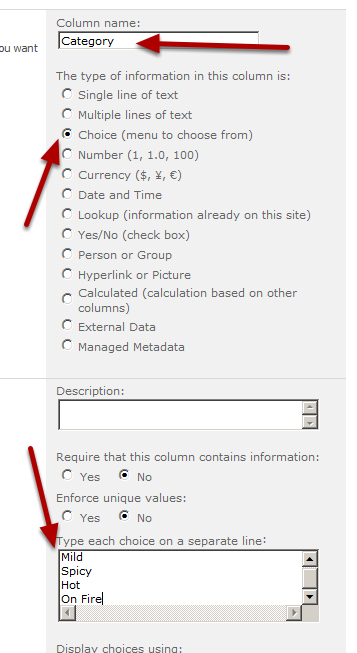 I CALL THE COLUMN CATEGORY, SELECT CHOICE AS THE DATA TYPE, AND ADD MY CHOICES – MILD, SPICY, HOT, AND ON FIRE
I then scroll down and click OK (NOT SHOWN)
Click List Settings


Save list as template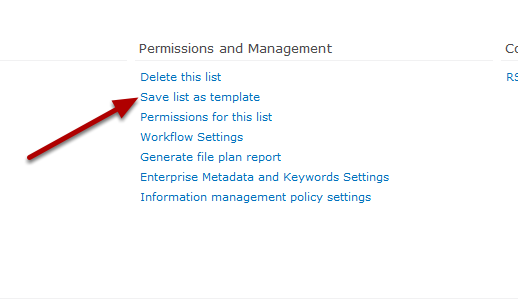 I CLICK SAVE LIST AS TEMPLATE
Fill out List Template Form


I FILL OUT THE SAVE AS TEMPLATE FORM AS SHOWN AND CLICK OK
I do not click Include Content because there are no items in the list
Operation Completed Successfully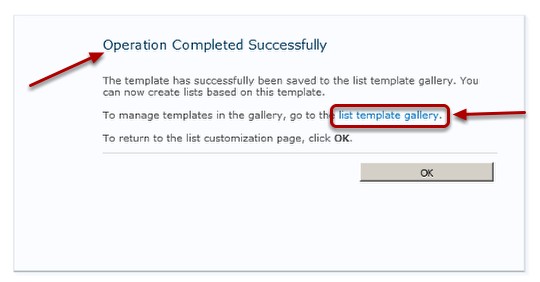 I READ THE MESSAGE AND INSTEAD OF CLICKING OK I CLICK THE LIST TEMPLATE GALLERY LINK
The List Template Gallery


Notice The .STP file extension


Notice the .stp file extension. If I wanted to I could save this and use it in another site collection.
Create a list from the Template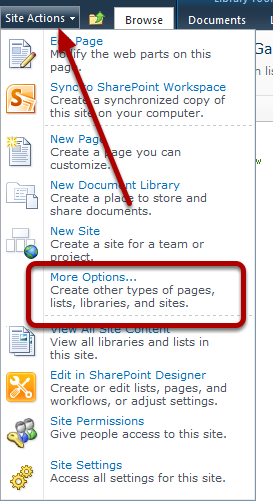 I CHOOSE SITE ACTIONS > MORE OPTIONS
Select Recipes Template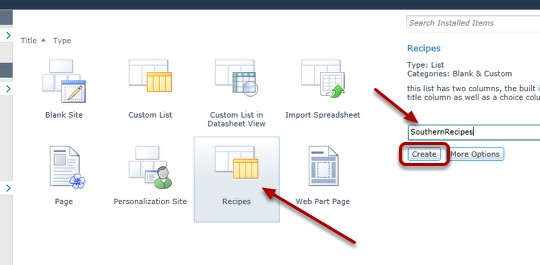 I FILTER BY BLANK & CUSTOM, SELECT RECIPES AND FILL OUT THE FORM AS SHOWN THEN CLICK CREATE
This will create a new list based on the template of Recipes.
Notice the columns, click Add New Item


I NOTICE THE COLUMNS OF TITLE AND CATEGORY AND I CLICK ADD NEW ITEM
Fill out the form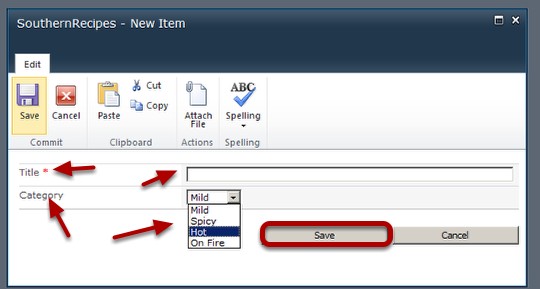 I FILL OUT FORM AND CLICK SAVE IF I WANT TO CREATE A NEW LIST ITEM
That's how you create a custom list template in SharePoint 2010 and then use it to create a new list. This is a great time saver and helps with data consistency. If this were a subsite, you would follow the same steps once the new list template has been saved to the List Template Gallery at the top level site of the site collection.
Enjoy!
Spike Xavier
SharePoint Instructor – Interface Technical Training
Phoenix, AZ

0
3794
0
Mark Jacob, Cisco Instructor, presents an introduction to Cisco Modeling Labs 2.0 or CML2.0, an upgrade to Cisco's VIRL Personal Edition. Mark demonstrates Terminal Emulator access to console, as well as console access from within the CML2.0 product. Hello, I'm Mark Jacob, a Cisco Instructor and Network Instructor at Interface Technical Training. I've been using … Continue reading A Simple Introduction to Cisco CML2