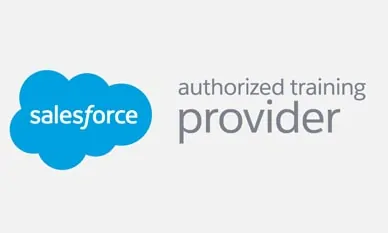 Course Description
Explore what's possible with Salesforce. In this 3-day class, our Salesforce experts will walk you through the Salesforce Platform, its specific applications, and their business values and benefits. Familiarize yourself with Salesforce Cloud and learn about platform features and processes to more effectively support day-to-day Salesforce operations within your organization. Through interactive lectures, discussions, and hands-on exercises, you'll recognize the core elements of the implementation lifecycle, the key considerations to drive user adoption, and the important components of ongoing management of your Salesforce environment.
Outline
Introduction
Understand How Salesforce Works
Explore Salesforce Applications
Review Salesforce Organization
Data Access and Security
Control Org Access
Manage Who Views and Modifies Objects
Unlock Access to Records
Share Access to Records
Lock Down Individual Fields
User Management and Troubleshooting
Create New Users
Troubleshoot Login, Record Access, and Field Visibility Issues
Salesforce Customizations
Think About Your Implementation
Explore Custom Fields, Picklists, Page Layouts, and Record Types
Create Email Templates
Business Processes Automation
Review Validation Rules
Review Assignment and Escalation Rules
Review Web-to-Lead and Entitlements
Review Lightning Process Builder and Workflow
Review Approval Processes and Visual Workflow
Reports
Explore the Reports Tab, Folders, and Formats
Explore the Report Builder
Summarize Your Data
Dashboards and Data Insights
Get More Insight from Your Data
Visualize Your Data with Dashboards
Create Your Analytics Strategy
Everyday Salesforce
Collaborate with Chatter, Groups, and Communities
Share Feedback with Chatter Answers and Ideas
Go Mobile with Salesforce1
Make Salesforce Part of Your Day
Data Management
Create a Data Migration Strategy
Ensure Data Quality
Extending Salesforce
Drive a Salesforce Implementation
Customize Salesforce Using Custom Objects, Apps, and the Salesforce AppExchange
Build It Yourself
Wrap-up and Certification
Review the Certification Process and Resources
Audience
This class is ideal for business users — the people who need to learn what's possible with Salesforce functionality across the suite of products but aren't necessarily responsible for managing the application. If you're a customer service manager, business executive, business operations manager, sales operations manager, or any other operations, management, or process analysis "super user," this class is just what you need to better understand the business value of the Salesforce Platform.
What You Will Learn
Describe the primary business value of each major Salesforce Cloud.
Manage users and data.
Manage basic org configuration.
Create email templates.
Create reports and dashboards.
Apply and champion Chatter.
Understand the Salesforce implementation and maintenance lifecycle.
Extend Salesforce functionality beyond basic configuration.