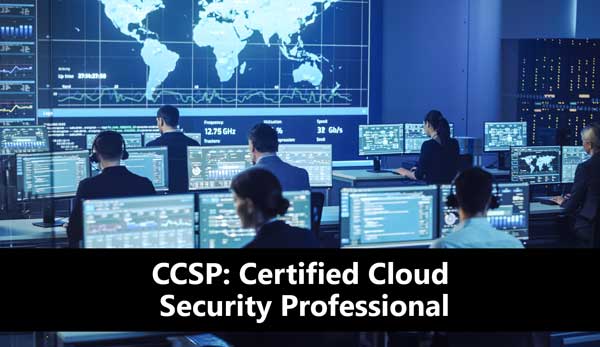 Course Description
The Certified Cloud Security Professional (CCSP) certification training course provides a thorough understanding of the information security risks and mitigation strategies critical to data security in cloud computing. This course covers the six domains of the (ISC)² CCSP Common Body of Knowledge (CBK) and helps prepare you to pass the CCSP exam and become a Certified Cloud Security Professional.
CCSP is widely regarded as the most valuable vendor-neutral cloud security credential a computer security professional can hold. It is frequently identified as a prerequisite for security jobs across all industries including security design, implementation, maintenance, policy development, and management of cloud systems, process/procedures, policies, applications, and networks.
This course is primarily for Information Technology Security Professionals who want to advance their security certifications such as Certified Information Systems Security Professional (CISSP), Certified Information Systems Auditor (CISA), Certified Information Security Manager (CISM), and Certified Ethical Hacker (CEH).
Outline
This course covers the official (ISC)² CCSP Common Body of Knowledge (CBK) categories for the Certified Cloud Security Professional (CCSP) certification, organized in the following lessons:
The CCSP Certification and Exam Process
Architectural Concepts
Design Requirements
Data Classification
Cloud Data Security
Security in the Cloud
Responsibilities in the Cloud
Cloud Application Security
Operations Elements
Operations Management
Legal and Compliance
Audience
This course is primarily designed for the IT professional whose role includes some information security tasks or responsibilities in a cloud computing environment. Common job titles for students include CISO, Director, Manager, Supervisor, Analyst, Information Architect, Program Manager, Lead, Information Security Officer, Security Specialist, and Auditor. Students should have some practical experience in the information security industry. Experienced information security professionals will also find value in this course to update their security skills, expand their knowledge of theoretical security, and deepen exposure to cloud computing security topics outside their current role.
Prerequisites
To qualify for this certification you must have at least five years of cumulative, paid work experience in information technology, of which three years must be in information security, and one year in one or more of the six domains of the (ISC)² CCSP Common Body of Knowledge (CBK).
Students do not need to meet the certification prerequisite to attend this class. Before taking this course, students should have a minimum of one year in an information security role.
What You Will Learn
After completing this course, you will have an understanding of:
Cloud Security Architecture
Designing and Implementing Secure Cloud Computing Solutions
Creating and Deploying Cloud-Based Data Classification
Legal and Regulatory Requirements in Cloud Computing
Securely Managing and Operating Cloud Computing Solutions
Student Comments (6)