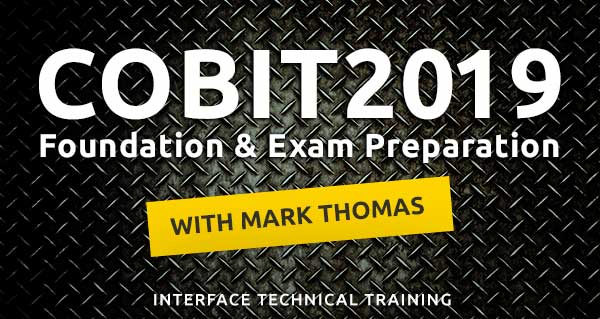 Course Description
Our COBIT 2019 training class at Interface will prepare you for the ISACA COBIT® 2019 Foundation Certification Exam. Over the years, best-practice frameworks have been developed and promoted to assist in the process of understanding, designing and implementing enterprise governance of IT (EGIT). COBIT 2019 builds on and integrates more than 25 years of development in this field, not only incorporating new insights from science but also operationalizing these insights as practice. Students are issued an exam voucher to take the exam independently online following the course. The exam is not administered during class.
This COBIT 2019 training course  is taught by Interface instructor Mark Thomas. Mark brings over 25 years of professional experience, and his background spans leadership roles from Datacenter CIO to Management and IT Consulting. Mark has led large teams in outsourced IT arrangements, conducted PMO, Service Management and governance activities for major project teams, managed enterprise applications implementations and implemented governance processes across multiple industries.
Mark's areas of expertise include:
Governance Solution Design, Implementation & Management
ITIL, CobiT, MOF, ISO20000 Consulting & Training
Executive, Team, & Client Coaching & Mentoring
Software Testing and QA
Project Portfolio Demand Management
Software Selection & Implementation
IT Strategy & Business Alignment
Team Leadership
Outline
Learners will dive into the heart and structure of the of the COBIT framework, including:
1. New framework introduction
2. Intended audience
3. Major differences with COBIT 5
4. Key concepts and terminology
5. Governance and Framework Principles
6. Governance system and components
7. Governance and management objectives
8. Performance management
9. Designing a tailored governance system
10. Review and understanding of the COBIT Business Case
Audience
Any stakeholder with responsibilities for the governance and management of enterprise information and technology.
Prerequisites
Students are encouraged to visit ISACA.org and download the following publications: 1) COBIT 2019 Framework, 2) COBIT 2019 Governance and Management Objectives.  These are free, but require registration on the ISACA site.
What You Will Learn
At the conclusion of this course, attendees will understand:
• Recognize the context, benefits and key reasons COBIT is used as an information and technology governance framework.
• Explain the key attributes of the COBIT framework
• Compare the COBIT principles for governance system framework.
• Describe the components of a governance system:
• Describe the elements of governance and management objectives.
• Differentiate COBIT based performance management using maturity and capability perspectives.
• Discover how to design a tailored governance system using COBIT.
• Explain the key points of the COBIT business case.
• Describe the relationships between the COBIT Design and Implementation Guides.
• Prepare for the COBIT 2019 Foundation exam
Student Comments (6)