You landed here because PBA-b is a replacement for the following:

PBA: PMI Professional in Business Analysis (PMI-PBA®) Exam Preparation
GOT IT!
Questions? Call 602-266-8585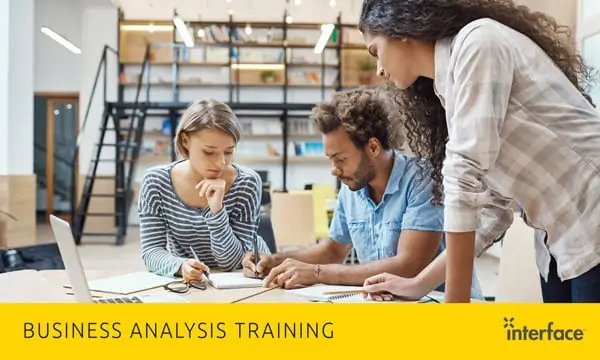 Course Description
This course provides an in-depth review of the business analysis knowledge, skills, and tasks as discussed in the PMI business analysis standard Business Analysis for Practitioners: A Practice Guide. The material within this course provides a solid overview of the activities commonly performed by those fulfilling the business analysis role on programs and projects. The content of this course is fully aligned to the definition of the business analysis practice as detailed within the role delineation survey completed for PMI in 2013. The course is intended to prepare students who are interested in taking the PMI-PBA® exam.
Outline
Module 1: The PMI-PBA® Certification Process
The value of professional certification
Eligibility requirements for the PMI-PBA®
The PMI-PBA® application process
The PMI-PBA® exam process
Module 2: Foundation Concepts
Basic PMI Terminology
Project Approaches/Methodologies
Code of Ethics
Module 3: Business Analysis Overview
Definition of business analysis •
PMI's role of the business analyst •
The relationship of project managers and business analysts
The knowledge and skills requirements of business analysts
Types of requirements
Module 4: Needs Assessment
The Importance of Needs Assessment
Assess Current State
Define Problem or Opportunity
Develop Situation Statement
Identify and Analyze Stakeholders
Determine Stakeholder Values
Recommend Action to Address Business Needs
Develop Solution Scope Statement
Assemble the Business Case
Project Selection
Module 5: Business Analysis Planning
The Importance of Planning for Business Analysis Planning
Determine Project Context
Plan Business Analysis Activities
Plan Requirements Management
Define Project Expected Outcomes
Create the Business Analysis Plan & Gain Approval
Module 6: Requirements Elicitation
The Importance of Requirements Elicitation
Types of Requirements
Plan Elicitation Techniques
Conduct Elicitation
Document Elicitation Results
Module 7: Requirements Analysis
The Importance of Requirements Analysis
Plan for Analysis
Requirement Analysis Models (Scope, Data, Process, Business rules, Interface)
Document Solution Requirements
Evaluate Product Options and Capabilities
Validate/Verify/Approve Requirements
Module 8: Traceability and Monitoring
The Importance of Traceability & Monitoring
Establish Relationships and Dependencies
Approve Requirements
Baseline Requirements
Monitor and Communicate Status of Requirements
Manage Requirements Changes
Module 9: Solution Evaluation
The Importance of Solution Evaluation
Plan Solution Evaluation Approach
Evaluate Acceptance Criteria
Validate Test Results
Validate Test Results
Evaluate Solution Results
Facilitate Go/No Go Decision
Obtain Solution Signoff
Transition the Solution
Evaluate Long Term Performance
Lessons Learned
Module 10: Preparing for the Exam
Developing a Study Plan
Study Techniques
Preparing for the Exam
Appendix:
Reference Materials
Mock Questions/Answers (online simulator by topic and combined)
Glossary
Audience
Practitioners who have been performing business analysis for at least three years
Certification prospects who are planning to take the PMI-PBA® exam in the next 3-6 months
Students who desire to learn more about the PMI-PBA® certification exam and process
Any Certified Business Analyst Professional (CBAP®) considering obtaining a BA certification from PMI
Prerequisites
Before taking this course, students should fulfill the Project Management Institute (PMI®) requirements for business analysis and general project experience.  We recommend students read about these requirements in PMI-PBA® Handbook.
A separate application to take the PMI-PBA® examination is required. We recommend that participants begin their PMI-PBA® application before taking this course, although it is not necessary.
We recommend students read the PMI-PBA® Handbook and PMI-PBA® Examination content outline prior to the course.
For maximum preparation value, students should be prepared to take the PMI-PBA®exam within 3 months of completing the prep course.
What You Will Learn
Upon completion of this course, participants will be able to:
Identify the business analysis tasks discussed in Business Analysis for Practitioners: A Practice Guide
State the importance of the five business analysis domains covered by the PMI-PBA®
Assess readiness for taking the PMI-PBA®
Prepare effectively for the exam
Identify other sources to assist in preparing for the PMI-PBA®
Complete the application process
Student Comments (1)