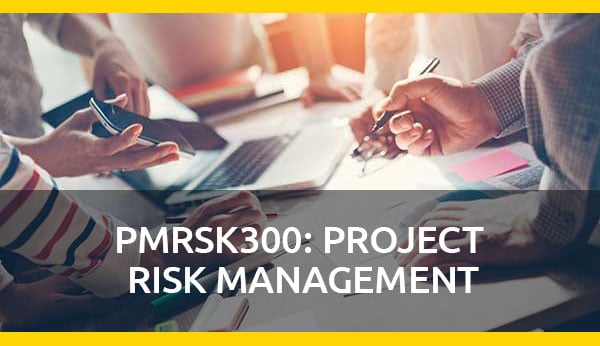 Course Description
This seminar focuses on the uncertainty that surrounds any project.  Project Risk Management is designed to have the participant learn core project risk management concepts and best practices, and learn tools that are used to proactively manage project risk.
The approach will be facilitative with a combination of theory and hands on practice with defining, identifying, analyzing, planning risk responses, and managing project risks.
Outline
This seminar provides participants with a process that introduces them to project risk management as presented in the PMBOK® Guide, 6th Edition.  Specifically, they will learn:
Introduction
Triple constraint
Work Breakdown Structure
Schedule management
Cost management

Estimating Cost
Determine Budget

What is a project risk?
Constraints and assumptions
Purpose of risk management
Challenges to project risk management
Project Risk Management Processes
Plan Risk Management
Identify Risks
Perform Qualitative Risk Analysis
Perform Quantitative Risk Analysis
Plan Risk Responses
Implement Risk Responses
Monitor Risks
Plan Risk Management
Context
Purpose
Risk Management Plan

Risk tolerance/aversion
Risk categories
Probability and impact scale
Identify Risks
Context
Purpose
Identify Risks tools and techniques

Brainstorming
Assumption analysis
Diagraming techniques
Risk register
Risk syntax
Perform Qualitative Risk Analysis
Context
Purpose
Qualitative Risk Analysis tools and techniques

Probability and impact assessment
Probability and impact matrix
Risk data quality assessment
Risk categorization
Risk urgency
Using a risk register
Perform Qualitative Risk Analysis
Context
Purpose
Qualitative risk analysis techniques
Sensitivity analysis
Expected monetary value
Monte Carlo Simulations
Plan Risk Responses
Context
Purpose
Responses for Threats
Responses for Opportunities
Acceptance as a Response

Risk Response Strategies
Residual Risks
Secondary Risks
Contingency Reserves
Implement Risk Responses
Context
Purpose
Issue logs
Lessons learned techniques
Monitor Risks
Context
Purpose
Risk Control
Control Risks Tools and Techniques

Risk Reassessment
Risk Audits
Variance and Trend Analysis
Reserve Analysis
Audience
This course is intended for both project team members and project managers wishing to gain a fluent working knowledge of commonly accepted best practices for planning and mitigation of project risks.  Team members and managers looking to improve their risk management skills and looking to improve their understanding of how risks impact project success and how they can be proactively managed should take this course.  Students on a track to take the PMP examination should take this course.