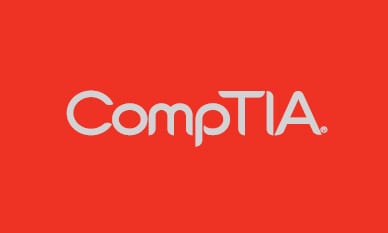 Course Description
CompTIA Security+ certification validates knowledge of security fundamentals, basic risk identification and analysis, threat identification and assessment, IT infrastructure security, cryptography, operational security, and general security processes including incident response and business continuity.
Certification Track:
This course will prepare students to take the SY0-501 CompTIA Security+ Certification exam, for the objectives released in 2017 and first tested in October 2017.
CompTIA Security+ Certification has been created as a benchmark for entry-level security skills.
Completion of the CompTIA Security+ certification meets criteria for the DoD 8570.01-M Information Assurance Workforce Improvement Program requirements, as modified and enforced starting January 24, 2012. CompTIA Security+ training is becoming a mandate for persons seeking to enter or maintain a career where security implementation and leadership are pre-requisites.
Outline
Module 1 - Security Fundamentals
Security Terms and Concepts
Security Controls
Authentication and Authorization Concepts
Basic Cryptography concepts.
Module 2 – Analyzing Risk
Organizational Risk
Risk Possibilities
Risk Impacts
Risk Response
Risk management
Module 3 – Identify Security Threats
Attackers
Social Engineering
Malware
Software Based Threats
Network Vulnerabilities and Threats
Network Attack Strategies
Wireless Threats
Physical Threats
Module 4 – Conducting Security Assessments
Identify Vulnerabilities
Assess Vulnerabilities
Implement Penetration Testing
Module 5 – Host and Software Security
Host Security
Cloud and Virtualization Security
Mobile Device Security
Security in the Software Development Lifecycle
Module 6 – Network Security
Configure Network Security Technologies
Secure Network Design Elements
Secure Networking Protocols and Services
Secure Wireless Traffic
Module 7 – Managing Identify and Access
Identity and Access Management
Directory Services (LDAP and Active Directory)
Access Services \
Managing Accounts
Module 8 – Implementing Cryptography
Advanced Cryptography Concepts
Cryptographic Algorithms
Public Key Infrastructure
Enroll Certificates
Backup and Restore Certificates and Private Keys
Revoke Certificates
Module 9 – Implementing Operational Security
Evaluate Security Frameworks and Guidelines
Incorporate Documentation in Operational Security
Implement Security Strategies
Manage Data Security Processes
Implement Physical Controls
Module 10 – Addressing Security Incidents
Troubleshooting Common Security Issues
Respond to Security Incidents
Investigate Security Incidents
Module 11 – Ensuring Business Incidents
Select Business Continuity
Disaster Recover Processes
Develop a Business Continuity Plan
Audience
This course is intended for students wishing to qualify for CompTIA Security+ certification. The qualification is aimed at computer and networking professionals with a minimum of 24 months experience.  Since security is vital to all levels and job roles within an organization, it will also benefit PC support analysts, application developers, and senior managers in accounting, sales, product development, and marketing who need an introduction to security terms, concepts, and best practices even if certification is not the intended goal.
Prerequisites
Ideally, students should have successfully completed CompTIA A+ or Network+ certification and have around 24 months' experience of personal computer or networking support. Regardless of whether students have passed CompTIA A+ or Network+, it is recommended that they have the following skills and knowledge before starting this course in order to take full advantage of the materials:
Know the function and basic features and components of a PC.
Use Windows administrative tools (Explorer, Settings, Control Panel and Management Consoles) to create and manage files and basic features of the operating system.
Basic network terminology (such as OSI Model, Topology, Ethernet, TCP/IP); TCP/IP addressing, core protocols, and troubleshooting tools.
Basic use of desktop virtual workstation environments.
Our instructors guide students from basic introductions toward mastery of classroom topics.  Course delivery supplements the following outline utilizing real world examples, class discussion, and provision of additional resources in support of student needs and/or inquiry.
What You Will Learn
On course completion, students will be able to:
Identify device, network, and social attack strategies and defenses.
Understand the principles of organizational security and the elements of effective security policies.
Know the technologies and uses of encryption standards and products.
Identify host-based, mobile, and centralized security technologies and practices.
Describe how local and remote access security are enforced.
Describe the standards and products used to investigate and enforce security on network and Internet enabled technologies.
Identify strategies for ensuring business continuity, fault tolerance, and disaster recovery
Student Comments (76)