The Ecosystem of IT Governance Frameworks by Mark Thomas

The Ecosystem of IT Governance Frameworks by Mark Thomas
Like This Video
0
70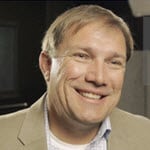 Adopting the correct Governance Framework provides value for your organization's needs.
In the IT Governance space, there are a multitude of standards, frameworks and best practices. These models help organizations deliver value to stakeholders, but can also be distractors if not understood and adopted appropriately. Add to this confusion, the use of technology can create confusion and inefficiencies.
In this presentation, Instructor Mark Thomas will focus on the ecosystem of IT Governance Frameworks such as ITIL, COBIT and various Bodies of Knowledge and how the synchronize with common technologies that are used in most organizations today.
Mark will go into details in the Framework Ecosystem available in the IT environment and Identify practical application of common frameworks such as ITIL, COBIT and other Bodies of Knowledge.
In this video, you will learn how to utilize numerous Governance Frameworks in IT that help you deliver more value with less resources  that support organizations objectives.
For instructor-led ITIL training classes, see our course schedule:
About the Instructor
Mark Thomas – CRISC, CGEIT, ITIL, COBIT, PRINCE2, NIST, ISO20000
With over 20 years of professional experience, Mark's background spans leadership roles from Datacenter CIO to Management and IT Consulting. Mark has led large teams in outsourced IT arrangements, conducted PMO, Service Management and governance activities for major project teams, managed enterprise applications implementations, and implemented governance processes across multiple industries. Mark has a wide array of industry experience with 'Big Five' consulting in the health care, manufacturing and distribution, services, high technology, and government verticals.
Mark is a problem solver who is committed to solving hard problems and delivering excellent strategic results. Additionally, Mark has forged a reputable competency as a consultative trainer and speaker in several disciplines receiving exemplary evaluations.
Mark acted as interim leadership for clients with a specific focus of organizational design, operational processes, and governance models. Typical engagements include assessments, hands-on implementation, and consultative training in the IT Service Management. Governance Controls and Technical Management domains.

0
71
0
In this video, PowerShell instructor Jason Yoder shows how to add Methods (PSMethod) to your code using free software that's added into the PSObject. For instructor-led PowerShell courses, see our course schedule. Microsoft Windows PowerShell Training Download the Building Methods PowerShell script</a> used in this video. <# ╔══════════════════════════════════════════════════════════════════════════════╗ ║ ║ ║ Building Methods ║ ╟──────────────────────────────────────────────────────────────────────────────╢ … Continue reading How to Build in a PSMethod to your PowerShell Code