Understanding the Goals Cascade inside the COBIT Framework by Mark Thomas

Understanding the Goals Cascade inside the COBIT Framework by Mark Thomas
Like This Video
0
12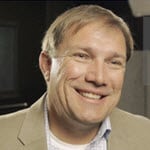 In this video, ITIL and COBIT Instructor Mark Thomas describes how to utilize the Goals Cascade in the COBIT IT Framework and how to apply it in management and enterprise IT environments.  The Cascade takes Enterprise level requirements and maps them to IT related goals.
For instructor-led COBIT Certification training, see our course schedule.
COBIT205: COBIT® 5 Foundation and Implementation IT Governance Training

0
69
0
In this video, you will gain an understanding of Agile and Scrum Master Certification terminologies and concepts to help you make better decisions in your Project Management capabilities. Whether you're a developer looking to obtain an Agile or Scrum Master Certification, or you're a Project Manager/Product Owner who is attempting to get your product or … Continue reading Agile Methodology in Project Management


0
321
1
Configuring Navigation in a Publishing Site in a SharePoint Site that's in the Site Collection where the Publishing Feature has been activated, changes dramatically from that in a Collaboration Site.