Understanding the Goals Cascade inside the COBIT Framework by Mark Thomas

Understanding the Goals Cascade inside the COBIT Framework by Mark Thomas
Like This Video
0
28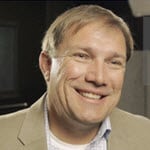 In this video, ITIL and COBIT Instructor Mark Thomas describes how to utilize the Goals Cascade in the COBIT IT Framework and how to apply it in management and enterprise IT environments.  The Cascade takes Enterprise level requirements and maps them to IT related goals.
For instructor-led COBIT Certification training, see our course schedule.
COBIT205: COBIT® 5 Foundation and Implementation IT Governance Training


0
178
2
In this SharePoint training video, we will cover Navigation Controls in a Publishing Site. Typically, a Team Site is the Site using SharePoint Collaboration Tools and is used primarily with Collaboration.

0
830
2
Configuring Navigation in a Publishing Site in a SharePoint Site that's in the Site Collection where the Publishing Feature has been activated, changes dramatically from that in a Collaboration Site.