Error code 0xE0000100 while installing Windows Server 2012 R2
Error code 0xE0000100 while installing Windows Server 2012 R2
Like This Blog
3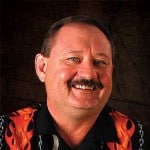 Recently while attempting to install Windows Server 2012 R2 on a virtual machine I received the following error after clicking the Install button: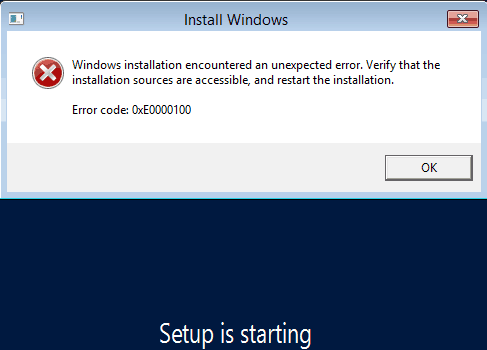 So based on the error my first assumption was my installation ISO must be corrupted, so I downloaded a new file from MSDN.  After the downloading the new ISO I received the same error.  So being a little stubborn I tried a Server 2012 ISO I had and again the same error.  I tried a Windows 8 ISO I had available, didn't get the same error but an issue reading the license file.
So next assumption maybe somehow Hyper-V has gotten corrupted.  So I completely uninstall the Hyper-V role and ensure I clean the registry of any instances of Hyper-V.  Reinstall Hyper-V wouldn't you know it the same error.  Now I am getting a little frustrated.  So I started researching the 0xE0000100 error code.  Found lots of irrelevant stuff out there.  But, then stumbled across the true cause of the error.
The default memory value when creating a virtual machine in Hyper-V is 512MB which is the minimum memory required to install Windows Server 2012 R2.  I had selected use Dynamic Memory so I assumed it allocate what was needed.  What I found was it doesn't.  Because the drive is not formatted yet and no memory swap file exists the ISO was unable to extract into memory.  As a result the installation files were not available to continue.  There are 2 solutions to the problem.  The easiest is to up your memory larger the 800 MB or prior to pressing the Install button exit to a command prompt, format the drive and create a memory swap file.
I chose the easier of the 2 by upping my memory to 1024 MB.  Installation completed without any other issues.
Hope this solves your installation problem and you research the error prior to jumping through hoops like I did.
Until next time, RIDE SAFE!!

0
3774
0
Mark Jacob, Cisco Instructor, presents an introduction to Cisco Modeling Labs 2.0 or CML2.0, an upgrade to Cisco's VIRL Personal Edition. Mark demonstrates Terminal Emulator access to console, as well as console access from within the CML2.0 product. Hello, I'm Mark Jacob, a Cisco Instructor and Network Instructor at Interface Technical Training. I've been using … Continue reading A Simple Introduction to Cisco CML2

0
71
0
In this video, PowerShell instructor Jason Yoder shows how to add Methods (PSMethod) to your code using free software that's added into the PSObject. For instructor-led PowerShell courses, see our course schedule. Microsoft Windows PowerShell Training Download the Building Methods PowerShell script</a> used in this video. <# ╔══════════════════════════════════════════════════════════════════════════════╗ ║ ║ ║ Building Methods ║ ╟──────────────────────────────────────────────────────────────────────────────╢ … Continue reading How to Build in a PSMethod to your PowerShell Code

0
1235
2
In this video, PowerShell instructor Jason Yoder demonstrates how you can use the PowerShell Script Analyzer to help you format your code to best-practices. For instructor-led PowerShell training classes, see our course schedule: Microsoft Windows PowerShell Training Download the PowerShell Analyzer scripts used in this video. <# ╔══════════════════════════════════════════════════════════════════════════════╗ ║ ║ ║ PowerShell Script Analyzer ║ … Continue reading How to use the PowerShell Script Analyzer to Clean Up Your Code