Error code 0xE0000100 while installing Windows Server 2012 R2
Error code 0xE0000100 while installing Windows Server 2012 R2
Like This Blog
3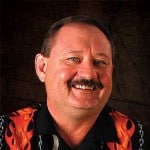 Recently while attempting to install Windows Server 2012 R2 on a virtual machine I received the following error after clicking the Install button: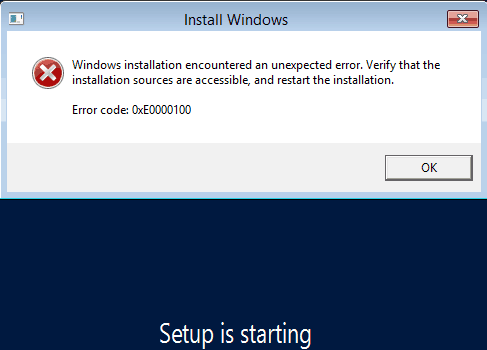 So based on the error my first assumption was my installation ISO must be corrupted, so I downloaded a new file from MSDN.  After the downloading the new ISO I received the same error.  So being a little stubborn I tried a Server 2012 ISO I had and again the same error.  I tried a Windows 8 ISO I had available, didn't get the same error but an issue reading the license file.
So next assumption maybe somehow Hyper-V has gotten corrupted.  So I completely uninstall the Hyper-V role and ensure I clean the registry of any instances of Hyper-V.  Reinstall Hyper-V wouldn't you know it the same error.  Now I am getting a little frustrated.  So I started researching the 0xE0000100 error code.  Found lots of irrelevant stuff out there.  But, then stumbled across the true cause of the error.
The default memory value when creating a virtual machine in Hyper-V is 512MB which is the minimum memory required to install Windows Server 2012 R2.  I had selected use Dynamic Memory so I assumed it allocate what was needed.  What I found was it doesn't.  Because the drive is not formatted yet and no memory swap file exists the ISO was unable to extract into memory.  As a result the installation files were not available to continue.  There are 2 solutions to the problem.  The easiest is to up your memory larger the 800 MB or prior to pressing the Install button exit to a command prompt, format the drive and create a memory swap file.
I chose the easier of the 2 by upping my memory to 1024 MB.  Installation completed without any other issues.
Hope this solves your installation problem and you research the error prior to jumping through hoops like I did.
Until next time, RIDE SAFE!!

0
130
0
In this video, you will gain an understanding of Agile and Scrum Master Certification terminologies and concepts to help you make better decisions in your Project Management capabilities. Whether you're a developer looking to obtain an Agile or Scrum Master Certification, or you're a Project Manager/Product Owner who is attempting to get your product or … Continue reading Agile Methodology in Project Management

0
570
3
In this Office 365 training video, instructor Spike Xavier demonstrates how to create users and manage passwords in Office 365.

4
520
3
In this IT Security training video, Security expert Mike Danseglio (CISSP / CEH) will perform several malware investigations including rootkits, botnets, viruses, and browser toolbars.