Installing Windows Vista in Hyper-V
Installing Windows Vista in Hyper-V
Like This Blog
1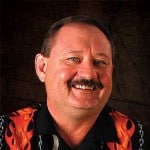 Recently while building a new image for an upcoming class, one of the required guest operating systems was Windows Vista SP2. Sounds simple enough, the installation of Windows Vista SP2 proceeded as normal. But, after logging in is where the issues began.
After logging in the first 2 things you will notice is the mouse will be captured inside of the virtual machine's window and in the notification tray there is no network connectivity.

I will address the network connection issue first.
When you look at the Network and Sharing Center you will see you are not connected to any networks.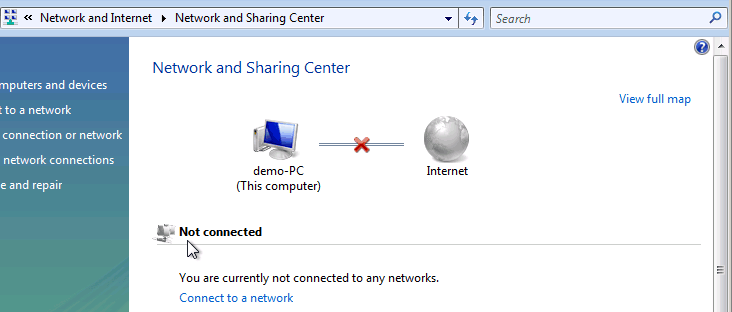 If you investigate further you will find you are no network adapters available for use.

During the installation Windows Vista SP2 did not recognize the virtual network adapter. To fix this problem we must first shut down the virtual machine. After the computer has powered off, open Hyper-V setting for the desired virtual machine.
Choose Add Hardware, then select Legacy Network Adapter, click Add. This will add a network adapter card compatible with Windows Vista SP2.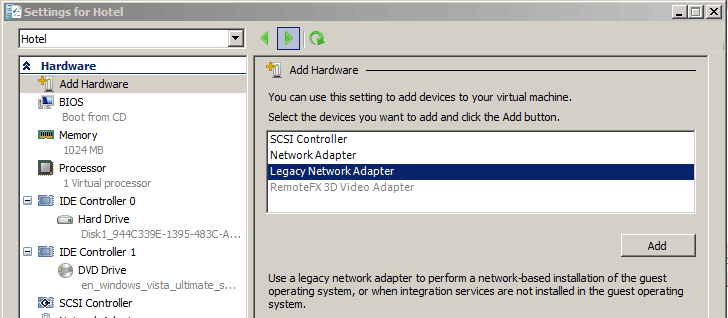 After clicking Add, select the appropriate network from the dropdown box and press Ok. In my example I chose the External network.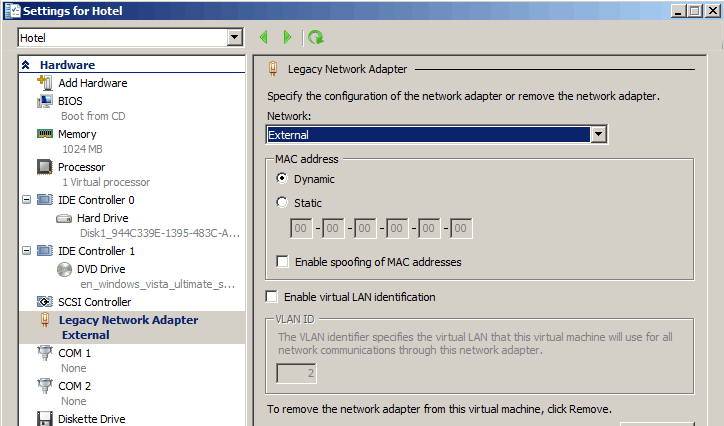 Start the virtual machine and the computer is now connected to the network.

With the network adapter fixed now it is time to move on to the Hyper-V Integration Services.
In the action dropdown menu of the virtual machine select Insert Integration Services Setup Disk.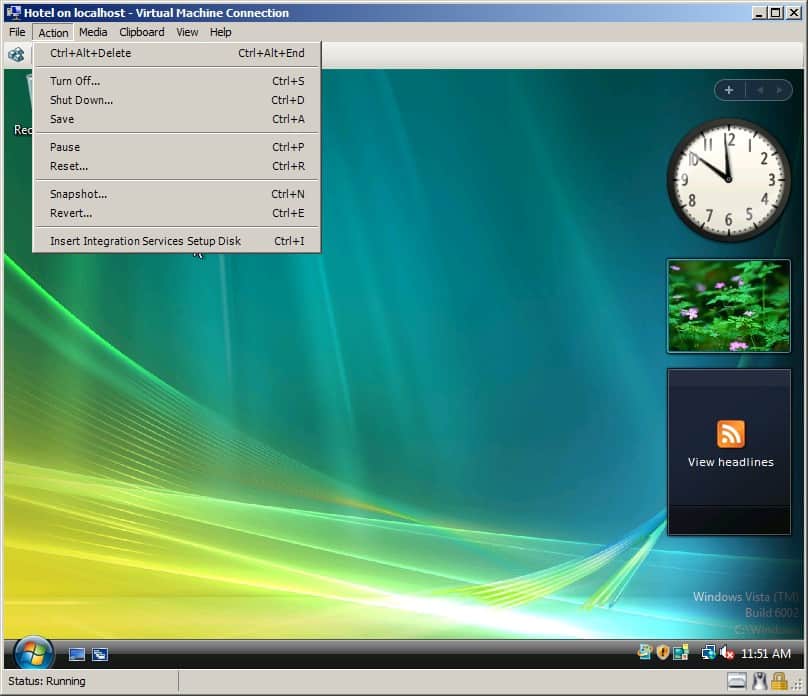 Select Install Hyper-V Integration Services.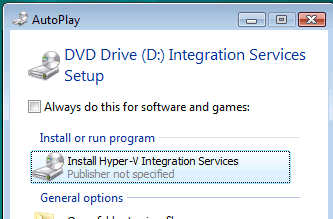 If prompted for UAC, select Allow.
At this point it appears as if the integration service are installing. Upon completion the Installation Complete dialog box appears.

In reallity the installation did not run successfully . After further investigation in order to successfully install the integration services you must be running Windows Vista SP1.
Use the same steps as above to install the Intergration Services in Windows Vista SP1. A successfull installation is indicated by the following Installation Complete dialog box.

After successrully installing the Integration Services you can then upgrade to SP2.
If you attempted to install the Integration Services prior to upgrading to Windows Vista SP1 the following Dialog would be displayed.

Note: Also discovered while researching the Windows Vista SP2 Integration Services issue if you start your installation with a Windows Vista SP1 installation the Network Adapter will be recognized and there is not need to add a Legacy Network Adapter Card post installation.
Hope this helps with your installations of Windows Vista. Until next time ….. Ride Safe!!!
Rick Trader
Windows Server Instructor – Interface Technical Training
Phoenix, AZ

0
3774
0
Mark Jacob, Cisco Instructor, presents an introduction to Cisco Modeling Labs 2.0 or CML2.0, an upgrade to Cisco's VIRL Personal Edition. Mark demonstrates Terminal Emulator access to console, as well as console access from within the CML2.0 product. Hello, I'm Mark Jacob, a Cisco Instructor and Network Instructor at Interface Technical Training. I've been using … Continue reading A Simple Introduction to Cisco CML2

0
692
1
This content is from our CompTIA Network + Video Certification Training Course. Start training today! In this video, CompTIA Network + instructor Rick Trader demonstrates how to use cable testers in network environments. Let's look at some tools that we can use to test our different cables in our environment. Cable Testers Properly Wired Connectivity … Continue reading Cable Testers and How to Use them in Network Environments