Solving a Crash Table versus a Crash Plot
Solving a Crash Table versus a Crash Plot
Like This Blog
0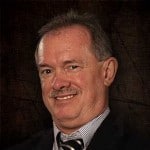 One of my recent PMP (Project Management Professional Certification) students asks:
"How do you determine which activity to crash first when they both have the same crash cost per week?"
Crashing, a project management tool used to control project schedules during the planning or executing process groups of the project life cycle, can be a difficult subject to grasp.  Fast Tracking, the more common schedule control tool, requires only knowledge of the schedule sequence and the critical path in order to identify alternatives.  Both Fast Tracking and Crashing address shortening or compressing the schedule in order to meet a preferred deadline for total duration or completion of the project.   Fast Tracking involves altering sequential activities to conduct them with parallel effort.  Establishing a lead between Finish-to-Start activities is one way to affect Fast Tracking.   The lead has the successor activity starting at a point before the predecessor ends, effectively gaining time for the overall schedule.  Alternately, you may choose to revise the sequence of dependencies assumed during schedule planning.  Fast Tracking does not involve the addition of resources.  No extra money, staff, equipment or automation are applied.
Crashing, on the other hand, requires knowledge of the schedule sequence, the critical path, and the cost associated with activity alternatives.  Crashing looks at alternative approaches to the one selected in order to identify if a different approach can complete the work more quickly.  Crashing effectively requires spending more money, to select an alternative approach initially dismissed due to its cost, or to apply more human resources toward completion of the effort.
In order to determine which activities might be crashed, and to determine amongst alternatives, you must use the following steps.
1)  Determine the critical path of the project.  Saving time on non-critical path activities will not compress total duration.
2) Identify the time savings for each activity on the critical path if an alternative approach toward work completion is selected.
3) Determine the cost increase associated with selecting an alternative approach.
4) Calculate the cost increase per time period for each activity that might be altered, establishing a like baseline in terms of minutes, hours, days, weeks, months, etc. against which all alternatives may be compared.  In other words, you want to compare the alternative choices in equal terms such as cost per hour or cost per week.
The formula that should be used is:
(Crash cost – normal cost) /(Normal time – Crash time)
Normal time is the amount of time initially planned to complete the activity.
Crash time is the amount of time that activity will take if the additional resources are expended.  Crash time is NOT the time saved, rather it is the reduced time applied.  Crash time will always be a number smaller than normal time.
Normal cost is the original cost estimate to complete the activity.
Crash cost is the cost associated with selecting the faster alternative to complete the effort.  Note, this is not the extra cost, but the full cost associated with the alternative approach.
As such the formula results in a value that represents crash cost per time period.  In this manner, that various alternatives may be compared.  A professional project manager should always select the most efficient use of the sponsor or customer's money to affect the schedule compression.  So, pick the lowest cost per time period as long as the activity is on the critical path.
I also need to note that the first pass at a Crashing solution requires that you assume only one alternative may be selected per work deliverable.  In reality, hybrid approaches may be available and acceptable, although direct cost comparison then becomes problematic.  For instance, you might replace several workers with picks and shovels by using a backhoe to dig a trench.  While a hybrid approach that uses both may be possible, you start by comparing the backhoe option to the manual labor option.
The easiest method to solve this, at least for the PMP Credential, is to analyze a Crash Plot.  A Crash Plot lists only activities on the Critical Path ascending in cost from right to left.  The rate of cost increase becomes steeper as the amount of total time spent diminishes.   The following Crash Plot reveals a Critical Path containing activities A, E, F, and G.  Activity G costs the least per affected time period to compress, while A appears to have the steepest rate of change.  If you have to make Crashing decisions provided this information, you would Crash first activity G, then F, then E, and finally A.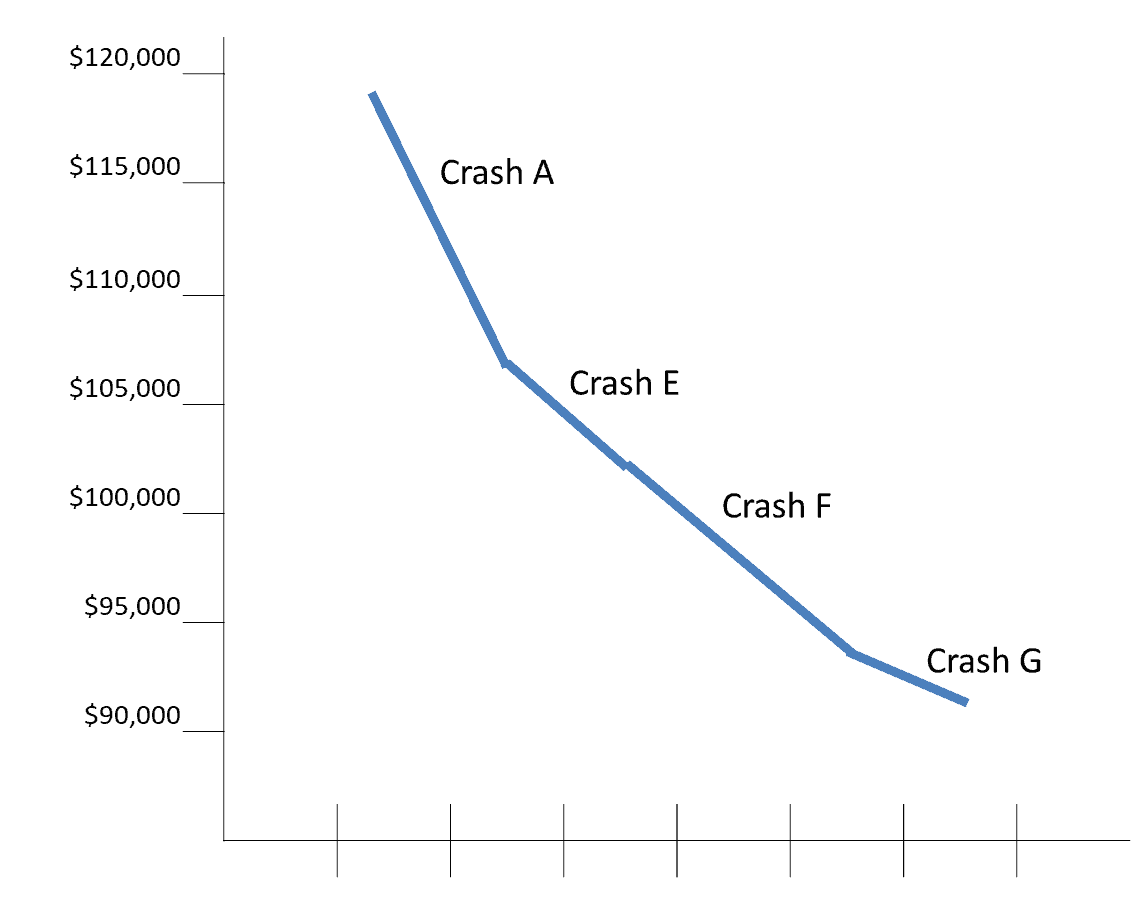 Given a Crash Table for the same project efforts, you need to be provided additional information in order to make the best Crash decision.  The Critical Path activities are highlighted in yellow.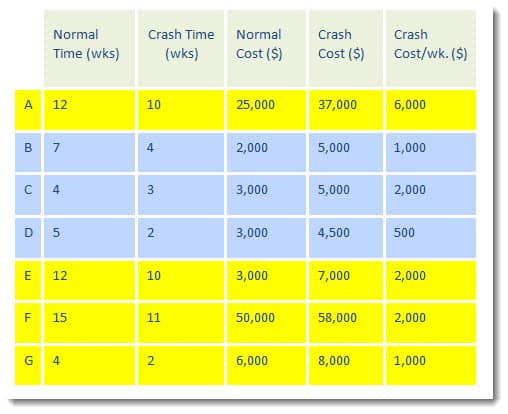 Since you always want to make the most cost effective decision for Crashing, you would clearly select option G first.  The Crash cost is $1,000 per week saved, for a total Crash cost of $8,000 or $1,000 for each of two weeks saved.
Finally we arrive at the analysis about which my student inquired.
Given that both activities E and F have a cost efficiency rate of $2,000 per week, how would you determine which to Crash next.  (The Crash plot has been prepared by someone who already has more knowledge regarding the user or the project priorities.)
The answer:  You need to know whether there are cost or time constraints that cannot be broken in order to make your decision.
In other words, do you have a maximum amount of money you may spent, or a certain amount of time you need to save/compress in order to satisfy customer need?
If you are given anything up to but not beyond $6,000 with which to compress the schedule, you would select first Activity G, and spend $2,000.  You now have $4,000 remaining funds.  You cannot compress F, due to a total alternative cost of $8,000.  You could select to compress Activity E, since cost only $4,000 to compress … exactly what you have remaining.
Alternately, you could be told to save 6 weeks, being careful with your resources.  You would again select Activity G as the most efficient, saving 2 weeks.  You need to save 4 more weeks.  Crashing Activity F allows you to complete the assignment, saving exactly the remaining 4 weeks for an additional cost of $8,000.  In this instance you would not select G than E, since you would save only 4 weeks total, and would then need to select F, gaining for more weeks and completing 8 weeks early rather than 6, albeit at a much higher cost increase than your customer requested.
I hope this helps you to better understand and solve Crash Plot and Crash Table questions on the PMP Project Management exam.
I look forward to seeing you in the classroom or online!
Steven Fullmer
Interface Technical Training Staff Instructor
Steve teaches PMI-PBA: Business Analysis Certification,  PMP: Project Management Fundamentals and Professional Certification, Windows 10, and CompTIA classes in Phoenix, Arizona.
Steve's Video Certification Training Classes at Interface Technical Training:
Project Management Professional (PMP®) Certification Video Training PMBOK® 6th Edition
PMI-PBA Business Analysis for IT Analysts and Project Managers (PMI-PBA)® Certification

0
3859
0
Mark Jacob, Cisco Instructor, presents an introduction to Cisco Modeling Labs 2.0 or CML2.0, an upgrade to Cisco's VIRL Personal Edition. Mark demonstrates Terminal Emulator access to console, as well as console access from within the CML2.0 product. Hello, I'm Mark Jacob, a Cisco Instructor and Network Instructor at Interface Technical Training. I've been using … Continue reading A Simple Introduction to Cisco CML2

0
713
1
This content is from our CompTIA Network + Video Certification Training Course. Start training today! In this video, CompTIA Network + instructor Rick Trader demonstrates how to use cable testers in network environments. Let's look at some tools that we can use to test our different cables in our environment. Cable Testers Properly Wired Connectivity … Continue reading Cable Testers and How to Use them in Network Environments

0
183
0
This video is from our PMI-PBA Business Analysis for IT Analysts and Project Managers (PMI-PBA)® Certification now available at Interface Technical Training. Also see Steve's PMP Project Management Certification Course: Project Management Professional (PMP®) Certification Video Training PMBOK® 6th Edition  Video Transcription: Data Models are part of the elicitation analysis in PMI-PBA. This is the way … Continue reading Data Models in Business Analysis