System Center 2012 – The future of the IT Admin
System Center 2012 – The future of the IT Admin
Like This Blog
2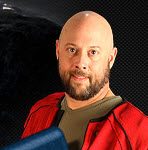 I recently spoke at a fantastic Microsoft conference in Belgium called TechDays. It was their 10th year holding this conference, and as you can imagine, it focused on the new technologies to be released by Microsoft this year. I posted details of the trip and conference on my blog http://www.jasonhelmick.com/, but I wanted to take a moment to give you some observations not discussed in my blog.
Most of you that know me are probably expecting the "Learn PowerShell Now!" speech. I am somewhat of a religious fanatic about that. Let me step down from my PowerShell soapbox and take a moment to look at another technology that is already in RC1 and I hope you will start looking at it now. System Center 2012.
Note that I didn't use one of the product acronyms you're familiar with such as SCCM, SCOM, SCDPM, etc. Simply because it no longer matters, not in licensing or management, it's becoming one product. Yes, it still has each of those individual products you are familiar with; however there have been some additions. There is a reason to start to think of this as one product called System Center rather than the individual components. For IT, I think this is becoming a "platform" for management, not just an isolated bunch of tasks.
Let's look at a typical network. Not the individual servers and services, but the living breathing beast known as "The Network" and the types of tasks that need to be performed. Ask yourself these questions about your network.
Do you need to deploy servers and software?
Do you need to manage client and software configurations?
Do you need to monitor the performance and faults on your servers?
Do you need to predict load changes and forecast resource deployment?
Do you need to have rapid virtualized deployments that elastically handle demand?
Do you need disaster recovery of all this?
Do you need control over your cloud?
Do you need standards, procedures, organization and processes to control all of this?
The future IT admin will have a solid management platform solution in place that addresses these questions. I'm betting that System Center is that platform.
Yes you can still feel the individual components such as SCCM, however the new management screens (GUI) and PowerShell support make it start to feel like everything is linked together in an ensemble of management control. Those once hard edges of each product have become more fluid and cohesive. The reason for this is actually very simple; an admin needs all the information, not just a single technical silo, to make decisions.
As an example, a sudden drop in customer purchase performance may be the result of slow database requests, not a bottleneck in the web farm. The solution may require server, service, and application deployment, and it must happen "now", not in a few months. This kind of total system diagnostic and management requires all those System Center components working together with an administrative team that understands how to use them.
Now, I'm not an expert at System Center 2012 and all the individual components, (there are 8 of them now) but I'm going to become one. The presentations I saw on this version of the product are more than just eye-candy and hopeful-proposition; they are how the Admin job will get accomplished. While the smallest of networks may not see an ROI with this, everyone else certainly will.
And yes, it's managed with PowerShell. (sorry, had to get that in)
I know that many of us have gotten jaded over the years to the voice of Microsoft and the marketing blitz of the future. I'm certainly one of those, but I don't think this management platform has anything to do with the Marketing folks at Microsoft. It is our businesses driving this solution.
Ward Ralston of Microsoft presented the Keynote when I was in Belgium. One of his last call-to-action slides caught me. I didn't realize the impact of the 2nd bullet until I had seen System Center and spoke to some of the Microsoft folks on the team.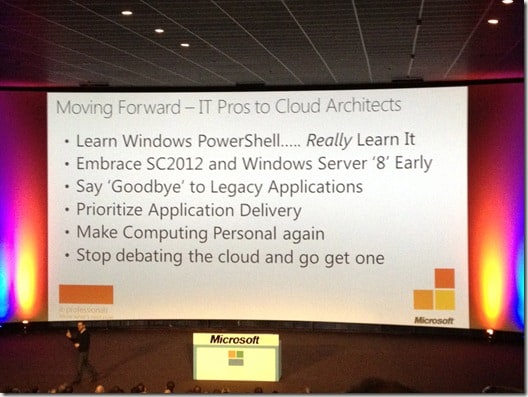 I know it seems I have found another soapbox to get on, (PowerShell, IIS, Exchange) and I'm supposed to be discussing technical things in this blog, but I really see this as a career call to the network admins of the world.
If you're an IT "Professional" working with Microsoft technologies, you should seriously consider Ward's list. The world is changing fast and so are the needs of every business from small to large. Be the person delivering reliable solutions, knowledgeable ideas and professional management. I think System Center 2012 may be part of your plan.
Knowledge is PowerShell,
Jason Helmick
Director of PowerShell Technologies
Interface Technical Training

0
3794
0
Mark Jacob, Cisco Instructor, presents an introduction to Cisco Modeling Labs 2.0 or CML2.0, an upgrade to Cisco's VIRL Personal Edition. Mark demonstrates Terminal Emulator access to console, as well as console access from within the CML2.0 product. Hello, I'm Mark Jacob, a Cisco Instructor and Network Instructor at Interface Technical Training. I've been using … Continue reading A Simple Introduction to Cisco CML2


0
249
1
In this video, Cisco CCNA & CCNP instructor Mark Jacob shows how to troubleshoot OSPF Adjacency issues by showing the distance between routers with the show ip ospf neighbor command.