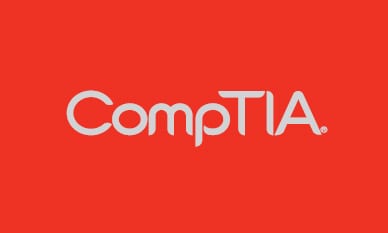 Course Description
Gain the knowledge to assemble personal computer (PC) components to customer requirements and install, configure and maintain PCs, mobile devices and end-user software in this 5-day CompTIA A+ (220-1001) certification training course. Students will acquire a solid understanding of the basic networking and current security requirements such as diagnosis, resolution and documentation of common hardware issues, troubleshooting and customer support. Students will also explore virtualization concepts, hardware and network troubleshooting, understand desktop imagining procedures and software deployment throughout this in-depth course.
The CompTIA A+ (Exam 220-1001) course can benefit you in two ways. Whether you work or plan to work in a mobile or corporate environment where you have a high level of face-to-face customer interaction, where client communication and client training are important, or in an environment with limited customer interaction and an emphasis on hardware activities, this course provides the background knowledge and skills you will require to be a successful A+ technician. It can also assist you if you are preparing to take the CompTIA A+ Certification Exam: Core 1 Objectives EXAM NUMBER: CORE 1 (220-1001) in order to become a CompTIA A+ Certified Professional.
Note: The outline is subject to change as CompTIA makes course adjustments.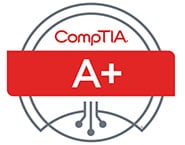 Interface Technical Training is an Authorized CompTIA® Training Partner.
CompTIA A+ is accredited by ANSI to show compliance with the ISO 17024 Standard and as such, undergoes regular reviews and updates to the exam objectives.
.
Outline
Lesson 1: Mobile Devices
Install and configure laptop hardware and components
Components within the display of a laptop
Laptop features
Compare other mobile devices
Connect and configure accessories and ports of other mobile devices
Basic mobile device network connectivity and application support
Mobile device synchronization
Lesson 2: Networking
TCP / UDP ports and protocols
Common networking hardware devices
Install and configure a basic wired/wireless SOHO network
Wireless networking protocols
Networked hosts services
Common network configuration concepts
Internet connection types, network types and features
Networking tools
Lesson 3: Hardware
Basic cable types, features and their purposes
Identify common connector types
Types of RAM and RAM installation
Select, install and configure storage devices
Install and configure motherboards, CPUs, and add-on cards
Peripherals - Types and features
Power supplies - Types and features
Configure appropriate components for a custom PC configuration to meet customer specifications or needs
Install and configure common devices
Configure SOHO multifunction devices/printers and settings
Install and maintain various print technologies
Lesson 4: Virtualization and Cloud Computing
Cloud computing concepts
Common cloud models
Shared resources
Resource pooling
Cloud file storage services
Cloud-based applications
Virtual desktop
Set up and configure client-side virtualization
Virtual machines
Resource requirements
Emulator requirements
Security requirements
Network requirements
Hypervisor
Lesson 5: Hardware and Network Troubleshooting
Troubleshoot problems related to motherboards, RAM, CPUs, and power
Hard drives and RAID arrays troubleshooting
Common symptoms with video, projector and display issues
Mobile device issues
Troubleshooting printers
Common wired and wireless network problems
Best practice methodology to resolve problems
Identify the problem
Establish a theory of probable cause
Test the theory to determine cause
Implement the solution
Verify full system functionality
Document findings
Note: this is a preliminary course information outline and is subject to change upon final core 1 (220-1001) curriculum release from CompTIA Accreditation.
Audience
This course is intended for students wishing to qualify with CompTIA A+ Certification for PC Support professionals. It is also suitable for students wanting to improve their skills in PC support and administration. By completing this course, students will also be assisted with entry into a career in ICT. This course will particularly benefit students pursuing a career in supporting desktop personal computer users, in job roles such as Support Engineer, Maintenance Engineer, Desktop Engineer, Computer Administrator, or PC Support Analyst. Study of the course can also help to prepare for other, similar technical support qualifications and act as groundwork for more advanced training, including CompTIA Network+ or CompTIA Server+, CCNA, and MCSE.
Prerequisites
To ensure your success in this course, you should have basic computer user skills, be able to complete tasks in a Microsoft® Windows® environment, be able to search for, browse, and access information on the Internet and have basic knowledge of computing concepts.
What You Will Learn
On course completion, students will be able to:
Assemble components based on customer requirements
Install, configure, and maintain PCs, mobile devices and software for end users
Understand the basics of networking and security forensics
Properly and safely diagnose, resolve, and document common hardware issues
Apply hardware troubleshooting skills
Provide appropriate customer support
Understand the basics of scripting, virtualization, desktop imaging and deployment
Student Comments (85)