You landed here because SEC+601 is a replacement for the following:

SEC+501: CompTIA Security+
GOT IT!
Questions? Call 602-266-8585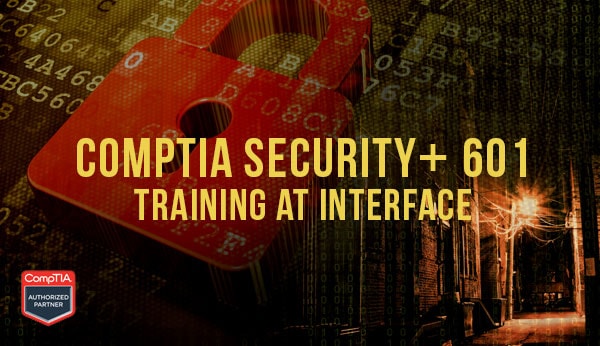 Course Description
CompTIA is a not-for-profit trade association with the purpose of advancing the interests of IT professionals and IT channel organizations and its industry-leading IT certifications are an important part of that mission. CompTIA's Security+ certification is a foundation-level certificate designed for IT administrators with two years' experience whose job role is focused on system security.
The CompTIA Security+ exam will certify the successful candidate has the knowledge and skills required to assist with cybersecurity duties in small and large organizations. These duties include assessments and monitoring; secure network, host, app, and cloud provisioning; data governance; and incident analysis and response.
CompTIA Security+ is the first security certification IT professionals should earn. It establishes the core knowledge required of any cybersecurity role and provides a springboard to intermediate-level cybersecurity jobs. Security+ incorporates best practices in hands-on troubleshooting to ensure security professionals have practical security problem-solving skills. Cybersecurity professionals with Security+ know how to address security incidents—not just identify them.
Security+ is compliant with ISO 17024 standards and approved by the US DoD to meet directive 8140/8570.01-M requirements. Regulators and government rely on ANSI accreditation because it provides confidence and trust in the outputs of an accredited program.
Outline
Lesson 1: Comparing Security Roles and Security Controls
Lesson 2: Explaining Threat Actors and Threat Intelligence
Lesson 3: Performing Security Assessments
Lesson 4: Identifying Social Engineering and Malware
Lesson 5: Summarizing Basic Cryptographic Concepts
Lesson 6: Implementing Public Key Infrastructure
Lesson 7: Implementing Authentication Controls
Lesson 8: Implementing Identity and Account Management Controls
Lesson 9: Implementing Secure Network Designs
Lesson 10: Implementing Network Security Appliances
Lesson 11: Implementing Secure Network Protocols
Lesson 12: Implementing Host Security Solutions
Lesson 13: Implementing Secure Mobile Solutions
Lesson 14: Summarizing Secure Application Concepts
Lesson 15: Implementing Secure Cloud Solutions
Lesson 16: Explaining Data Privacy and Protection Concepts
Lesson 17: Performing Incident Response
Lesson 18: Explaining Digital Forensics
Lesson 19: Summarizing Risk Management Concepts
Lesson 20: Implementing Cybersecurity Resilience
Lesson 21: Explaining Physical Security
Audience
The Official CompTIA Security+ Guide (Exam SY0-601) is the primary course you will need to take if your job responsibilities include securing network services, devices, and data confidentiality/privacy in your organization. You can take this course to prepare for the CompTIA Security+ (Exam SY0-601) certification examination.
Prerequisites
To ensure your success in this course, you should have basic Windows and Linux administrator skills and the ability to implement fundamental networking appliances and IP addressing concepts. CompTIA A+ and Network+ certifications, or equivalent knowledge, and six to nine months' experience in networking, including configuring security parameters, are strongly recommended
What You Will Learn
This course can benefit you in two ways. If you intend to pass the CompTIA Security+ (Exam SY0-601) certification examination, this course can be a significant part of your
preparation. But certification is not the only key to professional success in the field of computer security. Today's job market demands individuals with demonstrable skills, and the information and activities in this course can help you build your cybersecurity
skill set so that you can confidently perform your duties in any entry-level security role.
On course completion, you will be able to:
• Compare security roles and security controls
• Explain threat actors and threat intelligence
• Perform security assessments and identify social engineering attacks and malware types
• Summarize basic cryptographic concepts and implement public key infrastructure
• Implement authentication controls
• Implement identity and account management controls
• Implement secure network designs, network security appliances, and secure network protocols
• Implement host, embedded/Internet of Things, and mobile security solutions
• Implement secure cloud solutions
• Explain data privacy and protection concepts
• Perform incident response and digital forensics
• Summarize risk management concepts and implement cybersecurity resilience
• Explain physical security
Student Comments (114)