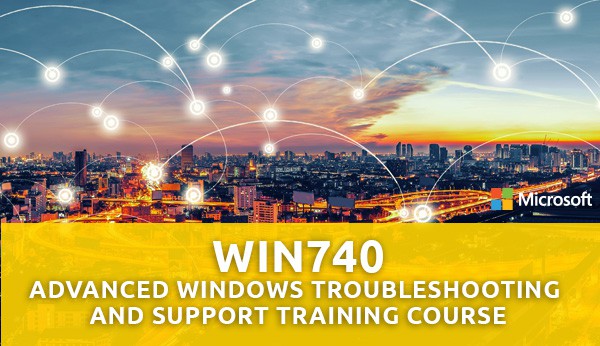 Course Description
WIN740 is a custom Interface training course that replaces the retired Microsoft Official Curriculum (MOC) course 10982: Supporting and Troubleshooting Windows 10.
Get the knowledge and skills to support Windows 10 and 11 PCs and devices in a Windows Server domain environment with this advanced troubleshooting training course. In this 5-day class you'll benefit from an instructor with decades of experience in Windows troubleshooting, as well as extensive "break-fix" hands-on labs. You'll gain mastery in providing escalation-tier support to Windows users and other IT staff in medium to large organizations.
Before taking this class, you must have a strong understanding of Windows 10 configuration and troubleshooting in enterprise environments. This course focuses on how to troubleshoot advanced technical issues with Windows client computers, with an emphasis on Windows 10.
Note that this is an in-depth, hands-on troubleshooting class that makes extensive use of "break-fix" labs. These labs have limited guidance and are designed to reinforce both troubleshooting skills and existing knowledge of Windows 10 features. Because of this approach, students must already be familiar with basic Windows 10 support and troubleshooting before taking this course. This course is designed to reinforce skills and knowledge required by senior technical support personnel (sometimes called Tier 2 or Tier 3, or escalation support).
Outline
Course Introduction and Administrative Topics
Implementing a Troubleshooting Methodology
Overview of Windows 10 and 11
Using Core Troubleshooting Tools
Troubleshooting Startup Issues
Troubleshooting BitLocker Issues
Troubleshooting Hardware and Device Driver Issues
Troubleshooting Blue Screens
Troubleshooting Network Connectivity Issues
Troubleshooting User Logon Issues
Troubleshooting Group Policy and Active Directory Issues
Troubleshooting Printing Issues
Troubleshooting Applications
Audience
This 5-day instructor-led training course is designed for Enterprise Desktop Support Technician (EDST), who provides Tier 2 and above support to users running Windows 10 or 11 devices in medium to large enterprise organizations, within a Windows Active Directory domain environment. EDSTs focus on troubleshooting a broad range of technical issues with Windows, devices, cloud services, applications, networking, and hardware.
The key areas of technical support that students will learn about include resolving technical issues pertaining to Windows startup, activation, performance, profiles, and settings. Some other key areas include local and remote network access, access to applications, access to data and printers, user authentication, and Windows and data recovery.
Because this course is highly focused on the technical support role in an organization, students that are not currently in that role may not find value in this course.
Prerequisites
Students must have at least one year of experience deploying and supporting Windows 10 or 11 in an enterprise environment. This class does NOT teach how to use or navigate Windows, it is focused on troubleshooting features that the student is already familiar with.
Before attending this course, students should also have:
Intermediate level of experience with networking fundamentals, including Transmission Control Protocol /Internet Protocol (TCP/IP), NetBIOS name resolution, and Domain Name System (DNS).
Familiarity with Microsoft Active Directory including Group Policy and user, computer, and group management.
Basic familiarity in Windows Server fundamentals including the use of Hyper-V and the Microsoft Management Console (MMC).
What You Will Learn
After completing this course, students will be able to:
Describe the processes involved in planning and using a troubleshooting methodology for Windows.
Troubleshoot startup issues and operating system services on a Windows device.
Resolve issues related to hardware devices and device drivers.
Troubleshoot problems that result in a Windows blue screen of death (BSOD).
Troubleshoot Windows devices remotely.
Troubleshoot issues related to network connectivity.
Troubleshoot client configuration failures and GPO application issues.
Troubleshoot issues related to user settings.
Troubleshoot remote connectivity issues.
Resolve issues related to accessing resources from computers that are domain-joined.
Troubleshoot issues related to application installation and operation.
Recover and protect data on a Windows computer.
Student Comments (359)