Understanding Decision Tables in Business Analysis
Understanding Decision Tables in Business Analysis
Like This Blog
0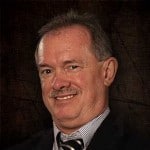 ---
This post if from our PMI-PBA Business Analysis Certification course. Start training today!
---
Decision Tables are a form of rule models for Business Analysis and are in important part of analysis solicitation in PMI-PBA Certification. They are the way we represent requirements or information gathered.
A Decision Table is the same concept as the Decision Tree, but rather than trying to solve or calculate what the rule or outcome might be, the Decision Tree is built from left to right and solved from right to left.
This example is already solved for you to a degree if you understand how to implement them.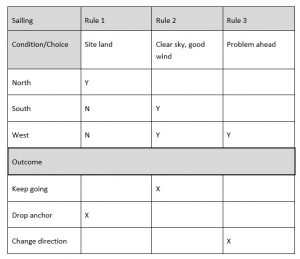 We're going to talk about the condition or choice that we're making and depending on what we do from a direction. Our condition or choice is to go north, south, east or west.
Once I take a look at the outcome of one of these directions relative to some rules that we put in place, then we can make a decision.
The outcome is what we will do if the condition or choice has a particular match to the rule.
I'm going to make a choice, same concept as the Decision Trees.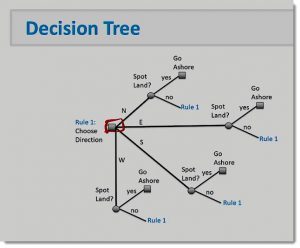 Once I make a choice, I'm going to have one or more outcomes. Once I have an outcome, I can make an additional choice. The difference between the Decision Tree and the Decision Table is once I have an outcome, the outcome is actually going to tell me to make another choice.
It's predicting not only the outcome but my response it's more complicated than just designing a decision tree. This is effectively what you're doing or would need to do to create a Decision Table. That's why they're more complicated to create.
You're not supposed to be an expert to be able to pass the PMI-PBA exam relative to Decision Tables, but you need to understand their greater complexity for creation by a Business Analyst. The goal is to make it easier for your end user to try to solve them.
Here is how you would attempt to solve or use a Decision Table.
As an example, we'll show you the flaw that's built into this table to give you a sense of how difficult they can be to try to solve.
In this example of nautical theme, our condition or choice was to go north. When we go north, it says if we sight land, drop down to what you're supposed to do.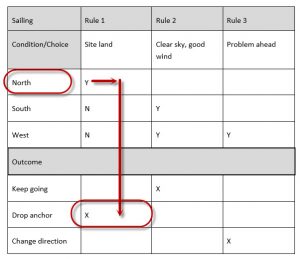 You'll note you have three different possible choices based on your outcomes.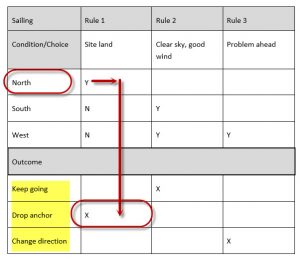 This table is letting us know if we are going north and sight land, your only possible choice out of that particular outcome would be drop the anchor based on the rule.
If we take a look again and we went south instead of north. We went to sight land. No, we didn't. Because we didn't sight land this rule didn't get executed or fired.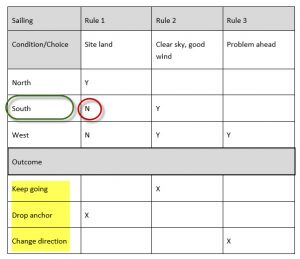 We have to keep going to see if we match another rule. Rule number 2 is, is the sky clear and there's a good wind.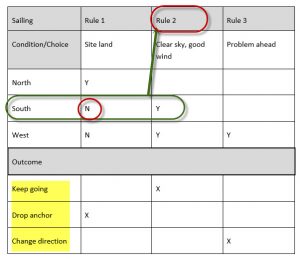 We're in a sailing ship. Clear sky and good wind suggests that what we're supposed to do is go down until we find what is our only possible choice or action given that rule based on our first choice.
In this case, it says we're supposed to keep going… got it. We went south. We didn't sight land. Keep going.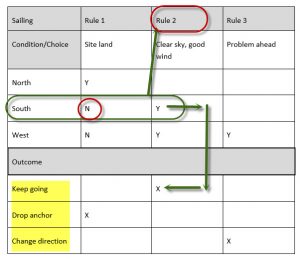 Here is the third example, you can see the flaw. We're going to stay to red. Our third option was going west. When we head west, the table says, "Hey clear sky and good land." When we go down, there isn't one.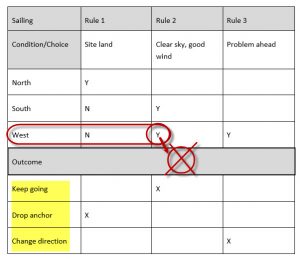 There's no solution in this third example. The table says keep going, but they're helping you. Not only keep going but look, there's another rule.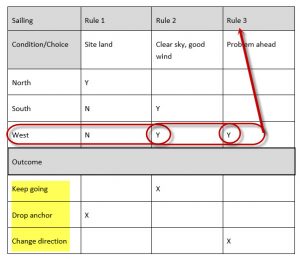 The order of the rules is what makes this a flaw or a difficulty. Probably need to read rule three before rule two because rule 3 says there's a problem ahead.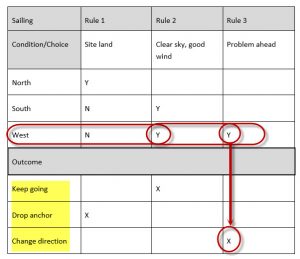 If there's a problem ahead, it says change direction. To make this a more accurate Decision Table, we should probably move problem ahead in front of rule 2.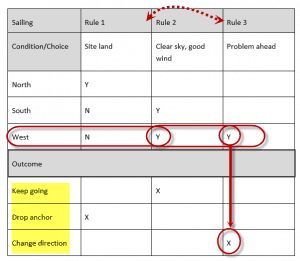 You're going to have to play through Decision Tables and understand all the different outcomes and choices clearly to make them so that the user has based upon their condition or choice, the action they take, the outcome that matches the rule fall down to identify what their next step would be.
Decision Tables become easy for a business user to use, but difficult for a Business Analyst to create.
I look forward to seeing you in the classroom or online!
Steven Fullmer
Interface Technical Training Staff Instructor
Steve teaches PMI-PBA: Business Analysis Certification,  PMP: Project Management Fundamentals and Professional Certification, Windows 10, and CompTIA classes in Phoenix, Arizona.
Steve's Video Certification Training Classes at Interface Technical Training:
Project Management Professional (PMP®) Certification Video Training PMBOK® 6th Edition
PMI-PBA Business Analysis for IT Analysts and Project Managers (PMI-PBA)® Certification

0
3804
0
Mark Jacob, Cisco Instructor, presents an introduction to Cisco Modeling Labs 2.0 or CML2.0, an upgrade to Cisco's VIRL Personal Edition. Mark demonstrates Terminal Emulator access to console, as well as console access from within the CML2.0 product. Hello, I'm Mark Jacob, a Cisco Instructor and Network Instructor at Interface Technical Training. I've been using … Continue reading A Simple Introduction to Cisco CML2

0
183
0
This video is from our PMI-PBA Business Analysis for IT Analysts and Project Managers (PMI-PBA)® Certification now available at Interface Technical Training. Also see Steve's PMP Project Management Certification Course: Project Management Professional (PMP®) Certification Video Training PMBOK® 6th Edition  Video Transcription: Data Models are part of the elicitation analysis in PMI-PBA. This is the way … Continue reading Data Models in Business Analysis