Understanding the Components and Phases of the ITIL Service Lifecycle
Understanding the Components and Phases of the ITIL Service Lifecycle
1
0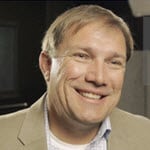 This post is from our ITIL 2011 Foundation online video training library.
Video transcript:
Understanding the Components and Phases of the ITIL Service Lifecycle
Instructor: Mark Thomas.
The key components to the ITIL lifecycle in Service Management is what we call the ITIL Core. We call those by phase names such as the first phase of the Service Strategy (SS) side. These are phases of a lifecycle that a service goes through.
The second phase that we would go through is what we call Service Design (SD). The third is Service Transition (ST) then Service Operation (SO) and lastly we have Continual Service Improvements (CSI).

Let me tell you a little bit about what each one of these phases will cover more in depth throughout the course.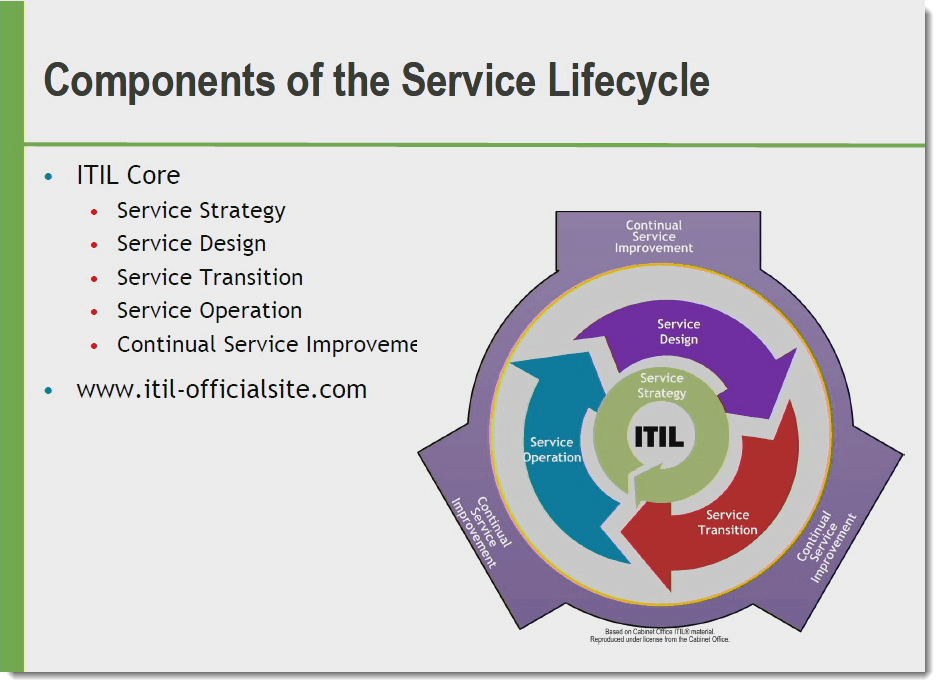 SS – Service Strategy's focus is on developing the capacity to achieve and maintain a strategic advantage, to refine and create policies, guidelines and process that cross all the ITIL Service Life cycle. So that you see on the schematic that Service Strategy crosses the entire life cycle.
SD – Service Design takes the Service Strategy and creates the design will eventually operationalize those business objectives. The focus is on the design for new changed and updated services. We are putting a new service in, we're retiring a service or we're changing something about it.
ST- Service Transition provides the guidance for development and improvement of capabilities for transitioning new or changed services into the live service operation. The activities that we actually put in or retire that make changes.
SO – Service Operation manages the day-to-day operation of a service, and provides guidance on the effective and efficient delivery and support.
CSI – Continual Service Improvement provides critical guidance in creating and maintaining value for customers through better design transition and operation of services.
As a former CIO for a large data center operation, we were always looking at our list of services within our portfolio. Services went through the lifecycle phases. For example, if we were launching a new service such as Voice and Data Service, we had to go through Service Strategy (SS). We needed to consider "What is it that this thing really is going to accomplish for us from a value perspective?", "Do we go into Service Design (SD) for this new service?" "What is it going to look like? ", "What's the solution, the tools, the architectures, the processes required, the metrics and measurements we'll use to manage this and to keep track of its health".
Then, we go into Service Transition (ST), we're approving these changes, deploying and releasing them, capturing the knowledge for transitioning the new service into the live environment or live operation. Then Service Operation (SO), we actually run and support the service at that point.
We then use this from a Continual Service Improvement (CSI) perspective throughout this entire set of lifecycle phases to help us continually improve, monitor our metric measurements, Key Performance Indicators (KPIs) to actually help us understand that we have mile markers so we can know from an improvement perspective.
The ITIL Official Site, www.itil‑officialsite.com is where you go for the most recent and up‑to‑date information on the components of the Service Lifecycle.
A lot of time folks really get the misconception that this is a waterfall approach. Just like the Systems Development Lifecycle (SDLC) or something similar. You will notice that each of these phases has outputs and feedback that comes from other phases. For example, you'll notice that Service Strategy has out put into Service Design. Notice that every phase of the lifecycle from that point forward all provides feedback back into the Service Strategy phase.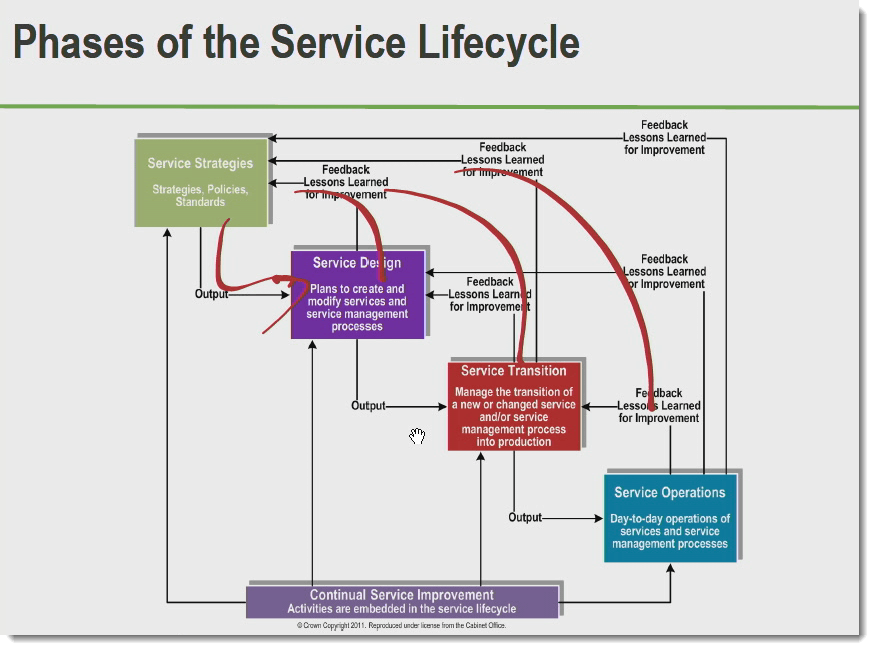 Service Design has outputs, it has feedback that comes into that, as well as Service Transition, Service Operation, and notice CSI or Continual Service Improvement, from a lifecycle stand point, touches every one of those phases as well as the services including the processes we use to support the lifecycle as well.
If I asked you a question, "which phase of the Service Lifecycle is your organization in today?"  It's a trick question; you are really in all of them. If you think about it, let's take email service for example, email service is currently in Service Operation. It's a live service that we might be supporting and some pieces of it might be in transition. We might be deploying changes to the email platform. We might be in Service Strategy or Service Design, looking at new changes, the value of new changes, updates and upgrades to the email platform. So you could be in a lot of phases. Again you are looking at this from the view-point of a specific service.
These are the key Lifecycle Phases. You might remember we looked at a slide earlier where we talked about the certification scheme, where we had you go through a foundation course and you go through lifecycle courses. Well here is what we are talking about on the lifecycle courses. Service Strategy, you could go through Service Design, Transition, Service Operation and CSI. Those are the five core ITIL Lifecycle Phases and we will break those down in later videos.
Mark Thomas – Director of Business Services
Interface Technical Training

0
3850
0
Mark Jacob, Cisco Instructor, presents an introduction to Cisco Modeling Labs 2.0 or CML2.0, an upgrade to Cisco's VIRL Personal Edition. Mark demonstrates Terminal Emulator access to console, as well as console access from within the CML2.0 product. Hello, I'm Mark Jacob, a Cisco Instructor and Network Instructor at Interface Technical Training. I've been using … Continue reading A Simple Introduction to Cisco CML2

0
713
1
This content is from our CompTIA Network + Video Certification Training Course. Start training today! In this video, CompTIA Network + instructor Rick Trader demonstrates how to use cable testers in network environments. Let's look at some tools that we can use to test our different cables in our environment. Cable Testers Properly Wired Connectivity … Continue reading Cable Testers and How to Use them in Network Environments