Cisco Live 2016 doesn't stay in Vegas
Cisco Live 2016 doesn't stay in Vegas
Like This Blog
0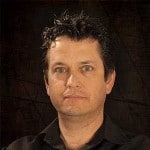 If you have not yet been fortunate enough to attend Cisco Live, let me be the emissary of blandishments, the emperor of elocution, the ringmaster of accolades, the…wait, this isn't the UFC. Let me just share some of my experiences from this year's version in July from the bejeweled city of Las Vegas.
Since the majority of the classes I teach are related to CCNA, most of my students are brand new to Cisco and have never attended Cisco Live. I do promote the event in my classes by wearing the yearly hats, sharing the pins, displaying the swag, and including tidbits that have come back with me. A person just starting off in a Cisco career path may wisely wonder what can be expected at this yearly shindig.
The main activity for good ROI is session attendance. There are hundreds of different classroom-style sessions (although the session may have a hundred or more people) covering a wide variety of topics. I usually attend sessions on OSPF, EIGRP, routing, switching, IPv6, security, firewalls, just to name a few. There are entry-level sessions, CCNP –level, CCIE-level, and presentations from select industry experts if that is not enough.  The sessions last from one to two hours, and the slides for each session are available for download so you can take them with you. There are also keynote addresses from top levels within Cisco to give a view of what is in Cisco's future – at least as well as humans can predict future events.  Let's see how well
Cisco-damus does this year….
I wanted to share some of the pics I took while I was there – nothing professional, just day by day random shots to capture the moments…. Figure 1 shows some sky-writing airplanes that left  messages for the earth-bound. The planes are virtually invisible, but the message is readily apparent.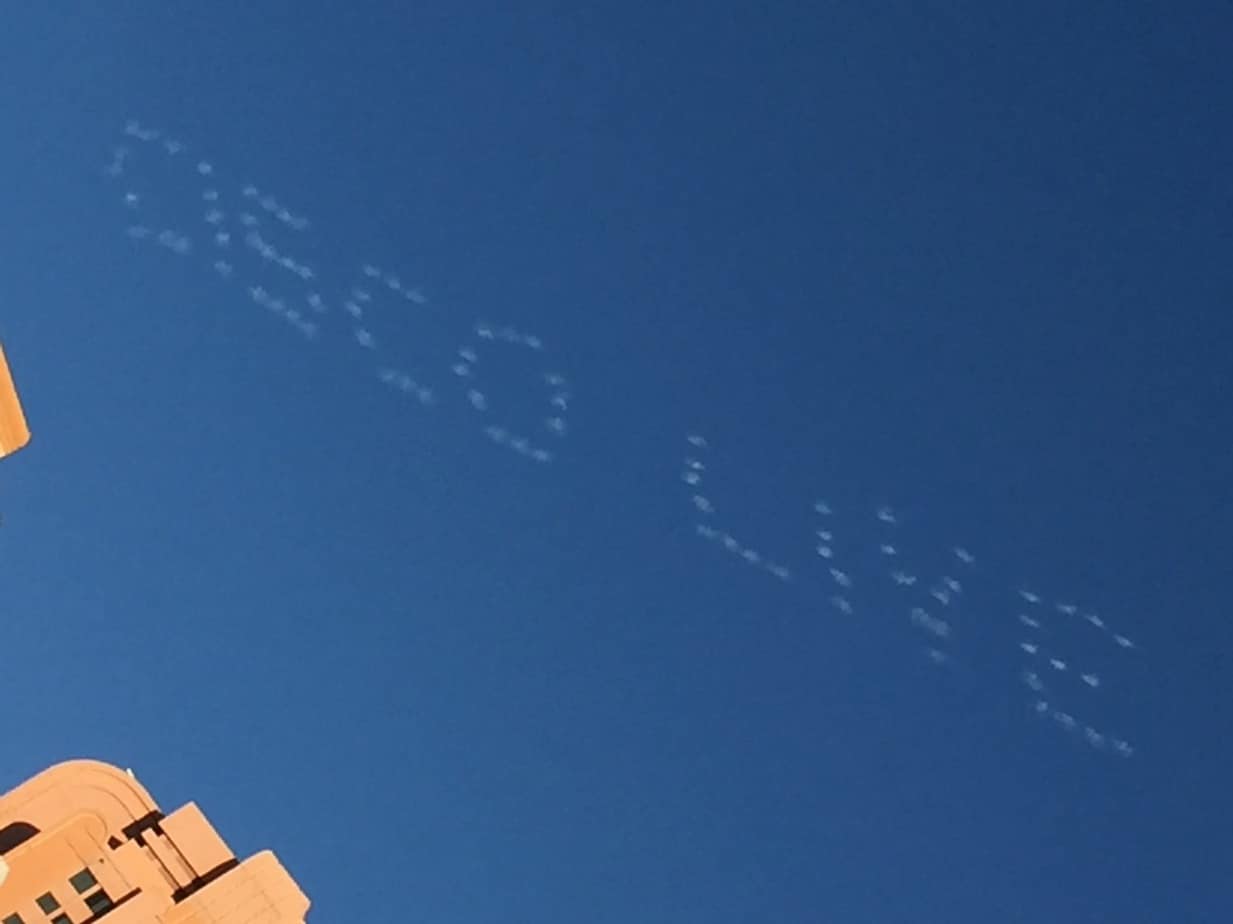 Figure 1
There were at least 5 planes, and they were perfectly synchronized to leave their marks at the right place and time.
If you are not attending sessions, spend some time in the World of Solutions – a vast area where vendors vendors vendors display network measuring tools, monitoring equipment, cloud services, storage methods, all an IT pro could imagine. Oh, they also have free wine and beer and several varieties of foods. Just thought I would throw that in. Here are some of the things I saw there this year.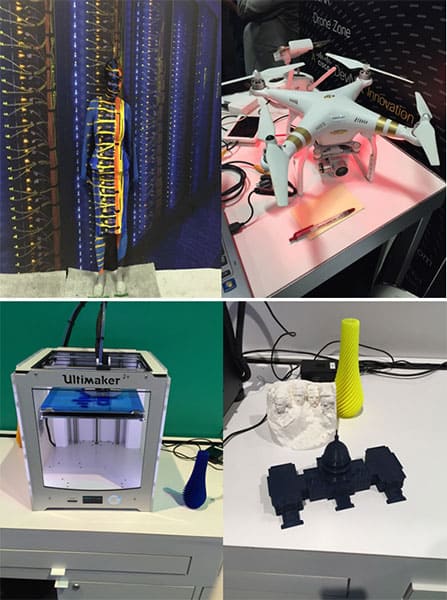 Figure 2
Top left:  Look closely, there is a person camouflaged in that networking gear! Top right:  As you can imagine, drones were a big draw and a coveted prize this year. Bottom left:  Another frequently mentioned item – 3D printers, and bottom right shows some 3D printed masterpieces.
The other big prize handed out if your coupon number was called (I got within 3 of the correct number this year) was the Oculus Rift VR headset.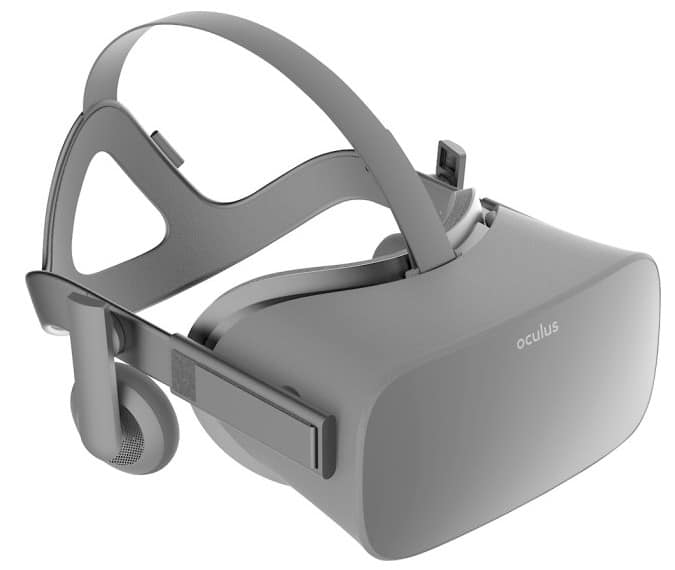 Figure 3
Every year Cisco has some top-name performers show up for the Customer Appreciation Event and this year was no exception. The opener was Elle King who did a nice set which included her best known song "X's & O's."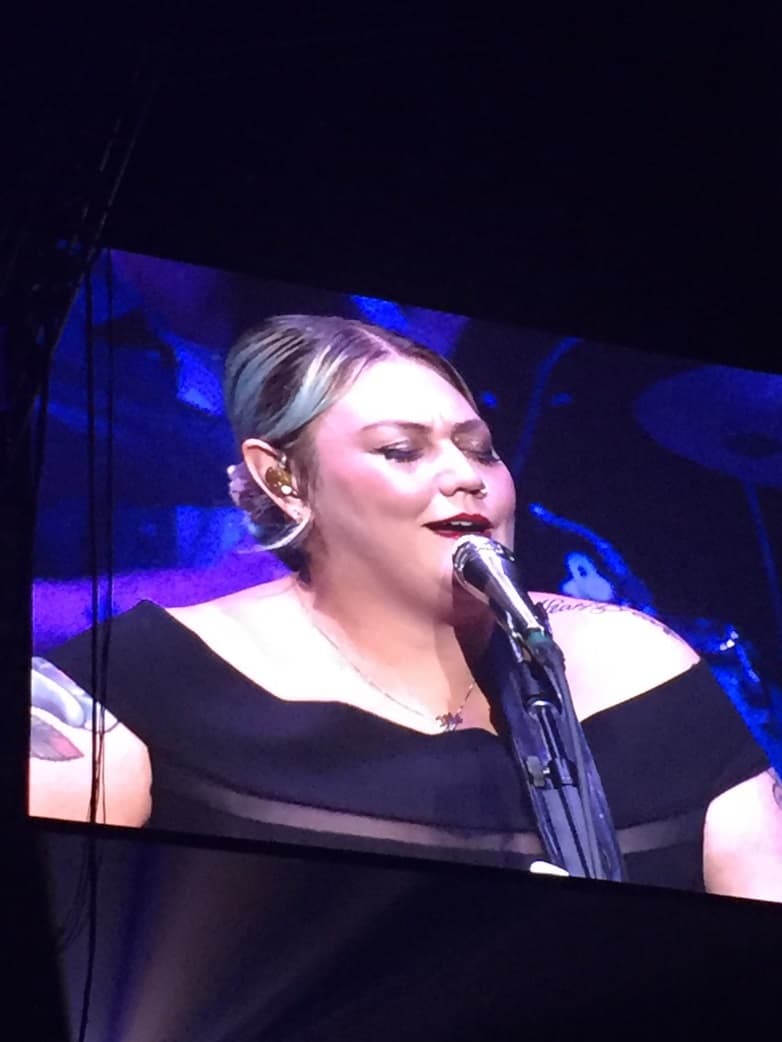 Figure 4
The main attraction was Maroon 5 who put on an electrically charged show. Since all the hats had blinky lights, this was a full participation event.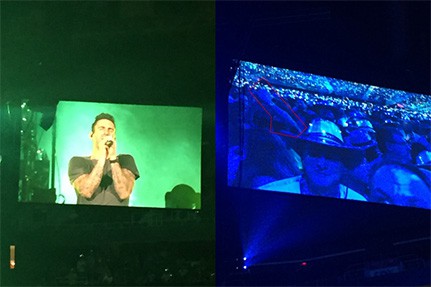 Figure 5
Figures 4 and 5 are all shots taken from a big-screen TV. I don't mean to brag, but that is my arm in figure 5 on the right, next to the attendee proudly wearing one of the Cisco Live commemorative hats. The venue was the T-Mobile Arena, which only opened for business on April 6, 2016 – the Cisco faithful had to break it in.
If you missed it this year, there is still a value to be had. You can watch sessions from the event if you have a login CiscoLive!.  Create one – it's free!
I hope this little glimpse has whetted your appetite. There were 28,000 people at this event, but Mandalay Bay was easily large enough to hold everyone. The temperature hovered in the upper nineties, but (unless you wanted to) you never had to set foot outside. Put next year on your calendar – it looks like next year's event will be in Vegas again – June 25-29, 2017.  And these happenings don't have to stay in Vegas!
Until next time.
Mark Jacob
Cisco and CompTIA Network + Instructor – Interface Technical Training
Phoenix, AZ

0
3703
0
Mark Jacob, Cisco Instructor, presents an introduction to Cisco Modeling Labs 2.0 or CML2.0, an upgrade to Cisco's VIRL Personal Edition. Mark demonstrates Terminal Emulator access to console, as well as console access from within the CML2.0 product. Hello, I'm Mark Jacob, a Cisco Instructor and Network Instructor at Interface Technical Training. I've been using … Continue reading A Simple Introduction to Cisco CML2


0
4245
4
In this video, Cisco CCNA instructor Mark Jacob shows how to create a Login and Message of the Day (MOTD) banners in Cisco IOS. The Banner is an interesting feature of the Cisco IOS. You could probably get by without it, but in a commercial environment you want to have it.