Problems with Compatibility Mode in Windows 7? – It may be Layering
Problems with Compatibility Mode in Windows 7? – It may be Layering
Like This Blog
0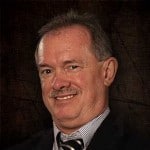 Compatibility Mode. Perhaps my favorite feature in Windows 7 (and although significantly reduced in Windows 8, still present and viable).
For instructor-led training, check out our Windows 7 classes.
After all, I was able to get 'Lemmings' to work for an elderly relative as a motivation to move from an antiquated operating system to Windows 7. We won't say which OS, though the relative was attempting to allow its age to surpass theirs. Even moving from XP to Windows 7 requires compatibility tools or Windows XP mode. Moving toward Windows 8 truly requires compatibility tools since Windows XP mode is not available. Your other option would be a version of the Application Compatibility Toolkit. Version 5.6 was released for Windows 7, and version 6.0 was released with the Windows 8 Assessment and Deployment Kit (ADK).
The Windows Program Compatibility Troubleshooter is a fast fix for many minor platform issues. You typically launch it via Action Center, finding it at the bottom left corner of the Action Center Panel.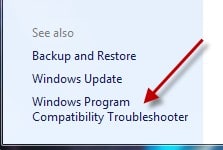 Allow it to diagnose and autocorrect the settings necessary to launch or run most applications.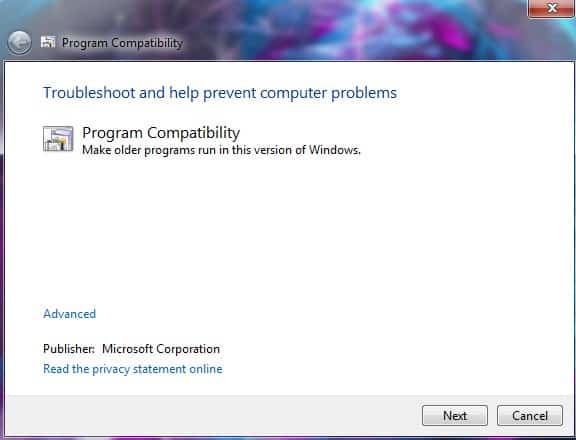 For simple compatibility settings, this offers a quick and powerful solution.
Now that Windows 7 has been on the market for several years unique issues with compatibility mode are beginning to arise.
A friend attempted to install a new release of genealogy software intended for the Windows XP into their Windows 7 with SP1 environment without success. I initially suggested that the 'failure to launch' message was associated with running the Setup.exe as an Administrator. After exchanging emails for several weeks, he appeared at my house with his system unit and a CD.
We found the issue within 30 minutes. The problem was not related to running as an administrator. It was compatibility (and registry) related – and I have since seen the symptoms twice more within a week. Time for this blog.
The use of Compatibility mode can result in a registry 'Layering' issue over time.
Once you use the Compatibility tool and allow the troubleshooter to store settings, you may encounter problems with subsequent installs, updates, or attempts to launch specific applications. The compatibility settings may be incorrect for an update or new installation of an application, though they remain in the registry.
The Microsoft documented solution is finding the executable for the application marked as running in compatibility mode, and removing the compatibility mode checkbox.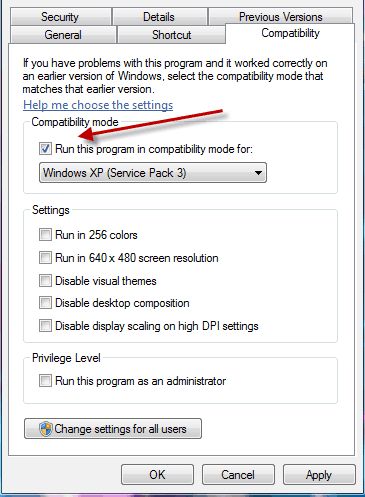 This does not always solve the problem, as was the case when attempting to install the newer genealogy software.
Even if the older version of the software is uninstalled, a registry based
compatibility mode setting may still be involved. Windows writes the setting in the registry, and the application does not check for the registry setting. Windows attempts to create an application shell that is now incompatible. Deadlock.
The symptoms may also occur if you have multiple applications or tools from a single vendor that need to operate with different compatibility settings.
Both issues are related to compatibility mode layering.
To repair the problem, you need to use the registry editor.
Windows 8:
Open to or change to the Start menu screen
Type: REGEDIT or REGETD32
Press the Enter key on the keyboard
Windows 7:
From the taskbar, click on the Start button
In the Search Programs and Files field type REGEDIT or REGEDT32
Press the Enter key on the keyboard
Click Yes in the User Account Control dialog (if necessary)
Remove the Layered compatibility setting:
Navigate to HKEY_CURRENT_USER and then Software\Microsoft\Windows NT\CurrentVersion\AppCompatFlags\Layers
Click Layers to select it
You may find multiple applications or vendors listed.
If necessary expand the Name column to check the installation path (i.e. C:\Program Files\…)
If multiple applications are listed, make sure you select only the application that is disallowing installation or launch.
Press Delete on the keyboard
Click Yes in the Confirm Key Delete
You have now removed any Compatibility settings that may be affecting an entire vendor tool suite or multiple versions of an application. This should allow you to install or launch the application. You may need to run the Compatibility Troubleshooter again in order to determine more appropriate settings.
I look forward to seeing you in the classroom, or online!
Steven Fullmer
Interface Technical Training Staff Instructor
Steve teaches PMP: Project Management Fundamentals and Professional Certification, Windows 7, Windows 8.1 and CompTIA classes in Phoenix, Arizona.

0
3774
0
Mark Jacob, Cisco Instructor, presents an introduction to Cisco Modeling Labs 2.0 or CML2.0, an upgrade to Cisco's VIRL Personal Edition. Mark demonstrates Terminal Emulator access to console, as well as console access from within the CML2.0 product. Hello, I'm Mark Jacob, a Cisco Instructor and Network Instructor at Interface Technical Training. I've been using … Continue reading A Simple Introduction to Cisco CML2

0
71
0
In this video, PowerShell instructor Jason Yoder shows how to add Methods (PSMethod) to your code using free software that's added into the PSObject. For instructor-led PowerShell courses, see our course schedule. Microsoft Windows PowerShell Training Download the Building Methods PowerShell script</a> used in this video. <# ╔══════════════════════════════════════════════════════════════════════════════╗ ║ ║ ║ Building Methods ║ ╟──────────────────────────────────────────────────────────────────────────────╢ … Continue reading How to Build in a PSMethod to your PowerShell Code