OneDrive: UnSync Your Settings
OneDrive: UnSync Your Settings
Like This Blog
0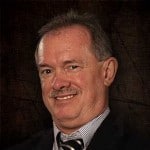 While teaching our Installing and Configuring Windows 10 course we introduce OneDrive. The demonstration focuses on file synchronization, although OneDrive offers considerably more. In fact, repeated demonstrations have taught me a few lessons that suggest you may want to more carefully plan before you rely on OneDrive and end up with a few more elements synchronized than you had planned.
In the demonstration, we synchronize two virtual Windows 10 systems. OneDrive may be used to synchronize files across Windows Vista SP2, Windows 7, Windows 8/8.1, Windows 10, Windows Server 2008 R2, Mac OS X, as well as a range of mobile platforms. Microsoft provides an Office support site with more details and requirements.
OneDrive requires the use of a Microsoft account (msn.com, hotmail.com, live.com, or outlook.com). Due to the requirement for a Microsoft Account, host operating systems are capable of synchronizing personal settings as well as folder structures and files under the OneDrive application interface.
Microsoft provided a simplified OneDrive introductory video commensurate with the release of Windows 8/8.1. The capability is extended to Windows 10.
The promotion shares "When you sign in with a Microsoft account, your PC is connected to Microsoft servers online, or "the cloud." This means that your personal settings and preferences are stored in OneDrive, and are synced to any PC that you sign in to."
Nice feature … TURN IT OFF … at least until you clearly know what it implies.  I missed the ramifications until I had conducted a few demonstrations.
Most OneDrive synchronization articles (like this particularly useful one from OneGeek ) clearly share how to configure folder selection. Nothing here about configuring personal settings.
Even Microsoft's Get Started with Windows 10 – One Drive on your PC offers sparse information.
The personal settings come from the fact that OneDrive requires a Microsoft Account.
A simple demonstration of OneDrive might follow this sequence:
Login to Windows 10 with a Microsoft Account, or use the Settings > Accounts to associate a Microsoft Account with your login account.
Monitor FileExplorer until the OneDrive directory appears in the left navigation panel.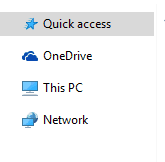 Note: the first time you access OneDrive on a system using a Microsoft Account you may have to wait as long as 15-30 minutes for the folder icon to appear.
Expand OneDrive and create or copy a simple document into the documents
Open a second PC and login with the same Microsoft Account
Monitor FileExplorer for the instantiation of OneDrive on the second PC.
Open the file you copied or created and edit the file contents.
Switch back to the first PC and open the edited file. Shortly thereafter the file contents will synchronize showing the automated nature of the OneDrive feature.
Change the desktop Theme on the first PC.
Switch to the second PC and observe as it requires only a few moments for the theme of the first PC to be replication to the second PC desktop.
Simulated Ooh's and Aah's follow…
Unless you take time to answer a question while doing the demonstration only to discover that all of the second PC's settings and themes have been replicated to the first PC. Not the intended direction of replication, and all my settings on the first PC have been overwritten. (Thank goodness for a virtual environment and image snapshots.)
So … before you use OneDrive … or a Microsoft Account for any purpose … explore and understand which settings you might want to replicate, and the direction that replication will take. Then disable most or all of them before you begin the use of OneDrive. Take backups, and experiment carefully one synchronization setting at a time before you find yourself constantly reconfiguring each system you access with a Microsoft Account.
You can't really remove or uninstall OneDrive in Windows 8/8.1 or Windows 10. You can only disable the functionality through Group Policy (local group policy using gpedit.msc or centrally managed site/domain/OU policy).  Microsoft provides simplified instructions for disabling OneDrive on the Office support site. As soon as you enable a Microsoft account, OneDrive begins its synchronization process. One of only a few programs and features that are on and fully enabled by default.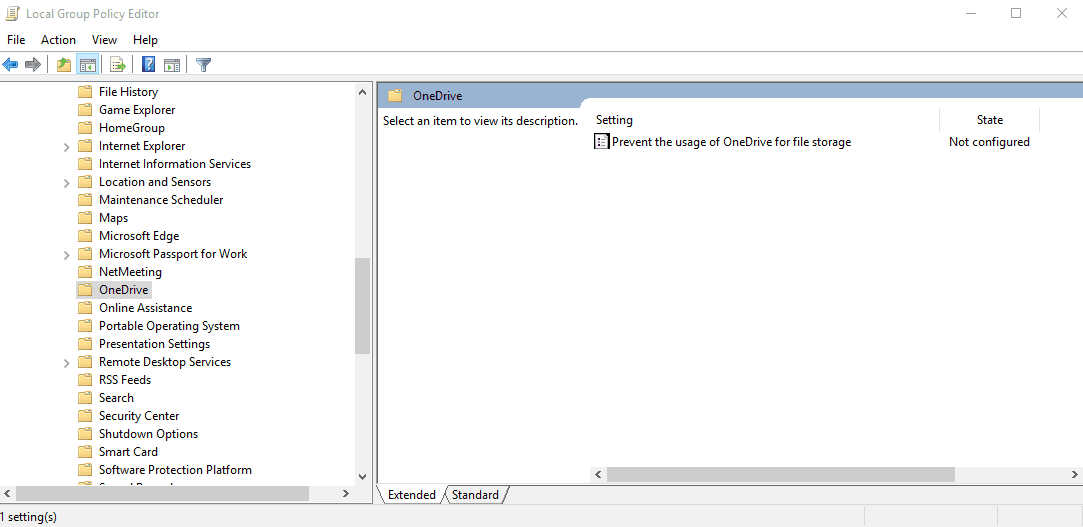 OneDrive doesn't enable granular configuration through group policy. You only have the option to prevent its usage.
OneDrive uses the sync settings associated with your Microsoft account.  In Windows 10, launch Settings > Accounts > Sync your settings for a selection of synchronization options.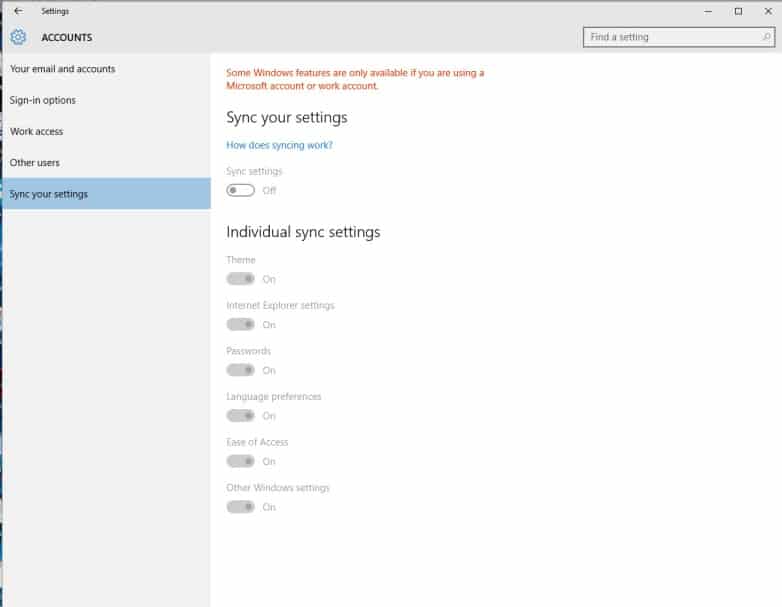 Note in the above screen shot that synchronization includes your desktop theme, Internet explorer settings, passwords, language preferences, ease of access settings, and 'other Windows settings'.
Once again, Microsoft provides sparse information regarding synchronization between Windows 10 devices.  A partial listing of 'other Windows settings' reveals printers, mouse options, notification settings, and File Explorer settings as a further subset.
NOTE: WARNING! DANGER! CAUTION!
If you have sync settings enabled on multiple PCs, the current or most recently accessed PC pushes it's settings to the Cloud instance of OneDrive. As each other PC is accessed, the most recently accessed profile and settings will then be pushed down to the other systems.
You want to select only ONE system to serve as your primary settings, and synchronize only those settings to OneDrive for potential recovery or propagation purposes.
Turn on Sync Settings on just one system. Select Individual sync settings one at a time. Experiment carefully before you accidentally propagate generic settings back to your nicely configured personal system.
You might also consider configuring or controlling your sync setting defaults through Group Policy, although this will make experimentation a bit more challenging. Group Policy > Computer Settings > Administrative Templates > Windows Components > Sync your settings.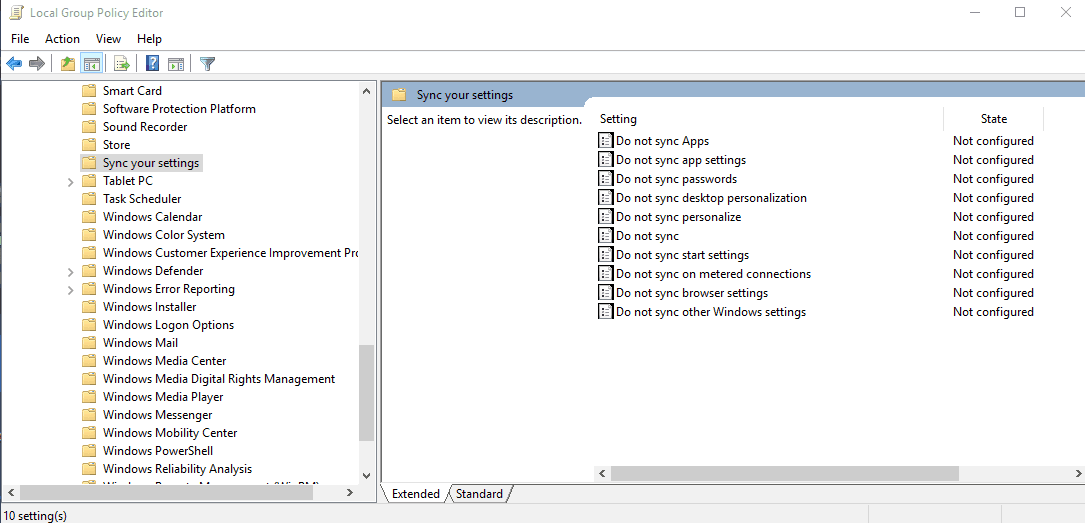 Neither OneDrive nor Sync your settings are configurable through User policy, so the settings will affect everyone using the system to which the group policy is applied.
In Summary, use OneDrive to synchronize files and folders that require replication across platforms – after you disable all other forms of synchronization using your Microsoft Account. At least until you have a clear picture of the platform replication you seek, the direction you want the replication to occur, and the MANUAL steps that you want to affect in order to enhance your navigation and operational experience.
I look forward to seeing you in the classroom, or online!
Steven Fullmer
Interface Technical Training Staff Instructor
Steve teaches PMP: Project Management Fundamentals and Professional Certification, Windows 7, Windows 8.1 and CompTIA classes in Phoenix, Arizona.

0
694
1
This content is from our CompTIA Network + Video Certification Training Course. Start training today! In this video, CompTIA Network + instructor Rick Trader demonstrates how to use cable testers in network environments. Let's look at some tools that we can use to test our different cables in our environment. Cable Testers Properly Wired Connectivity … Continue reading Cable Testers and How to Use them in Network Environments


0
249
1
In this video, Cisco CCNA & CCNP instructor Mark Jacob shows how to troubleshoot OSPF Adjacency issues by showing the distance between routers with the show ip ospf neighbor command.