Active Directory Presentation at TI2011 by Brian McCann
Active Directory Presentation at TI2011 by Brian McCann
Like This Blog
0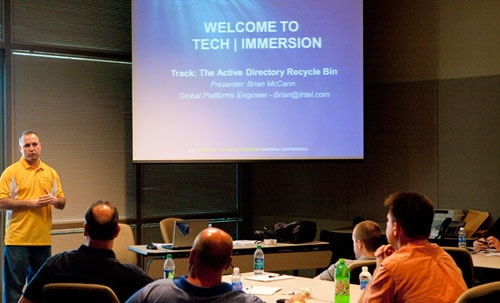 Below are links to download the Active Directory sessions presented by Brian McCann at the Interface Tech Immersion 2011. Brian McCann is a Microsoft MVP in Windows Server-Directory Services and is the Platforms Engineer at Intel.
Session 1: AD Recycle Bin
Presenter: Brian McCann
Learn the ins and outs of what happens when an object is deleted from Active Directory. This session will show you a history of deleting and restoring accounts using the built in tools provided by Microsoft. Finally the session shows you how to enable the AD Recycle Bin and use it to preserve and restore objects without restoring data from backups, or restarting and rebooting Active Directory domain controllers.
Session 2: AD CMDlets
Presenter: Brian McCann
There are 76 CMDlets that allow you to manage your Active Directory environment by using the power of PowerShell. This session will focus on using those CMDlets to help you better manage your environment.
Session 3: Getting your Server Core Up and Running
Presenter: Brian McCann
Don't feel embarrassed that you don't know all the commands needed to get your install of Server Core up and running. This session goes over the essential commands needed to get your system integrated into your environment. Brian will share his experience and best known practices for deploying Server Core in a large enterprise.
Session 4: 10 Tools/Commands every Active Directory Admin Should Know
Presenter: Brian McCann
This session will go over the essential tools and commands that will help you manage your Active Directory enterprise. Brian will also share the steps he goes through to health check your Active Directory environment. Make sure to bring up the tools that you use to manage your environment during the Q&A portion.

0
71
0
In this video, PowerShell instructor Jason Yoder shows how to add Methods (PSMethod) to your code using free software that's added into the PSObject. For instructor-led PowerShell courses, see our course schedule. Microsoft Windows PowerShell Training Download the Building Methods PowerShell script</a> used in this video. <# ╔══════════════════════════════════════════════════════════════════════════════╗ ║ ║ ║ Building Methods ║ ╟──────────────────────────────────────────────────────────────────────────────╢ … Continue reading How to Build in a PSMethod to your PowerShell Code

0
325
4
In this video, PowerShell instructor Jason Yoder shows how to use the ConvertFrom-CSV PowerShell Cmdlet to easily convert standard CSV files into PowerShell objects and speed up coding time. For instructor-led PowerShell training classes, see our course schedule: Microsoft Windows PowerShell Training PowerShell ConvertFrom-CSV script used in this video. Download ConvertFrom-CSV PowerShell Script <# ╔══════════════════════════════════════════════════════════════════════════════╗ … Continue reading How to use the PowerShell ConvertFrom- CSV Cmdlet to Save Coding Time with PS Script