Video – What's new in COBIT5? The benefits of Governance of Enterprise IT (GEIT)
Home
>
Blogs
>
ITIL / COBIT
> Video – What's new in COBIT5? The benefits of Governance of Enterprise IT (GEIT)
Video – What's new in COBIT5? The benefits of Governance of Enterprise IT (GEIT)
Like This Blog
0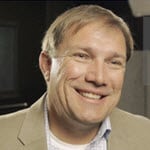 ITIL and COBIT instructor Mark Thomas discussed the new features of the latest release of COBIT5 by ISACA.
COBIT 5 has new rich capabilities that are useful for organizations of all sizes.
Some of these include:
A new Expanded Goals Cascade that address Stakeholders needs and builds an end-to-end business perspective.  This helps satisfy objectives from a top-down approach from Stakeholder to process and enablers.
Five new principles for the Governance of Enterprise IT (GEIT). These new principles drive the development of the governance framework of your organization.
Seven Enablers that drive governance within an organization to help complete tasks. One of those enablers is processes.  There are 37 processes within 5 domains of the framework.  Unlike COBIT 4.1 (which had four process domains), the newest release adds a new Governance domain that helps distinguish between Governance and Management.
The integration of ISO 15504 into the Process Capability Assessment. This new capability creates a more robust framework to better measures processes.
An implementation guide that outlines the steps and perspectives in implementing a governance framework.
I hope this information is helpful. As always, please feel free to share your thoughts.
Mark Thomas – Director of Business Services
Interface Technical Training

0
270
2
In this video, Security Instructor Mike Danseglio demonstrates how to use BitLocker in Window 10 to secure files on a USB Flash drive that adhere to stricter data protection requirements as found inside Government entities. BitLocker 2-day instructor-led training is now available at Interface: BITLOCK: Planning and Deploying BitLocker Drive Encryption Training Video Transcription: Hi. … Continue reading Government Edition – Encrypting a USB Flash Drive in Windows 10

1
451
3
Hi, my name is Mike Danseglio. I'm an instructor here at Interface Technical Training. I want to talk a little bit about encrypting USB flash drives with Windows 10. The concept of protecting data when it's on a USB flash drive is not a new concept. BitLocker 2-day instructor-led training is now available at Interface: … Continue reading Encrypting a USB Flash Drive in Windows 10